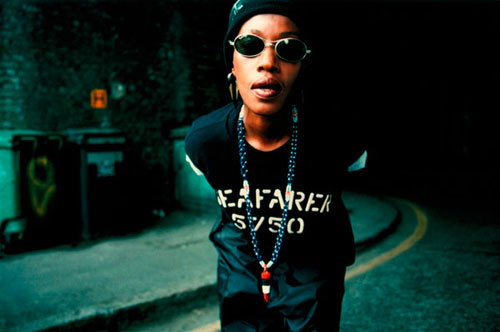 "I was always singing. At school, after school. I was the laziest one in my family because I just didn't have time, my time was for music, you know. Always I was being punished, but I knew whenever I was punished it was because it had something to do with some notes – whether it was a band, or just a man playing guitar – that I was following" – Busi Mhlongo
Born in Kwa Zulu, Natal, Busi Mhlongo grew up with a song on her lips. Despite being raised within her family's Methodist tradition that sadly had little recourse to music, Busi sought out other religious denominations with musical services and remembers, "even following people, maybe someone with a guitar, to find out where there was music."
Haunted by melodies, she persisted in the face of adversity and begun singing from an early age with groups led by her older and more musically advanced brother. Around 1963, the success of a great South African stage musical called King Kong, caused a talent drought when many of the currently hot musicians left the country to tour the show internationally. So Gallo Records had a talent competition and Busi and her brother went to Johannesburg and won it.
"OK, the song we did was 'My Boy Lollipop'," said Busi Mhlongo. "I was a kid, really, and yes I was really rocking that My Boy Lollipop. It had been a hit for Milly in England – Island Records' first hit – and I guess because of Apartheid and the way things were working, they sort of shut Milly out and My Boy Lollipop was moving. All this for me, it was for joy, not really knowing that I would be ripped off in the business."
Busi took part in many theatrical productions throughout the 1960s, including the lead in Gibson Kente's The Jazz Prophet and Liefa stage and film productions of Bertha Egnos' Dingakaand Alfred Herbert's African Jazz and African Follies. She worked with most of South Africa's greatest jazz and mbaqanga stars at festivals and gigs too numerous to mention and so it was that she met her husband, Early Mabuza.
Early was a drummer who played with Dollar Brand, but was more widely known for his role in a cinema commercial for condensed milk. When he joined the cast of a show Busi was appearing in, as the guest artist, she was at first dismissive: "To me he was a tall guy who drank condensed milk at the movies, so when I saw him I thought, 'Well he's not so tall…' "I was never so much in awe of Early as the rest of the cast and then, one day we were practising and I was sitting pretty. I had this mini skirt on and when I moved to pick something up, my legs opened and he hit me with a drum mallet. I flipped out, like, what is happening? He said, 'Sit like a lady.' That's how he proposed! He was a very quiet man, he couldn't speak. But he was a good drummer."
Busi and Early had a daughter, Mpumi, but when the music called her away to tour the Portuguese cabaret circuit, Busi left him holding the baby and taking the opportunity, left South Africa for Portugal, via Mozambique and Angola. Barely a couple of months into her tour the sad news of Early's sudden death reached her. Trying to overcome the tragic death of her husband Busi then spent five years playing in Portuguese casinos, performing the popular hits of the day and always closing the show with her African songs: "I always sing my African songs because they make me feel really free. You know, like when you've been really serious and somebody says OK, now you can put on your shorts!"
"I always moved because of music," she said. "Music has been my ticket." She went to London briefly in 1972 and recorded with Dudu Pukwana, Julian Bahula, George Lee, and Lucky Ranku. She even worked with Osibisa as their lead singer.
It wasn't music that lead Busi to America, however, but illness. She had developed cancer and had to be treated in hospital there. Fortunately, she recovered and completely healed. As soon as she was well enough, Busi accepted an invitation to join the cast of a stage comedy called Reefer Gladness in Toronto, Canada, in which she got to sing the songs made famous by Billy Holliday and Bessie Smith. Jackson Pollock, the abstract painter, was enchanted by her and his influence led to Busi being given her own starring vehicle, called Ship Of Fools.
It was a great relief for Busi to be performing again and she had a wonderful time playing gigs with her own band at St Lawrence Hall but, in 1979, after five years in Canada, she got the chance to return to Africa on a tour of Zimbabwe, Zambia and Lesotho.
She slipped into South Africa, a decade after she'd left but the Security Forces were quickly on her case so, after nine months, Busi was obliged to accept an invitation to return to Portugal to join a musical called Black Ground. Of course her agent called the minute he heard she was back, so Busi went around the casino circuit one more time, but she knew that this was just a passing moment and that she had to move on. One New Year's Eve in Madeira, a Dutch family invited her to Holland. When they rang a few days later and repeated the offer, she accepted and quickly left.
Through her Dutch friends, Busi made contact first with a group of Senegalese musicians, and later with a Gambian group, Ifang Bondi and spent a couple of years based in Amsterdam, playing African music at major festivals and shows.
As one of the highlights of the Africa Roots Festival, she worked with many visiting African musicians and began to develop her own inimitable style. In the mid-eighties, Busi returned again to South Africa and formed the original Twasa band with the late "Doc" Mthalane. She played with Twasa and Winston Mankunku Ngozi to packed houses at The Blue Note in Durban before moving back to Holland in 1988. Her shows at the Melk Weg in Amsterdam drew rave reviews and led to a series of workshops which she ran at the club, then to a series of government-sponsored concerts in schools throughout Holland.
Billed alongside Salif Keita and Manu Dibango, Busi was the highlight of the African Music Festival in Delft in 1989. There, she met Brice Wassy who had been instrumental in the creation of the Urban Zulu album and worked as the musical director of her band. She then returned once again to South Africa to reform Twasa. After touring Holland and Belgium in 1993, she recorded her debut album with Twasa – the majority of which was composed by "Doc" Mthalane, before returning to Durban in 1994. As a part of a program to reconnect township youth with their roots, Busi ran workshops in Zulu singing and dancing in Clermont, Natal.
In 1995, Busi topped a popularity poll on Radio Metro, and appeared on the main stage of the Grahamstown Arts Festival with Sipho Gumede as well as taking part, with Madala Kunene and other M.E.L.T. 2000 (then B&W Music) artists in the Outernational Meltdown concert at the Limpopo Club of the Africa Centre in London. She appears on Sipho's album, Ubuntu – Humanity and also on Madala Kunene's Kon'ko Man.
Busi kicked off 1996 by appearing with Hugh Masekela at a concert in London to mark the end of the Africa '95 festival and was subsequently invited to tour France and Germany. She has supported the world famous Ladysmith Black Mambazo and also collaborated with Max Lässer on the recording of his album, She also toured with Pops Mohammed and members of Amampondo.
Busi recorded two solo albums in Europe, Babhemu and Urban Zulu. The latter, produced by Will Mowat brought her international fame and recognition and was released on MELT in 1998. Drawing on a number of styles such mbaqanga, maskanda and marabi, Busi was inspired by The "Sxaxa Mbij" ("pulling together") Peace project led by Khaba Mkhize in KwaZulu-Natal.
Urban Zulu is essentially Busi's reinterpretation of maskanda – traditional Zulu music normally sung by Zulu working class men – for which she pulled in the expertise of Phuzekhemisi, a famed maskanda band. Two members of this group Themba Ngcobo and Mkhalelwa Ngwazi co-composed and co-wrote the entire album with Busi. In addition to the various Zulu musicians she worked with on this album, Brice Wassy –who has also worked with Salif Keita – contributed to the direction and production of the CD.
Holding the No.1 spot in the European world music charts for two months solid Busi's position as one of the leading South African divas was firmly established. Touring internationally and bewitching audiences with her powerful stage presence and vocal prowess she rightfully took her seat in the musical arena as one of the most phenomenal and exciting musicians to have emerged from South Africa.
Busi scooped three awards at the FNB South African Music Awards, for Best Female Artist, Best Adult Contemporary Album (Africa), and Best African Pop Album. Ranked alongside Miriam Makeba, Letta Mbulu and The Mahotella Queens, unique in becoming the first female to be spreading the maskanda style of vocals internationally, Busi was applauded by audiences the world over.
Busi's lyrics carried universally powerful and poignant messages. Her songs concerned the empowerment and reconciliation of peoples who, though sharing the same citizenship, have very different political aspirations. Inanda – where she grew up, was the birthplace of African Nationalist leader John Duke, and the late prophet Isiah Shembe and largely shaped Busi, "The spirit of these great sons have served as a source of inspiration for me and my music", she explained. "I am a bit traditional and it is because of them. They taught us unity, love and peace among the people. Their legacy should live on."
"Hear the cock crow the alarm for a new dawning! Change is the only constant. Open the gates of mercy in your wall of fear and anger so the blossom of compassion can bloom, feeding from the roots of courage. In churches, keep preaching truth. In schools, keep instructing right knowledge. At home, keep persevering through crises. Leaders, sit and reason with the people and listen to their talk. So let us unite and proclaim your right, as the cock crows the alarm, claim your right to the family of mankind!"
Busi Mhlongo died June 15th of 2010 of breast cancer at Albert Luthuli Hospital in Cato Manor, Durban. She was 62.
Discography:
Babhemu (Munich Records, 1993)
Urbanzulu (Melt 2000 BW2118, 2000)
Urbanzulu-Remixes (Melt 2000 BWSA3501, 2000)
Indiza – Voyages Through New Sounds (Melt 2000 MZA003, 2002)
Freedom (Chissa Records, 2002)
African Classics (Sheer Legacy, 2008)
Author:
Angel Romero
Angel Romero y Ruiz has been writing about world music music for many years. He founded the websites worldmusiccentral.org and musicasdelmundo.com. Angel produced several TV specials for Metropolis (TVE) and co-produced "Musica NA", a music show for Televisión Española (TVE) in Spain that featured an eclectic mix of world music, fusion, electronica, new age and contemporary classical music. Angel also produced and remastered world music albums, compilations and boxed sets for Alula Records, Ellipsis Arts, Music of the World.