The 19th Rainforest World Music Festival (RWMF) in Kuching, Sarawak (Malaysia), regarded as one of the Top 25 music festivals by Songlines magazine, was once again a three-day delight of afternoon workshops, evening performances and interactive discussion between media and musicians each morning.
See also my articles on the media meets at previous RWMF editions: How world music bands build collective vision, promote indigenous culture and yet adapt to changing times (2015), World music bands address the importance of heritage, messages and innovation (2014) and World music bands address their role in social change, cultural preservation and creativity (2013).
The 2016 lineup featured 17 international and 8 Malaysian groups. The overseas bands included Auli (Latvia), Broukar (Syria), Derek Gripper (South Africa), Dol Arastra Bengkulu (Indonesia), Dya Singh (Australia/Malaysia), Krar Collective (Ethiopia), Lan Dieu Viet (Vietnam), Naygayiw Gigi (Australia), Nukariik (Canada), Pat Thomas & Kwashibu Area Band (Ghana), Shanren (China), Stelios Petrakis Quartet (Greece), Teada (Ireland), Vassvik (Norway), Violons Barbares (Bulgaria, Mongolia, France), and Vocal Sampling (Cuba).  The Malaysian lineup consisted of Alena Murang, Gendang Melayu Sri Buana, Mathew Ngau, Sape' Sarawak, The Thunder Beats of Nanyang Wushu Drums, Unique Arts Academy, and 1Drum.
During media interactions over three days, and in separate interviews, members of these 25 bands described their careers, instruments, collaborations, socio-political contexts and musical messages – along with their sense of humor.
The '4Es' – Entertainment, Empathy, Education, Empowerment
I asked the bands how they mix entertainment in their music along with serious messages that build empathy for social causes and educate audiences about different cultures.
"In Inuit culture, throat singing is a form of entertainment as well as culture," explained Kathy and Karin Kettler of Inuit duo Nukariik from Canada. "We are the indigenous Sami people. Our joik music comes from ritual activity. It is serious and fun at the same time," agreed Torgeir Vassvik from northern Norway.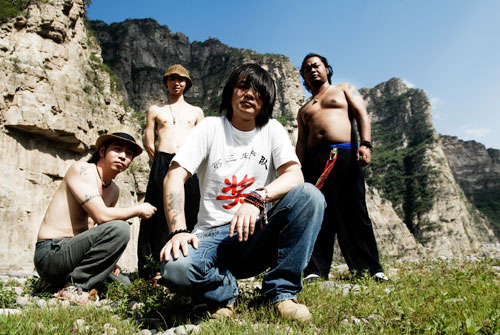 "In our case, entertainment and message are wrapped in one. In the Yunnan region, music, dance and alcohol are integrated," joked the members of folk-rock band Shanren from China. The region has 26 ethnic groups with very diverse cultures. "We play rock as well as world music. There is a risk of our local music dying out," they said.
"I want to be the voice of the poor people in my country and speak for them," said Sambaton Dorvil, lead singer of Haitian voodoo band Chouk Bwa Libete.
Indonesian percussion troupe Dol Arastra Bengkulu said they play in rituals celebrating heroism, but also teach young people to play anywhere. Inter-ethnic group Violons Barbares described how they perform in festivals, concert halls, and clubs, as well as immigrant community centers and events in their new countries.
"Our music is used in a documentary, and will also be in a game on AppleTV," said the bagpipe and drum music group Auli from Latvia.
In addition to performances, sape player Alena Murang from Sarawak speaks at events such as TEDx KL, plays on TV, and conducts workshops in schools in Western Malaysia where the sape is not very well known as an indigenous instrument.

"Our tradition is strong – and strict! I feel happiest when I get respect from my local tradition and the international community," said Stelios Petrakis, founder of the Greek band Stelios Petrakis Quartet. "We get requests even at 5 in the morning after all-night performances," he joked.
"In some traditional music communities, creativity and deviation are not respected. I don't see it as a compromise, I see it as a challenge and opportunity to create new music for new audiences," Petrakis said.
"When we do a capella, we have more freedom and variation," said Vocal Sampling, a Latin music a capella group from Cuba.
An interesting category of world music artists consists of those who have immigrated to other countries, or are children of immigrants, or are of mixed parentage. Issues of tradition and creative freedom play out differently in their case.
"We play collaborative music so we are free from the 'jail' of some strict traditions," explained the members of Violons Barbares, a trio with musicians from Mongolia, Bulgaria and France.
Sikh hymn singer Dya Singh is of Indian origin and grew up in Malaysia – he now lives in Australia and performs along with a percussionist from Nepal. "We are truly global citizens," said Dya Singh, and he showcased it brilliantly during a jam session where he blended a Sufi chant with Latin a capella beats.

"Music and dance give us deep roots. A lot of younger generations are washing away the messages from culture," cautioned his daughter Gimel, herself a performer at RWMF.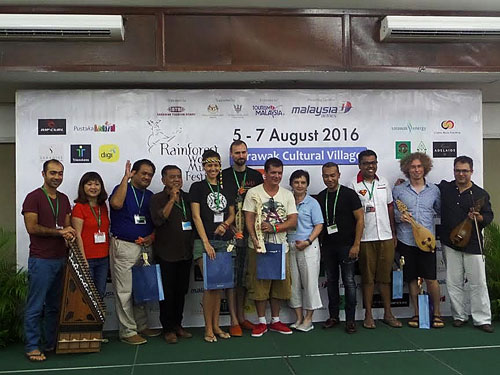 Vision, mission
Many of the bands described their vision of the world and what kind of role they see in it. "The most important contribution of world music is to help address and solve problems," said Dya Singh. This can also be part of the role of world music festivals. "The tree-planting ceremony in the mangrove wetlands at RWMF sends out a good message about the environment," he added.
"Musicians can help raise social awareness about anything happening anywhere in the world. Musicians have to be positive and help make the world a better place," agreed Pat Thomas of Ghana.
"The role of a musician is to keep out of politics – but have a strong say about issues like the environment. Corruption is more intricate, it has always been there, it can be hard for musicians to pick one party against another," Dya Singh explained.
"The world is a complex place for anyone to understand," agreed Vassvik of Norway. "Music is what comes out when we don't have more words to express or explain things; it goes deeper," he said.
"Missionaries used to ban throat singing in Canada ('kill the Indian in the child'); we preserve it now and teach it," said Kathy and Karin Kettler of Nukariik. "We will continue to promote Sabah tradition, the music will not stop!" said Band Girls LKNS from Malaysia.
"I sometimes wonder how much fossil fuel we burn when we travel around the world playing at festivals!" joked guitarist Derek Gripper of South Africa, commenting on the environmental impact of travel.
"Musicians have to first remind us of what it means to be human, find commonalities and celebrate diversity," he said. "Even if music can't 'achieve' anything, we can have fun!" he quipped.
For endangered cultures, even the act of performance is a statement, according to Naygayiw Gigi, the dance troupe from Queensland, Australia, who promote the clan cultures from the Torres Strait region.
"The Rainforest World Music Festival has helped preserve and promote local culture also," said Jun Lin, Artistic Director, RWMF. It has instilled pride in Sarawak instruments like sape and built connections to promote them overseas as well. Given the international turmoil, the festival has also increased awareness and empathy about refugees, eg. by inviting the band Broukar whose members are Syrian refugees.
Careers
An interesting and humorous discussion revolved around what the artists were doing before they embarked on their musical careers, and what part-time jobs some of them have to fund their musical interests.
"I used to be a management consultant and wasn't happy! I decided I had to get out of the rat race and do what I could do for my culture and what I was happy doing," said Alena Murang of Sarawak.
"I was a pharmacist – it was nice to help people but the magic was in music!" said kanun player Taoufik Mirkhan of Broukar from Syria. "I have a pharmacist certificate and hung it up on the wall to please my mother – now I go out and play music! I also teach music, which is very important for the next generation," he added.
"I have a day job in product engineering, but folk music is my love," said lead member Mikus Čavarts of Auli from Latvia. "In some day jobs also you don't make much money – so just do what you love and play music!" he advised.
"I studied to be a lawyer, and then gave my diploma to my mother. But it's easy now for me to read my contracts!" joked Stelios Petrakis. "I also made instruments, I had two lives! Then I decided to make my life more crazy and do only music," he added.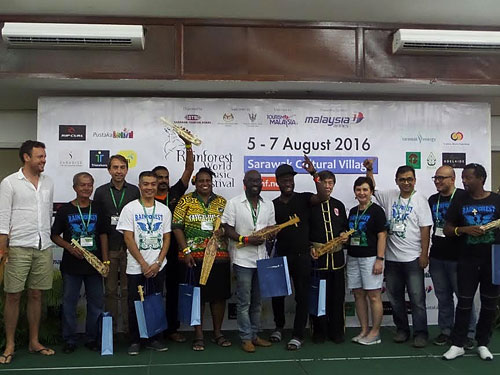 Fusion without confusion
I also asked the bands how they are able to create fusion without confusion – or blend different elements and forms of music in their performances without losing coherence.
There always has been fusion and confusion in music, joked Derek Gripper. Over the years, traveling musicians have introduced new elements into traditional music, eg. jugalbandi from India in some of the kora music of Africa.
There are different types of fusion, based on form, instrument and performance. "We play traditional music on contemporary instruments as well," said Band Girls LKNS from Malaysia.
"We have collaborated with hip-hop artists and even rock stars," said Temesgen Zelekeis from the Ethiopian band Krar Collective. "We do club gigs as well, not just traditional sets. Modern interpretation is not a restriction based on elements of culture," he said.
"Our group has brought in outside influences from disco, jazz and so on over the decades; this also helps reach larger audiences," said Pat Thomas from Ghana.
Technology continues to accelerate the interaction between different types of music. "There has been a massive change in the music of the world over the last 100 years. Flows between music around the world have always been there – it's much faster now," said Derek Gripper.
"Musicians need to keep diversity alive without becoming homogeneous," he cautioned. For example, some kora players are tuning their instruments to the piano – that could lead to the loss of the kora's individuality.
Festivals like RWMF are also important because musicians from one country can play with those of other countries thanks to the collaborative workshop format and media discussions. Unfortunately, many emerging economies do not have as many festivals with as much international exposure and mixing as in the case of Western festivals.
Some musicians expressed concern about youth in their countries being more influenced by rock, hip-hop and EDM than local traditions. "Every new generation wants new music also, take it like it is," advised Pat Thomas.
"This year I will focus on preserving our old traditions with young musicians," said Mathew Ngau of Sarawak. Some old taboos are now being tackled as well; it used to be a taboo for women to play the sape, but now girls are playing it.
"There were taboos on women playing didgeridoo also, but that should not be the case anymore," added Dya Singh.
Traditional instruments and dances
The artists also described some of the traditional instruments they brought along – and even made themselves, in some cases. Matthew Ngau said he makes his own sape, and has developed knowledge of local wood types, some of which are rare now because of deforestation. String materials like creepers are sometimes substituted with steel. Stelios Petrakis from Crete also makes the instruments for his band.
"We have modified some traditional instruments to make them easier for stage performances and travel," said members of the group Shanren from China.
"The krar is over a thousand years old as an instrument, and we have also modified it in electric style now," said Temesgen Zelekeis of the Krar Collective.
Haitian band Chouk Bwa Libète uses drums from Benin and Congo. Other traditional instruments featured were the Sabah gong, thappu frame drum from India, Vietnamese dan bau monochord and trung bamboo xylophone, Middle Eastern kanun, and Bulgarian gaduka (three-string violin).
"We brought along our throats!" joked the throat singers of Nukariik, a sentiment strongly echoed by Cuban a cappella band Vocal Sampling!
"Respect the instrument and the craftsman," said Dya Singh, strongly disapproving of breaking of instruments by some rock bands. "My flutist sleeps with his flutes if his wife is not around! My tabla player uses his blanket to keep the tabla warm on cold nights, rather than for himself. Smashing musical instruments is sacrilege. My father once slapped me in public because I stepped over an instrument," he explained.
Traditional dances were also featured in some of the performances, such as joget (Malaysia) and dervish (Syria); the dancers of (Aus) wore dazzling costumes as well. "Everyone asks our Dervish Dancer how he does not get dizzy even after 15 minutes of twirling!" joked Broukar.
The Mongolian throat-singing also surprises many new audiences, as well as the unusual combinations of three nationalities in the group Violons Barbares (Mongolia, Bulgaria, and France).
"I interpret the 'classical' music of Africa, such as the kora stars," said South African guitarist Derek Gripper, who has released a series of award-winning albums.
"We are losing our culture rapidly, it is important to pass on our language, music and dance," said Naygayiw Gigi. "Australia has two indigenous peoples: near the centre and near the coast. We need to explain this to Australians as well!" they joked.
Pat Thomas blends traditional instruments like the cowbell along with the trumpet in their highlife music. "We turn emotions around – 'happy' music about sadness, 'sad' music about happiness!" he joked.
"Irish traditional folk music plays a huge part in our lives, particularly in rural areas. Freedom, fun and entertainment have been a part of our music – and recently in bars and pubs too," said fiddler ace Oisín Mac Diarmada of Irish band Teada.
The meaning of success
I asked the bands how they defined 'success' for themselves as musicians, eg. in terms of more albums, concerts, money, or pursuit of an inner journey.
"Success is keeping our music group together over many years, while also evolving and collaborating with others," said Oisín Mac Diarmada Teada; their band has been together for 15 years.
"Success is to keep playing!" said Abhisheg M. of Unique Arts Academy of Malaysia. Many musicians start playing at very young ages, when they may not have clear definitions of what success could be. "Music is for my inner peace; success is remaining happy, that is good enough," Abhisheg added.
"Fame and recognition are important for us because it inspires our next generation. It is success if our children appreciate our culture and dance – not just hip-hop," said members of Naygayiw Gigi.
Author:
Madanmohan Rao
Madanmohan Rao is an author and media consultant from Bangalore, and global correspondent for world music and jazz for World Music Central and Jazzuality. He has written over 15 books on media, management and culture, and is research director for YourStory Media. Madan was formerly World Music Editor at Rave magazine and RJ at WorldSpace, and can be followed on Twitter at @MadanRao.