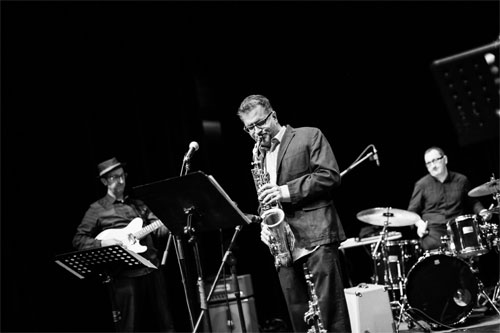 Canada-based saxophonist-composer Sundar Viswanathan has recently released the album Avataar. It is a brilliant blend of Indian classical music and jazz, reflecting his own journey in an immigrant backdrop in the West. He teaches at York University in Toronto, and has played with musicians ranging from Wynton Marsalis to Vijay Iyer. Sundar joins us in this interview on his musical experiences and messages.
Q: From jazz to Indian classical music and fusion, that's quite a journey! What is about music that inspired you so much to devote your life to it?
A: The cliche is: "You don't choose music, it chooses you". While that's very much true in my case, at some level I just stumbled into it. I was involved in music with my family from a very young age, and later, in high school, it was the one subject area for which I had a natural talent.
I also think being an introvert led me deeply along this path; music was an outlet for me and a way in which I could express my creativity most effectively. My interests in different genres were in good part due to the influences of different people in my life: primarily music teachers and musicians that I knew and respected.
Q: What are the challenges you face as a musician and composer?
A: I would say, overall, music is a low-stress occupation! 🙂
However, there is a great deal of pressure to maintain a high level as a performer, especially in the times when other things are going on in your life and you really don't feel like being on stage in front of all those people (luckily this feeling most commonly passes after a tune or two.)
Along with that are the dual pressures of what I call "the weight of tradition" and "the curse of innovation." These two pressures are polarities; the first references the vast influence of musics that came before, and that beg to be attended to (even when there is not enough in a lifetime to do so); and the second has to do with the need to sound fresh, to create new material. Again, when one tries to do so, it seems to slip away more quickly! Both can sit like heavy weights on your shoulders when you give too much attention to them.
With regard to composition, there's the challenge of accessing the creative spaces that lead you to works that you are willing to add to your portfolio. In other words, the challenge of being able to write something you are willing to keep! It's not so easy to do.
And then again, there are the economic challenges.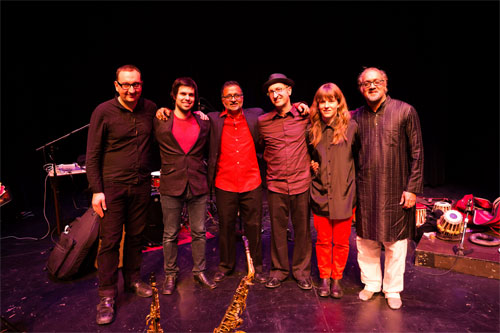 Q: Who would you say are the leading influences in your musical career, from the jazz, Indian and fusion sides?
A: The range of my influences is broad, going beyond jazz and Indian classical, to Western classical, Brazilian, Indonesian gamelan, groove, ambient and 'New-Age'-type music.
More specifically, my influences include; Jan Garbarek and Keith Jarrett, Mahavishnu Orchestra (John McLaughlin), John Coltrane, Antonio Carlos Jobim, Ornette Coleman, Shakti, Zakhir Hussain, Paul Motian trio with Bill Frisell and Joe Lovano, Scriabin, Alban Berg, Trilok Gurtu, Nitin Sawhney, and artists like DJ Shadow, Enya, Bliss, and Loreena McKennitt.
There are many others that have influenced me in my compositional path, but I think these have had a more direct impact on this album.

Q: Who are some of the musicians you collaborate with the most, and how did these relationships get formed?
A: I've been very fortunate to have played with a lot of great musicians from jazz and world music, including Rez Abassi, Dave Holland, Charles Tolliver, Kiran Ahluwalia, Vijay Iyer, Wynton Marsalis, Yair Dalal, and more.
I wish I could say these are recurring collaborations, but given my proximity (living in Toronto) and focus these days, most of my collaborations are with (equally excellent) local musicians, like those on my recordings and with other bands I play with, like world music band Jaffa Road.
A lot of the musicians I meet and play with come through a mutual awareness of our interests, or through word of mouth. Also, musicians of like-mind tend to radiate toward one another, and cross paths a lot on the festival circuit and in clubs.
Q: How are you able to do 'fusion' of different styles and instruments without 'confusion'?
A: Good question. Firstly, I never liked the term 'fusion', because the picture I get is of two parts fused or slapped together, without integration of either part. I see my music as more of a hybrid, a 'new form' created by the many styles (and instruments) coming together in a natural, assimilative fashion. I think the key here is that I don't think about the genres when I write the music.
As I mentioned before, I've studied a lot of different styles, hopefully deeply enough that their essences have seeped into my musical psyche, and so will come together seamlessly when I compose. The challenge created here, however, is that it can become harder to 'categorize' the music into a specific genre. This sometimes throws off industry types and festival ADs. But some of my favorite music is music that goes beyond genre, so that's ok.
Q: How long were you working on the album Petal? What is your next album about?
A: Petal took over a year to record, edit and produce. We could have spent a lot more time nuancing the album, but I didn't have that luxury! And, I really haven't given much though to the next album – my focus now is to get the band playing and touring as much as I can.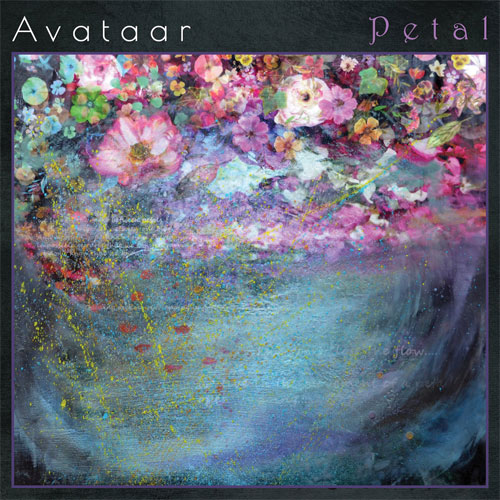 Q: The tracks Agra, Monsoon and Annapoorna are fabulous ­ please tell us how you composed them!
A: My compositional process is typical – I usually get the initial melodic ideas or a bass line and sing them into my phone and work with them later. Then I write my music alone, in my basement, with or without piano. It ends up being a very intuitive process; I was also inspired by the narrative theme, and the title of the songs. I might also work with specific ragas or scales I create that have a sound that I like, and want to develop.
Sometimes I also map out the phrase rhythms that I want, that follow a shape that feels good to me, and fill in melodic material from there. These processes apply to all three pieces you mention here.
Most of the time I don't go back and edit my writing in great detail; sometimes there are small things that I change/add/remove. With this music, there was some editing and revision during rehearsals – some of my bandmates suggested things that we liked, and then incorporated into the tunes.
Ultimately, if I don't feel moved myself by the narrative (the story behind the song), it's very difficult for me to put out interesting material – by the way, most composers will tell you that you should be able to write whether you're inspired or not (I guess I'm not a natural! 😉
Q: How would you describe your musical journey? Where do you see yourself headed in the next 10-15 years?
A: How much time do you have? Seriously, though, I suppose my musical journey parallels my life journey. I could quote Charles Dickens "it was the best of times, it was the worst of times".
Certainly, my musical journey was not without bumps – I worked very hard over the years and sacrificed a lot to develop my musicianship, but there were great rewards, like meeting and playing with fascinating people and traveling all over the world and getting paid for it. And those moments on stage when I feel most connected to the music, musicians and to myself, in turn, make all the work worth it.
The next 10-15 years? Hopefully there will be more records and a lot more touring and good times. And money, oh yes, LOTS of money! 🙂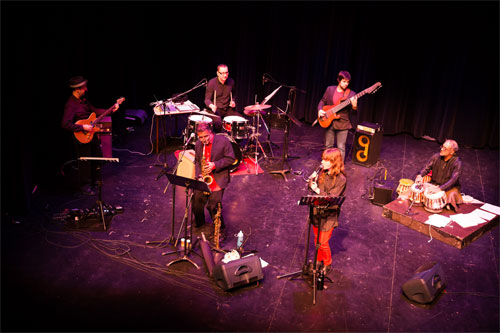 Q: What have been some of your collaborations with other musicians from India, and other parts of Asia?
A: I've played with some very good jazz musicians in Japan – interestingly (and this speaks to the universality of music) none of them spoke English well enough for us to communicate. But the musical experience was great.
I've done some jamming in India with Louiz Banks, and others like Shivamani and Adrian DeSouza, but my musical experiences in India have been limited, so far. I hope to do more there and with other Indian-based artists. I have played with several NRIs (non-resident Indians) in Canada and the USA (I mentioned Vijay Iyer, Rez Abbasi (who is of Pakistani heritage) and Kiran Ahluwalia).
There are a lot of very good musicians of Indian origin (and others who play 'Indian music') in the Toronto area, such as Ravi Naimpally, Suba Sankaran, Rakesh Tewari, Ed Hanley, Neeraj Prem, Azalea Ray, Ernie Tollar, George Koller, and others.
Q: Which are your favorite musical festivals, and what makes them so special?
A: I've played a lot of jazz and folk festivals in Canada, USA, and Europe. I like the folk festivals for their relaxed atmosphere (read: hippies!) and the collaborative nature (there are frequent 'jam sessions' with featured bands).
Worldfest in Grass Valley, California was a trip – so much fun and interesting people. I'll never forget the experience of playing in full sunlight at 2AM at The Rocking Walrus Festival in Igloolik, right near the Arctic Circle. The Vancouver Jazz fest was excellent – so organized and the intensity of performances was impressive.
Local festivals like Sunfest and the Ottawa Jazz Festival were also great experiences. I also have to acknowledge some of the jazz festivals in Europe that I've played at: Viennes, Pescara, Umbria, Blue Note, North Sea — they really made us feel like royalty and the music experiences were incredible. Rubbing shoulders with people like McCoy Tyner, Joe Lovano, Joshua Redman and others didn't hurt either.
Q: What are some unusual reactions you have got during your live performances?
A: One comes to mind: I was presenting a CD release of my album Hope and Infinity with Sundar's Induswest Project. The great pianist, Dave Restivo, was in the middle of an intense solo – the rest of the rhythm section had dropped out, and Dave was traveling into outer space.
Somewhere along his solo excursion, a lady in the audience passed out. People flocked to her, to help. Meanwhile, Dave was still going, his eyes closed. Eventually I had to put my hand on his shoulder and break him out of his meditation. The lady was ok, but I don't think Dave ever recovered from being so rudely interrupted… 😉
Q: Do you also teach workshops for students and musicians?
A: Yes! As you probably know, I am a University professor (I teach at York University in Toronto), so I have a lot of different ideas/concepts worked out. And as you can also see from my long answers, I like to talk!
Q: What kinds of social and political messages have been conveyed in your recent albums?
A: There are many ways that the music on Petal can be interpreted. I wanted to let the listeners draw her/his own conclusions – this is why I didn't include extensive liner notes about the meanings of the songs. The two songs with lyrics and the last track, though, give some insight into the meanings of the CD as a whole. The main themes are impermanence, universal consciousness and the idea of no-mind.
Having two little children, I've often watched them and been struck by how small and fragile they are, how they are like flower petals. Through them, I've also observed the reality of my own mortality, and of the fact that nothing lasts forever. Interestingly, during my research around these themes (and for the record) I also found that a lot of spiritual thinkers see flower petals in this way, as a metaphor for humanity.
With regard to the idea of no-mind, I'd been reading some great dialogues by the Indian mystic Osho – he talks about the idea of there being no 'mind', just a series of photographs that we put together in our brain that creates our past and projects our present. I directed the singer, Felicity Williams, toward some of these ideas and she wrote lyrics around them for the record.
And I've always believed that there's an invisible connection, a vibration, between all humanity, and really, all life. In our day, and more than ever, this is something we all need to pay attention to. If we do, maybe we can transcend our differences and move toward empathy for each other, With regard to the record, at the end of the day, I also hope that I can move my listeners to a place of some emotional depth.
Q: What is your message to the musicians and artistes of the world in this age of globalization and also conflict?

A: Keep doing what you do, with honesty and love. Pay attention to your inner music – be authentic to your voice. Write and play/sing what you are; don't try to be anyone else. Our world would be a richer place if more artists and musicians did this.
Finally, there is a lot of suffering and conflict in the world – if we all direct our artistic vision toward healing, maybe the masses will hear our collective message of peace and move into that space…
Headline photo: Sundar Viswanathan (Avataar)
Author:
Madanmohan Rao
Madanmohan Rao is an author and media consultant from Bangalore, and global correspondent for world music and jazz for World Music Central and Jazzuality. He has written over 15 books on media, management and culture, and is research director for YourStory Media. Madan was formerly World Music Editor at Rave magazine and RJ at WorldSpace, and can be followed on Twitter at @MadanRao.