Angélique Kidjo is one of the African singers with more attraction and performance power. The direct rhythms, strong, energetic, taken from the traditions of her homeland, Benin (Western Africa), are combined with the sounds of reggae, samba, funk, soul, gospel, zouk and many more.
On stage is where Kidjo shows her charisma. She is a great dancer. With her very short hair style, she is a real version of the "postmodern" African woman. In addition, she has the ability of communicating with her audience, a gift that is transmitted just as well live as on her CDs. "Even when I am singing alone in my own studio, I imagine that I am with my audience."
Kidjo was born in Cotonou and was raised in Quidah, a small coastal city of Benin, a country that harbors numerous cultures. The main language of Benin is Fon, the language that Angélique uses more often when she sings, although she also sings in English, a language that she speaks with fluency, as well as French.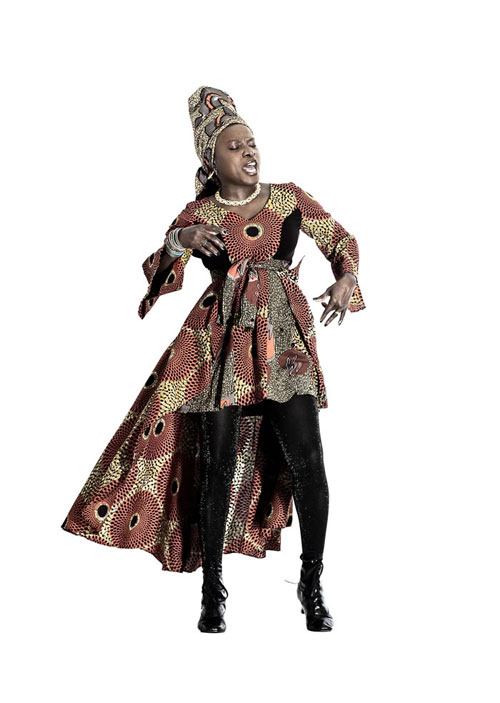 Kidjo comes from a family with nine siblings, who have an open mind about international music. Her mother, a choreographer and theatrical director, has had a profound influence in the life of Angélique, who used to act in her mother's plays when she was a little girl.
Traditional music was not the only kind of music that the young Angelique used to listen to. Benin, in the 1970s was open to numerous styles: salsa, Zairean rumba, makossa from Cameroon, soul, funk, Gospel… even Arabic and Indian music was available. Her brother, a guitarist, introduced her to the sounds of Santana and they memorized his songs.
When she was still an adolescent, Kidjo began to tour Benin performing at local festivals and on the radio. She was one of the few female artists doing this. People in Benin didn't look kindly to women who tried to make a professional living from singing. "It was so hard. I really had to fight."
Miriam Makeba, the South African singer, was one of her main idols and Kidjo performed some of her songs, like the Swahili ballad Malaika.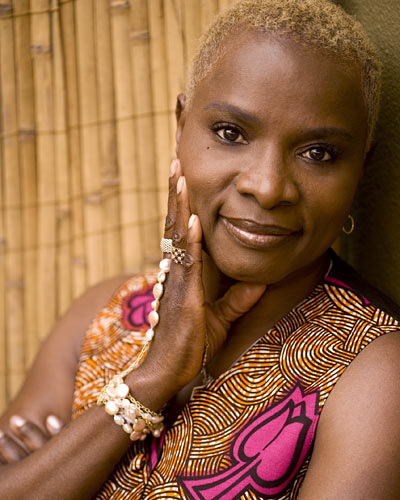 She moved to Paris in 1983, where she found a melting pot of music. Some of the most famous West African musicians, such as Salif Keita and Manu Dibango, were also in Paris, either recording albums or living there. African musicians mixed with Caribbean, French and American musicians. The result was an explosion of hot rhythms and a crossed fertilization of world-beat styles that found an echo in the in the musical experience of Kidjo and created the most appropriate environment so that she could develop her own style.
"Some call it afro-funk, they can call it whatever they want, but it is really difficult to classify my music within only one style. Even when I use my own traditional music I don't try to recreate just only style but rather I mix it all."
Kidjo took advantage of her stay in Paris to enroll in a jazz school. "There, I was taught many things, I improved my tone and I learned flexibility for my voice." It was an important element for someone whose native language is Fon, which is tonic, with a soft oscillating musical profile.
Angélique joined a Dutch Afro-jazz group, Pili Pili, with which she recorded two albums. Together they participated at the Montreux Jazz Festival in 1987. That same year she met Jean Hebrail, a French bassist and composer, whom she married sometime later.
Parakou, her first internationally distributed album, featured Jasper van't Hof, the leader of Pili Pili.
Logozo, recorded in Miami in 1991 and produced by Joe Galdo of Miami Sound Machine, featured Branford Marsalis on saxophone. Marsalis later performed on Kidjo's album Oremi. The album features Kidjo singing duets with Cassandra Wilson ("Never Know") and Kelly Price ("Open Your Eyes").
Kidjo's most ambitious album, Fifa (1996), featured more than 100 percussionists, flutists, cowbell and berimbau players, singers, and dancers from Benin and one track featuring Carlos Santana.
In 1998, she started a trilogy of albums, Oremi, Black Ivory Soul and Oyaya that explored the African roots of the music of the Americas. Oremi featured Cassandra Wilson, Branford Marsalis, Kelly Price and Kenny Kirkland.
During 2001, Kidjo started to work on the Black Ivory Soul album, drawing connections between Benin and music of Bahía, Brazil. "For the new album, I went to Brazil and wrote songs with Carlinhos Brown, and Vinicius Cantuaria, and I am covering a song by Gilberto Gil, which he wrote after traveling to Benin." The album also features drummer Ahmir Thompson, from the Roots, and Romero Lumbambo, the Brazilian guitar master, along with African and Bahianese players. "The concept of the album is based on my research into truth and the idea of bringing people together through music."
Kidjo won the 2008 Grammy Award for Best Contemporary World Music for her album Djin Djin, and in the same year received Benin's Commander of National Order of Merit for loyal services to the nation. Kidjo dedicated her Grammy award to the "women of Darfur, the women who are fighting every day to give their kids an education." On Djin Djin, Kidjo collabnotrated with guest stars including Alicia Keys, Peter Gabriel, Carlos Santana, Joss Stone, Ziggy Marley, Branford Marsalis and Josh Groban. The record was a return to Kidjo's Beninese roots, capturing the most traditional rhythms from her country. It comprised material sung in her native languages as well as in English and French.
Since March 2009, Kidjo has been campaigning for "Africa for women's rights"–a movement launched by The International Federation of Human Rights (FIDH). In September of 2009, UNICEF and Pampers launched the 'Give the Gift of Life' campaign to eradicate Tetanus and asked Kidjo to produce a song, "You Can Count On Me," where each download of the song donated a vaccine to a mother or mother-to-be. She also campaigned for Oxfam at the Hong Kong WTO meeting for their Fair Trade Campaign, participated in the video for the 'In My Name Campaign' with Will I Am from The Black Eyed Peas, and was one of the LiveEarth Ambassadors for the 2010 'Run For Water' events along with Jessica Biel and Pete Wentz.
Also in 2010, musician and philanthropist Peter Buffett and Kidjo teamed up to release "A Song For Everyone." 100% of proceeds from the sale of the song benefited the Batonga Foundation, an organization founded by Angelique to advance education for girls in Africa.
Oyo, released in 2010, celebrates the music that shaped Kidjo's artistic formation, including "Lakutshona Llanga," a lullaby made famous by Kidjo's hero, Miriam Makeba; Yoruban interpretations of Otis Redding's "I've Got Dreams to Remember" and Santana's "Samba Pa Ti;" a collaboration with Diane Reeves on "Monfe Ran E," a tribute to the Aretha Franklin hit, "Baby I Love You;" and a take on James Brown's "Cold Sweat."
Oyo features a band of acclaimed musicians, including guitarist Lionel Loueke, Christian McBride on upright bass, Kendrick Scott on drums and Thiokho Diagne on percussion. Trumpeter Roy Hargove makes a memorable appearance on "Samba Pa Ti."
Kidjo's 2014 album Eve (429 Records) is named after Kidjo's mother. Eve is a collection of songs dedicated to the power of African womanhood, mostly those women Angelique grew up with in her native Benin. The guests on the album include Dr. John, Rostamm Btmanglij (Vampire Weekend), the Kronos Quartet and the Orchestra Philharmonique du Luxumbourg, as well as guitarist Lionel Loueke, drummer Steve Jordan, bassist Christian McBride and Senegalese percussionist Magatte Sow.
Kidjo's autobiography, Spirit Rising: My Life, My Music, came out in 2014 written with Rachel Wenrick, published by Harper Collins.
In 2015 Angelique Kidjo won her second "Best World Music Album" Grammy Award for her Eve album. That same year Kidjo released Sings, recorded with the Orchestre Philharmonique Du Luxembourg, conducted by Gast Waltzing. This project fused the classical music traditions of Europe and the rhythms of her native land. Kidjo recreated nine classic pieces from her 24 year discography and two new songs ("Otishe," "Mamae") from the sessions of her Eve album.
The guest artists on Sings include upright bassists Christian McBride and Massimo Biolcati; guitarists Lionel Loueke, Dominic James and David Laborier; Gast Waltzing on flugelhorn; several native Beninese singers, and Brazilian classical guitarist Romero Lubambo.
"The orchestra brings different textures to my life and music," said Kidjo about her symphonic collaboration. "Unlike in pop music, the orchestra doesn't follow you, it leads and dares you to follow it. If you don't do this successfully, the songs suffer and the communication is lost. But I love the challenge of doing new things. I never want to get too comfortable with what I'm doing, and I love my work too much to repeat myself."
In 2018, Kidjo released the album Remain In Light, where she recreated the music of popular 1980s rock band Talking Heads.

In 2019, she released Celia , a reimagination and celebration of the highly influential salsa star Celia Cruz. Musicians featured include Guests on the album include Nigerian Afrobeat legend Tony Allen on drums, Meshell Ndegeocello on bass, Sons Of Kemet, and Gangbé Brass Band.
In addition to her music career, Kidjo has devoted much of her adult life to global charity work. She is a spokesperson for UNICEF and Oxfam, and created her own charity, Batonga, which aims to create a culture that values and supports the secondary education of girls in Africa.
Discography:
Pretty (1980)
Ewa Ka Djo (Let's Dance) (1985)
Parakou (Open/Island Records, 1989)
Logozo (Mango Records 539 918, 1991)
Aye (Mango Records 539 934, 1993)
Fifa (Mango Records 531 039, 1996)
Oremi (Island/Mango 524 625 Records)
Keep on Moving: The Best of Angelique Kidjo (Columbia 85758, 2001)
Black Ivory Soul (Columbia 85799, 2002)
Oyaya! (Sony, 2004)
Djin Djin (2007)
Õÿö (Razor & Tie, 2010)
Spirit Rising, Live (2012)
Eve (429 Records, 2014)
Sings, with the Orchestre Philharmonique du Luxembourg (429 Records, 2015)
Remain In Light (2018)
Celia (Verve/Universal Music France, 2019)
Videos
World Music Portraits: Angelique Kidjo (Shanachie)
Live From Guest Street: Angelique Kidjo & Friends (PBS, 2012)
Author:
Angel Romero
Angel Romero y Ruiz has been writing about world music music for many years. He founded the websites worldmusiccentral.org and musicasdelmundo.com. Angel produced several TV specials for Metropolis (TVE) and co-produced "Musica NA", a music show for Televisión Española (TVE) in Spain that featured an eclectic mix of world music, fusion, electronica, new age and contemporary classical music. Angel also produced and remastered world music albums, compilations and boxed sets for Alula Records, Ellipsis Arts, Music of the World.