Gerardo Nuñez and Ulf Wakenius – Logos (ACT Music, 2016)
Journalist, writer and provocateur Hunter S. Thompson once wrote, "Music has always been a matter of Energy to me, a question of Fuel. Sentimental people call it Inspiration, but what they really mean is Fuel. I have always needed Fuel. I am a serious consumer. On some nights I still believe that a car with the gas needle on empty can run about fifty more miles if you have the right music very loud on the radio."
Whether you're bent on calling it inspiration or fuel, music is one of those things that indelibly mark us; it is those bright, shiny pieces we pick up simply because we are slaves to it whether we want to be or not. Speaking of the bright and shiny, guitar and flamenco fans have a set of the brilliantly fiery pieces to clutch at and put away in their pockets with ACT Music's release of Logos by Spain's famed flamenco guitarist Gerardo Nuñez and Sweden's master jazz guitarist Ulf Wakenius.
With recordings such as Calima (1998), Flamencos en Nueva York (1992), Travesia (2012) Jucal (1997) and Jazzpaña Live (2015) to his credit Mr. Nuñez teamed up with Mr. Wakenius, who has own recording credits that go beyond work with the Oscar Peterson quartet and the Ray Brown trio such as Vagabond (2012), Momento Magico (2014), Love is Real (2008) and Forever You (2013), for the live recording Jazzpaña Live in 2015. Hitching a ride to that collaboration, Logos is a rich and rewarding collaboration for this unlikely pairing. Fiery, masterful and simply superb, Logos dives deep into the waters where flamenco and jazz eddy together to create a whirlpool that's warm and effervescent.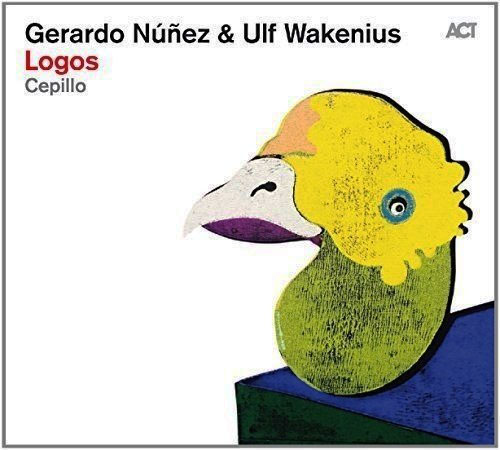 Deliciously vibrant, Logos opens with title track "Logos" and it's difficult not to get a little breathless as this pair finds a groove that is so finely and tautly drawn. Joined by flamenco percussionist Cepillo, as well as Mr. Nunez's wife Carmen Cortes and daughter Isabel Nuñez on palmas, Logos travels a road that lushly landscaped, where every turn is yet another stunning overlook with tracks like "Selene," "Habana" and "Mirlo."
With the bulk of the composition credits going to Mr. Nuñez, Logos revisits a few of his earlier themes, but the pair collaborates together on flamenco fiery "Fui Piedra" that includes vocals by flamenco singer Cancun.
Mr. Wakenius takes his own composing credit for the breezily elegant "Mirlo." Fans get other goodies like the rich and savvy "Orfeo," the dramatic "Liber Pater" and the graceful "Sevilla." Kudos should definitely go to sound people and studio staff because this is one of those crystal clear recordings where listeners can pick out every nuance and note.
Logos is indeed bright and shiny polished and is very definition of masterful, but it's not like we'd expect anything different from these consummate guitarists. So, yeah, I see us going an extra fifty miles and beyond with this kind of fuel.
Buy Logos in the Americas
Buy Logos in Europe
Author:
TJ Nelson
TJ Nelson is a regular CD reviewer and editor at World Music Central. She is also a fiction writer. Check out her latest book, Chasing Athena's Shadow.
Set in Pineboro, North Carolina, Chasing Athena's Shadow follows the adventures of Grace, an adult literacy teacher, as she seeks to solve a long forgotten family mystery. Her charmingly dysfunctional family is of little help in her quest. Along with her best friends, an attractive Mexican teacher and an amiable gay chef, Grace must find the one fading memory that holds the key to why Grace's great-grandmother, Athena, shot her husband on the courthouse steps in 1931.
Traversing the line between the Old South and New South, Grace will have to dig into the past to uncover Athena's true crime.