Cheb i Sabbah was a world renowned artist, composer and producer. Born Haim Sérge El Baaz, Cheb i Sabbah left his native Algeria in the 1960s, and made a career out of blending music from all over the world into kaleidoscopic, dance-floor mixes ever since.
The Algerian-born musical mystic got his start spinning American soul in mid-1960s Paris as a scrubby 17-year-old. But his outernational obsession didn't really take hold until 1980, when he launched a Parisian monthly club featuring Brazilian, North African, and Indian sounds, along with accompanying dancers and visuals.
His approach to music reflects a passion for bringing people together. "Dance music can only grow bigger, because it's one way all people [can] have some sort of communion that's not present in Western society."
Cheb i Sabbah's interest in audience interaction stems from his late-'60s experience with the Living Theater, an experimental performance group that explored innovative ways to involve the audience – including taking LSD and getting naked. When Cheb i Sabbah moved to San Francisco in 1986 to raise his two children, he became involved with the similarly minded Tribal Warning Theater. While there, he began exploring new musical avenues as a DJ, splicing together disparate musical parts for the theater's soundtracks.
He continued to inject theater into music – and vice versa – with his now-defunct world music series "1002 Nights." Aiming to expand San Francisco's internationalist reputation, Cheb i Sabbah invited artists such as the late Pakistani qawwali singer Nusrat Fateh Ali Khan, London's bhangra son Bally Sagoo, and Indian sarangi stylist Sultan Khan to perform. He organized these nights thematically, so that the music, video collages, decor, and food all reflected the performer's home country. His goal was to create a world the audience could feel and inhabit, if only for a night. "There was a period of six or seven years where I put on 41 concerts," he said. When reminded that our tally shows 961 nights to go, he laughs. "The expenses are so high that not many people take chances," he said. "I took 41 chances with a credit card."
Nonetheless, Cheb i Sabbah's largest innovations came through music alone, inside both the club and the studio. At "Africa/India/Arabia" and his other frequent gigs, the DJ mixes traditional Indian ragas with the work of British artists Asian Dub Foundation and Nitin Sawhney, fellow Algerian Rachid Taha, Senegalese pop star Baaba Maal, and Egyptian-styled singer Natacha Atlas, whom Cheb i Sabbah first broke on the club scene. Despite the variety of his source material, his vision ran distinctly counter to that of other sample-happy DJs who grab freely from the multicultural pickle jar. "I play an actual song," Cheb i Sabbah explained. "It has a story: a beginning, a middle, and an end."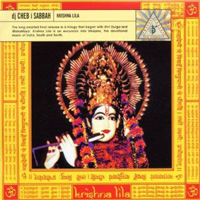 His first three albums for Six Degrees Records, Shri Durga (1999), Maha Maya: Shri Durga ReMixed (2000), and Krishna Lila (2002), are cult classics in which India's time-honored traditions merge with the universe of possibilities afforded by contemporary recording technology. This trilogy established him as a unique artist who creates bridges between cultures with a deeply moving sound drawn from DJ wizardry and world music aesthetics.
His fourth release was a continuous DJ mix titled As Far As, on which the traditions of Asia, Arabia and Africa, Sabbah's main sources of inspiration, are all represented as if the listener were attending one of his renowned live sets. From here he turned his attention to North Africa with La Kahena.
For La Kahena, Cheb i Sabbah returned to the roots of his native North Africa where he gathered some of the most distinctive female singers from the Magreb in a studio in Morocco. With tracks by vocalists from many different traditions of North Africa, La Kahena compellingly illustrates the diversity of this region. Sabbah then added his own "dj Science" or modern aural magic to these performances.
Just as MahaMaya transformed the music on Shri Durga, La Ghriba (2006) put a new spin on La Kahena. La Kahena was a global adventure and a personal journey for Sabbah, but when it came to remixing, he wanted fresh ears involved in the project. "When you make a record like La Kahena," he said, "there's no way you could say, 'i want to make one track that's drum-and-bass, then I'm going to make one dub thing, one trance thing, one hip hop thing.' I don't think like that. I just do the songs, and the way they come out, that's what they are. So if you want go to the next step, if you ask eleven different people, you're going to get eleven different creative vibes. The idea of remixes is to push it, make it more club-oriented, usually with less lyrics, and more emphasis on the beats and on the dance, rather than the original song."
Sabbah began by calling people he knew, both the famous and the not-so-famous. Sandeep Kumar, whose cool, clubby remix of the hook-laden "Toura Toura" leads off, is a young bhangra DJ living in Southern California. Kumar had opened up club shows for Sabbah, who "liked his energy." Kumar's first full-blown remix is the picture of simplicity. For Sabbah the track is a great example of the maxim he heard often from his mentor, Don Cherry: "Simplicity is very hard to achieve."
Sabbah recorded source material for La Kahena in Morocco, and while in Marrakesh his rapper son, Elijah Opium, befriended a local rap group called Fnai're. It didn't take long to learn that Fnaire was one of the most happening rap acts in the country. Fnaire shared the stage with Sabbah at the 2005 Gnawa Festival in Essawira, and on La Ghriba they remixed the song "Sadats" with deep swing and spiritual, chant-like rapping.
Two other Moroccan acts contribute to La Ghriba as well. Tahar and Farid from the London-based Moroccan group MoMo offer a completely different take on "Sadats: The Sufi Sonic Mix." This time, a roots feeling pervades with Tahar adding his own, thrumming guimbri track. Veterans of modern Moroccan music, Adberrahim Akkaoui and Pat Jabbar surprised Sabbah by picking what he considered one of the most difficult tracks on La Kahena to tackle. Currently billed as Dar Beida 04, Akkaoui and Jabbar spin out a dizzying fury of percussion on "Alia Al 'Hbab: The Hydrophobia Mix."
Sabbah brought Japan into the mix when he reached out to Makyo a "zen dub" DJ who's been spinning since 1993. Sabbah had long corresponded and exchanged music with Makyo a.k.a. Gio. Makyo layers a funky 4/4 groove with a synth-bass line in 6/8, recasting the African music's polyrhythms in techno-space before slotting in rich acoustic sounds: women ululating and singing, and a deep-toned nay (flute).
Sabbah called on another old friend via cyberspace, Yossi Fine, bassist, producer and mastermind of Ex-Centric Sound System, a group that threads together African music from all over the world with techno-beats and electronica. The two finally met face to face last year and Sabbah gave Fine a copy of La Kahena. The result is "Jarat Fil Hub: The Chalice Remix," which artfully interweaves elements from "Toura Toura," while alternating between driving, club trance, and ephemeral passages of riffing violin.
Temple of Sound was the brainchild of TransGlobal Underground veterans Neil Sparkes and Count Dubulah. On "Esh 'Dani, Alash Mshit: Ray of Light Club Mix" they created a slow build to ecstasy featuring the incendiary voice of rai legend Cheba Zahouania. Temple of Sound particularly impressed Sabbah by creating not one but four remixes of the song, one of which appears on the Six Degrees annual compilation Traveler '06. On the Temple of Sound remix, Zahouania's chant "Algerie, San Francisco," actually hints at Sabbah's own biography, as the DJ-maestro has spent a good deal of time in California.
There are other California connections here as well. On "Alkher Ilia Doffor: The Bassnectar Remix," San Francisco Bay Area producer Bassnectar-a.k.a. Lorin Ashton- pushes the rhythm hard to match the energy of the bhangra, raga, and dub that are his stock in trade.
The Chakadoons, Marc Cazoria and Alex Stiff who work as remixers for Quincy Jones were intrigued by Cheb i Sabbah's artistry which initiated their reworking of "Toura Toura." This track incorporates Chakadoons' own performances on guitar, bass, and Fender Rhodes, while leaving the song's slinky, Gnawa groove largely intact.
The set ends with work from two of Sabbah's old friends, both seasoned veterans of world music electronica. Bassist, producer and label owner Bill Laswell is a virtual dean of the movement. He gives "Esh 'Dani, Alash Mshit" a subtle treatment here, beginning with elemental sounds-wind and water-and driving the bass hard behind Zahouania's extraordinary vocal. "Bill is so cool, man," said Sabbah, "So low-key. He sent it and I asked if he had a name for it. He said, 'You give it a name.'"
For the final track, "Im Ninalou" Sabbah taps Gaurav Raina of the MIDIval PunditZ, also part of the Six Degrees family. Raina's mix is grand and dramatic with weighty bass, snapping percussion and ambient electronica.
Cheb i Sabbah returned to India for Devotion (2007), his seventh album on Six Degrees Records. India, a country Cheb i Sabbah visited several times, had been a theme with Cheb i Sabbah before, on the previous CDs Shri Durga (1999) and Krishna Lila (2002). He worked on Devotion for several years.
The CD includes an impressive cast of guests. Jai Bhavani (Praise to Bhavani, another form of Durga), features Anup Jalota, the pre-eminent singer of Hindu kirtans and bhajans in India. Koi Bole Ram Ram, (Some Say Rama Rama) is sung by Rana Singh, a reputed Sikh gurbani singer. Kinna Sohna (How Beautiful Did God Make You?), is a Sufi tune written by the late Nusrat Fateh Ali Khan and sung here by Punjabi Master Saleem. Qalanderi, another Sufi track features the vocals of Riffat Sultana, daughter of the late, great Pakistani classical singer Ustad Salamat Ali Khan. Haun Vaari Haun Varaney, is sung by Harnam Singh Morey Pya Bassey, features Indian classical singer Shubha Mudgal.
Cheb i Sabbah died on Wednesday, November 6th, 2013 of cancer.
Discography
Shri Durga (Six Degrees, 1999)
Maha Maya: Shri Durga ReMixed (Six Degrees, 2000)
Krishna Lila (Six Degrees, 2002)
As Far As (Six Degrees, 2003)
La Kahena (Six Degrees, 2005)
La Ghriba (Six Degrees, 2006)
Devotion (Six Degrees, 2007)
Author:
Angel Romero
Angel Romero y Ruiz has been writing about world music and progressive music for many years. He founded the websites worldmusiccentral.org and musicasdelmundo.com. Angel produced several specials for Metropolis (TVE) and co-produced "Musica NA", a music show for Televisión Española (TVE) in Spain that featured an eclectic mix of world music, fusion, electronica, new age and contemporary classical music. Angel also produced and remastered world music and electronic music albums, compilations and boxed sets for Alula Records, Ellipsis Arts, Music of the World, Lektronic Soundscapes, and Mindchild Records. Angel is currently based in Durham, North Carolina.