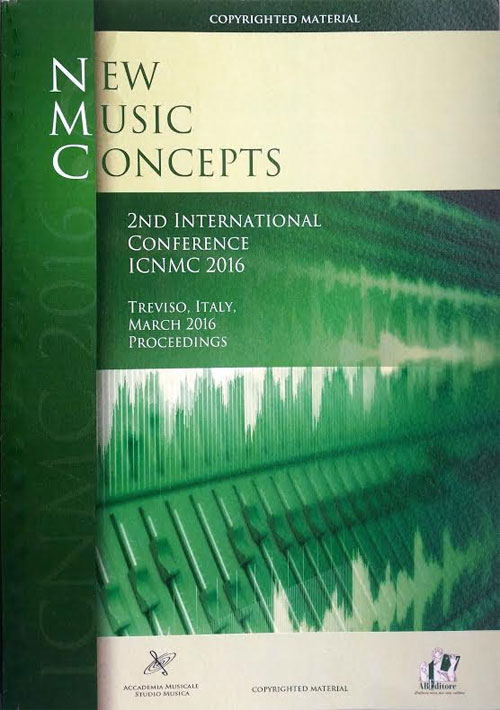 New Music Concepts. 2nd International Conference ICNMC 2016, Michele Della Ventura (ed.), ABEditore s.r.l. – Milan ISBN 978-88-6551-221-0
This book is a collection of essays and scholarly articles comprising the results of the second New Music Concepts academic conference, held in Treviso (Italy) 5‒6 March 2016. In this review we will take a general look at this publication, focusing on the specific research carried out within the framework of the annual academic meeting. The conference is organised by the Studio Musica Music Academy affiliated with the Benedetto Marcello Conservatorio di Musica of Venice.
As the book's academic editor, Professor Michele Della Ventura, writes in the introduction, the book is a collection of ideas, theories, and research findings from areas touching on the humanities, philosophy, engineering, mathematics, and the everyday experience of studio work and creative artistic work. The publication consists of articles by researchers, academic educators, and artists from England, the United States, Spain, Austria, France, Poland, Sweden, Greece, Korea, and Germany. The results of the research presented in the book can be divided roughly into three main areas: (1) sound engineering and studio work; (2) teaching at different levels of artistic instruction, with special consideration given to the potential of applying e-learning tools to improve the quality of education; (3) cultural studies and their impact on the understanding of contemporary artistic phenomena.
The amplitude of the issues involving development of e-learning methods in the book is not surprising if we consider the academic and educational achievements of Professor Michele Della Ventura, who has been a specialist in this field and for many years has been systematically expanding the field of artistic teaching, contributing to the improvement of the quality of education with the involvement of modern tools and learning: http://www.studiomusicatreviso.it/Corso_Internazionale_2016.
Among the articles addressing the issue of sound engineering and tools for the creation of contemporary music, one can find such issues as 'A User-Centric Algorithmic Composition System' (A. Antoine, E. R. Miranda), 'Blyth-Eastbourne-Wembury: Sonification as a compositional tool in electroacoustic music' (N. Bonet, A. Kirke, E. R. Miranda), and 'Basis Function Modeling of Loudness Variations in Ensemble Performance' (T. Gadermaier, M. Grachten, C. E. Cencino Chacon). These issues were well suited to the resources of the academic centre where the conference was held, as the Academy of Music in Treviso possesses a well-equipped modern recording studio.
Among the issues related to teaching and e-learning, such topics emerged as: 'Virtual Music Classroom via Incubation Theory: Case Studies and Research' (Mary K. French), 'E-learning and its effectiveness in improving The Performance of Techniques and Skills of playing the piano' (Bahia Galal Al Ekhrity), and 'The Efficiency on Video-supported Teaching in Amateur Violin Training' (N. Yagisan, Y. Aksoy).
In the last-mentioned section one can find very interesting studies concerning research touching on the fields of philosophy, sociology and culture. It is shown in this section how varied, in terms of fields and subjects, research on music can be. Among other issues we find 'Could the be considered an alternative popular music? A Jihadist ideology practiced through audio patterns: the case of al Nusra and Daesh' (I. Hafez), 'An innovation way the teaching the Arabic music analysis of the freshman student through e-Learning' (Mayada Gamal El Deen Aly Aghaa), and 'A Cross-Cultural Exploration of Music in History: Language, Health and Implications' (M. H. Cui, D. Knox, M. O. Agyeman, R. MacDonald), as well as the article 'World Music: a Transcultural Phenomenon' (P. Tendera, W. Rubiś). In this section of the book, the philosophy of music is closely connected to sociocultural research, which complements the broad perspective of the research conducted annually within the framework of the 'New Music Concepts' conference. Bringing together issues touching on technology, teaching and cultural research in a single book results in a very interesting offering in the field of academic reading.
The last-mentioned article is the result of my own theoretical research, which I have been conducting for several years. These studies focus on the ontology and value of music. We analyse not only the construction of music (where I concentrate on my own original, philosophically modernised division of music into form and content) but also the conditions that must be met for the phenomenon of transculturalism that we see in the World Music trend to have significant meaning.
We are conducting our research in counterpoint: focusing on one hand on aesthetically diverse exemplifications (mainstream jazz, swing, bebop, Latin, world fusion, global fusion, worldbeat, neo-tradition, influences of Hindu, ethnic Arab, Jewish, gypsy, African folk and European music), on the other on the universality manifested in the creative process, improvisation, and specifics of musical expression [[Cf. P. Tendera, W. Rubiś, 'World Music: a transcultural phenomenon', in: New Music Concepts. 2nd International Conference ICNMC 2016, Michele Della Ventura (ed.), ABEditore s.r.l. – Milan, pp. 61‒82]].
Author:
Wojciech Rubis
Wojciech Rubiś is a jazz musician with an inclination towards world music, fusion, Latin, ethnic music. He's active mainly in the music scene as a sideman, arranger and conductor. In this role, he has appeared in various jazz and popular music bands in Poland and abroad.
He worked for cruise marine (including Royal Caribbean), theaters and television French and Japanese, including Canal +, La Cinquième, Planète + and artistic Muzzik (now Mezzo), MTV Japan.
Wojciech has collaborated with many distinguished musicians, among others: Niño Josele, David Chesky, Kurt Elling, Michael Parkinson, Marisa dos Reis Nunes, Bebo Valdés, Javier Limón, Gary Witner, Jarosław Śmietana, Paweł Kaczmarczyk, Grzegorz Motyka, Ryszard Krawczuk, Michał Barański, Michał Knapik.
He has considerable experience in teaching and music education, lecturer at many individual workshops of jazz and classical music organized by instituions such as Webster University Department of Music (St. Louis), Musicians Institute of Contemporary Music, the Guitar Institute of Technology, Los Angeles.