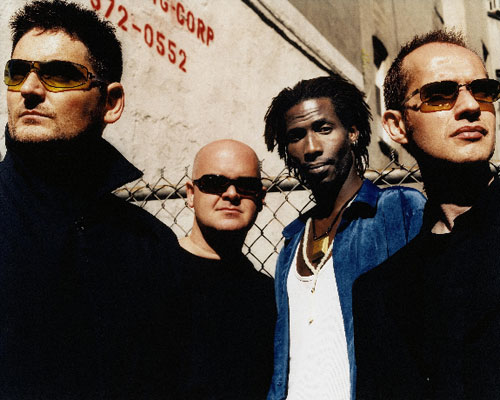 Afro Celt Sound System are widely acknowledged as one of the most innovative and pioneering groups to emerge from the increasingly eclectic cross-cultural experimentations at the cutting edge of "world music" in the 1990s.
After much soul-searching and reorganization following the sudden tragic death of keyboardist Joe Bruce, the group re-emerged with a dynamic and emotionally charged album that wed the delicacy of their acoustic instruments – harp, kora, bodhran, jembe, uilleann pipes, talking drum – with the multidimensional, layered production of Simon Emmerson and Martin Russell.
The band's characteristic Celtic-West African fusion, inherently joyful and high-energy, was offset by a discernible bittersweet quality, darker and more melancholic than the first album's effusive spirit expressively underscored by the performances of guest musicians Nigel Eaton on hurdy gurdy, Michael McGoldrick and Ronan Browne on uilleann pipes, Youth on bass, Dhol Foundation's Johnny Kaisi on dhol drums & tabla, and Sinead O'Connor on vocals.
The album represents the transformation of a project – conceived at Real World's 1996 Recording Week – into a cohesive band with a distinctive sound and style. It is the record they all wanted to make, reflecting the unique playing skills and personalities of the diverse core members – Simon Emmerson (guitars, programming, keyboards), N'Faly Kouyate (vocals, kora, bala), Iarla O Lionáird (vocals), James McNally (keyboard, whistle, bodhran, accordion), Myrdhin (Celtic harp), Martin Russell (keyboard, programming, engineering), and Moussa Sissokho (talking drum, jembe).
James McNally said "Our style of writing and playing music does not pretend to adhere to any particular traditional style except our own. Together we write Afro Celt music: music rooted in the past that's reaching into the future – that's it. The collaboration of the various musicians within the band was effortless, heartfelt, and very harmonious. My faith in the others was constantly rewarded with stunning contributions and performances. It's like we can almost read each others' mindset's uncanny, transporting, and deeply magical."
Afro Celts are firmly rooted in some of the oldest musical traditions on earth, yet colliding head on with cutting-edge electronica. Iarla is among the foremost performers of West Ireland's ancient unaccompanied sean nos vocal style. Myrdhin plays an ancestral Breton harp, and both N'Faly and Moussa are venerated jalis from West Africa's esteemed bardic schools of master musicianship. Conversely, Simon comes from the context of experimental dance music, and James' background was with the Pogues and the Irish hardcore hip-hop group Marxman. From these far ends of the musical spectrum comes the entity that stormed the stage at the Cambridge Folk Festival, played to a full-on dance crowd at Tribal Gathering, and played to a widely enthusiastic crowd of 20.000+ MTV rockers at Holland's Lowlands Festival.
Simon Emmerson said "It's very difficult to get across… that what we're doing is rooted in my neighborhood in East London. Our studio is based in the same building as Fat Man Sound System – one of London's oldest Club Dog are also there my neighbor runs Jah Youth Sounds. Zion Train live up the road, as does Adrian Sherwood's On U Sound System. Within a two-mile radius of my house there's been Talvin Singh's club, the first drum &bass sessions, the Whirl-Y-Gig, and countless other similar clubs. This is my musical environment."
Afro Celt Sound System returned in 2010 with Capture, a career-spanning double CD, released by Real World. Selected from the collective's five acclaimed studio albums, the 25 tracks are divided into songs (Verse) and instrumentals (Chorus). The songs were re-mastered to lend the sound a new warmth and allow the dynamics to emerge as originally intended.
Capture includes Afro Celt Sound System's collaborations with Sinead O'Connor, Peter Gabriel, Robert Plant, Dorothee Munyaneza and others. It also includes pieces featured on soundtracks including Gangs of New York and Hotel Rwanda.
In 2016, a version of Afro Celt Sound System led by Simon Emmerson released an album titled The Source. This was a controversial move since the remaining founders of Afro Celt Sound System, James McNally and Martin Russell, expressed in a press release that this was not the real Afro Celt Sound System.
The Source included Simon Emmerson on guitars, cittern, bass programming, electronica; Griogair on vocals, rap, highland pipes, whistles, electric guitar; Johnny Kalsi on dhol drums, percussion, beats and programming; N'Faly Kouyaté on kora, balafon, percussion, calabash and kirin; Mass on keyboards, beats and
electronica; Moussa Sissokho on talking drum, jembe and calabash. Jamie Reid handled artwork and visuals. Guests included members of Scottish band Shooglenifty.
Discography:
Volume 1: Sound Magic (Real World Records, 1996)
Volume 2: Release (Real World Records, 1999)
Volume 3: Further in Time (Real World Records, 2001)
Seed (Real World Records, 2003)
Pod (Remix album) (Real World Records, 2004)
Volume 5: Anatomic (Real World Records, 2005)
Capture: 1995-2010 (Real World Records, 2010)
The Source (2016)
Author:
Angel Romero
Angel Romero y Ruiz has been writing about world music music for many years. He founded the websites worldmusiccentral.org and musicasdelmundo.com. Angel is also co-founder of the Transglobal World Music Chart.
Angel has also produced and remastered world music studio albums and compilations for labels such as Alula Records, Ellipsis Arts, and Music of the World.