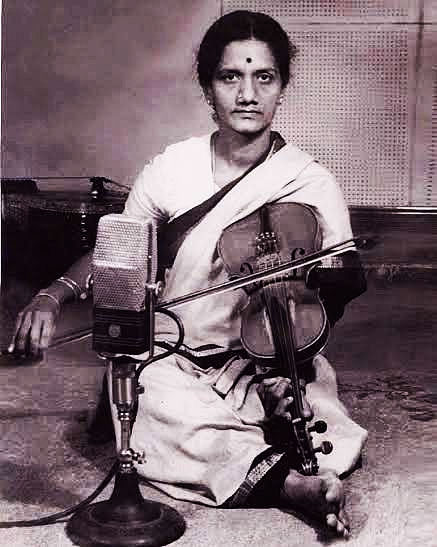 Smt. Kalyani (1926-2003), daughter of Sriman Nadadoor Ammal Narasimhachariar and Srimati Singarammal, has been one of the very few modern woman composers of Camatic music of 20th Century. She has the distinction of composing in all the 72 melakarta ragas and also in very rare/Apoorva ragas. Her father Sriman Narasimhachariar who was a teacher, Head Master and then Inspector of schools, was a distinguished poet in Telugu and Sanskrit in Andhra Region.
She had an in-born quality to compose lyrics and set them into music herself from an early age. Being brought up in family of scholars in Telugu and Sanskrit, Smt. Kalyani started her initiation in Camatic music in Veena and vocal at a very early age under her mother and sister and also under able gurus. Thereafter she learnt Violin in Madras. She started composing songs at a very early age on Lord Yoga Narasimha of Gatikakshetrarn – Solangipuram- Tamil Nadu, who was her Ishta Daivata. Her first debut in Veena concert was in AIR Madras at the age of 16.
After her marriage with Sri Varadarajan, who was then working in the Indian Army and then in Indian Railways, Smt. Kalyani shifted to Mumbai and settled there. In the year 1956 she performed in the Maharashtra Sangeeta Sammelan where she was honored with gold medal by the then Chief Minister Sri Morarji Desai. That was the time when she joined All India Radio, Mumbai by invitation in the Camatic music department (perhaps one of the first in that department). During her tenure in AIR, for about 30 years, she has accompanied a number of artists on Violin and has participated in orchestra (s).
Her quest for composing kritis in Camatic classical music in Telugu, Sanskrit and Tamil was ever growing with her. She could compose with ease number of kritis in different rare ragas. Due to her rich study and knowledge in Hindustani Music and her acquaintance with great musicians like Pt. Gajaanan Rao Joshi, VV Jog and others. She was able to sing/play Hindustani ragas effortlessly. This she applied in her kritis also. She has composed a number of kritis in Hindustani ragas like Bahar, Dundubi, Bagasri, Jayajayawanti (Dwijavanti) Gowda Malhar, Jonpuri, Gurjari Todi, Madhukauns, and Chandrakauns.
Smt. Kalyani's compositions are on different God/Goddess/Godheads in different language. Her Kaanada composition on Lord Venkateswara – 'Saptagirisam sada Bhajeham' is a popular kriti sung by many veteran artists of Camatic music. She has composed kriits in rare ragas like Bhavapriya, Bhavani, Yagapriya, Vijayanagari etc. She has composed on Lord Venkateshwara (Saptha Girisham in Kaanada, Maha Venkateswara in Raga Bahudari), Ranganatha of Srirangam temple (Vainatheya Vaahanam in raga Mohanam).
It is understood that she composed songs when ever and where ever she visited a temple. That was her way of admiring and expression of feelings. For instance when she had visited Yadagiri district, Jwala Narasimhan temple, she composed a kriit in the raga Kanada. Similarly when she visited Chamundeshwari temple she composed 'Chandikeshwareem Asrayamyaham' in the raga Abhogi. Apart from this she has composed two vamams – one tana vamam in raga Subhapanthuvarali (Pahimam Payorasi Putri) and One pada vamam in the raga Vachaspathi on Raja-rajeswari- This is a Pada vamam is more apt for the dance concert. She has composed a Thillana in the raga Bhushavali and a raga malika in rupaka tala. Her compositions are well appreciated and rendered by many musicians all over. Her works were popularized and propagated by various senior performing musicians like (late) Prof. Sh. T.R. Subramaniam, Tanjore S. Kalyanaraman, Madurai Somasundaram (Somu), S. Rajam etc.
Her compositions carry Chittaswaras, madyamakala sahitya and a careful application of grammatical aspects of Camatic music like Yati, Prasam, Samasam, Vibhakti etc. Perhaps she has followed the footsteps of Muthuswami Dikshitar in her compositions. The words incorporated in the sahitya are of very high order with appropriate usage. She used the Svanama Mudra 'Kalyani' or 'Kalyani Varada'as her signature in the compositions. The mudra blends with the sahitya, as it appears.
Smt. Kalyani Varadarajan had the rare distinction of being a performing musician in three different genres and graded in Vocal, Violin and Veena and has given concerts on the AIR (All India Radio) and also on the stage. She has toured to USA and Japan etc. for concerts during the days when global travel was not all that common like the present day.
Smt. Kalyani passed away on 28th October 2003, and her memories are cherished through her compositions.
Author:
Dr. Saroja Raman
Dr. Saroja Raman is a vocalist who has been pursuing Carnatic music from the age of 7. She has a Doctorate PhD in Music from the Delhi University, India