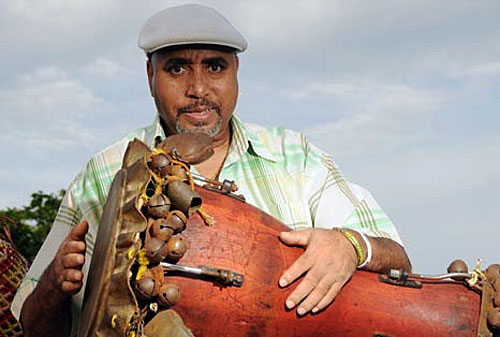 There are at times special musicians with the utmost talent and creativity. Angel "Cachete" Maldonado is this type of musician. We will refer to him as "Cachete" during this interview. Cachete has played the rhythms of Puerto Rico, which are bomba and plena, with his folkloric groups; but he also preserves the Afro-Cuban guaguanco (rumba) style, with Cachete's style and flavor.
Cachete had, and still has, an outstanding Latin orchestra by the name of Batacumbele that performs on a regular basis on the island of Puerto Rico. Let's see what Cachete has to say about his life in this interview.
Cachete, tell me a little bit about your childhood background. Where in Puerto Rico were you born?
I was raised in the Barrio Obrero, the nest of a lot of musical groups, as well as sportsmen, playwrights. A nest of all the big ones, like (composer) Tite Curet Alonso, adopted son of the Barrio Obrero, The Rodriguez, Tito Rodriguez (Latin orchestra leader), Arturo A Shimburg, Rubén Gómez, to mention a few.
Were any of your parents or family members musicians?
My father was a bassist and guitarist. My sister was a singer and my aunt Ana Maria Cruz was a singer, of the famous Fiestas de Cruz, very well known on the island.
What is the first group or band that you were in and what was the instrument that you played?
The first professional group was with Johnny El Bravo López and Danny González. I would play bongo and cowbell with Johnny and timbas with Danny González. Prior to that I would perform with other groups, although they were not known and I used to sing at 13 and 14 years of age.
What bands have you performed with during your musical career?
Larry Harlow, La Conspiracion, Luis "Perico" Ortiz, Eddie & Charlie Palmieri, Leandro "Gato" Barberi, Machito, Tito Puente, Típica 73, Johnny Pacheco, Ray Barretto, Jaguares, Ricky Martin, Lucecita Benitez, Celia Cruz, etc., etc.
What gave you the idea to form the band Batacumbele?
It was my first trip to Cuba. It was born out of a development concern for rhythmic music. There already existed rhythmically an example, Los Van Van with Changuito, creator of the songo rhythm that revolutionized the musical wave in Cuba. The Ritmo Oriental de Cuba, Irakere and other groups who spearheaded the new wave of music. A new form of playing the drums of the Ritmo Oriental and the tumbaos (beats) of Nino Valdes with four tumbadoras (conga drums) and Batun Bata, etc.
I have a love myself as a conga drummer for Afro drums of Rumba music. What inspired you to love and play that type of music?
Even when I was really young, studying drums, my love for the rumba and its drums (congas) was born. I remember that my father would take me to a rehearsal of Rafael Torres Silva. That was my first contact with the percussion of conguero Celso Clemente. He was the first person I saw play the timbas.
Later, Papo Román, the second conguero that I saw in the group. Then I began to listen to Mongo Santamaria; Carlos Patato Valdez; Francisco Aguabella; Julio Collazo, my first teacher of bata drums; Tommy Lopez; Mr. Ray Barretto; Ray Romero; Francisco Aristides Soto, better known as Tata Guines; Yeyito Iglesias; Guillermo Barretto; Tito Puente; Willie Bobo; and Jose Mangual.
Cachete, what's the latest with Batacumbele these days?
With Batacumbele, now I am working with a group of young talents in union with Luis Marin, the musical director, and Pablito Rosario one of the original members. Noel Rosado, Tono Vazquez, Angie Machado, we have continued with the hard work of continuing with the group.
Due to my condition, I had to readjust my involvement with Batacumbele, but I keep working with the group Batacumbele Sangre Nueva (New Blood) and Los Majaderos de Cachete Maldonado, a group of rumba, bomba, and plena.
What are the future plans for you as a drummer, bandleader an artist?
Right now we are currently in the process of finding a location to give workshops and classes of Afro-Antillean dances, bomba, plena, rumba and other rhythms of the Caribbean, where all local and international people can enjoy the work in a patio.
I await to serve the public in general this year, 2016.
Discography:
With Batacumbele:
Con un Poco De Songo (1981)
En Aquellos Tiempos (1983)
Afro-Caribbean Jazz (1994)
Live at the University of Puerto Rico (1994)
Hijos del Tambó (1999)
With Cachete y los Majaderos
Cachete Maldonado y los Majaderos (SMG Productions, 2003)
Rumba Boricua Campesina
Facebook Page: Los Majaderos de Cachete Maldonado
For Bookings 787-533-6909
I would like to thank Cachete Maldonado for his great time and effort to make this interview possible.
At times, when I'm writing, I'm aware of conditions suffered by artists or craftsmen that due to age, and the fact that we are all human beings, have maladies that are not discussed on our Facebook page(s) Timbales Congas Bongo Bata & Bells, nor in our interviews for personal reasons. At given times, there are impolite or abrupt remarks made by readers that are unaware of the condition of the artists and craftsmen because they do not know them personally; those are overlooked at this time.
I would like to give a "great thank" you to Pablito Rosario for making this interview possible. Thank you Pablito!
Author:
Les Moncada
Les Moncada is a former Latin Jazz orchestra leader and conguero for over 40 years. He was born in Oakland, California and currently resides in Sacramento, California. Les Moncada was an apprentice to conga and batá master Francisco Aguabella, a friend of vibraphonist Cal Tjader, Latin Jazz band leader Pete Escovedo, conguero Armando Peraza and many more. He has been writing for many years for World Music Central. Les Moncada's Facebook site is:
Timbales and Congas Bongo Bata and bells
.