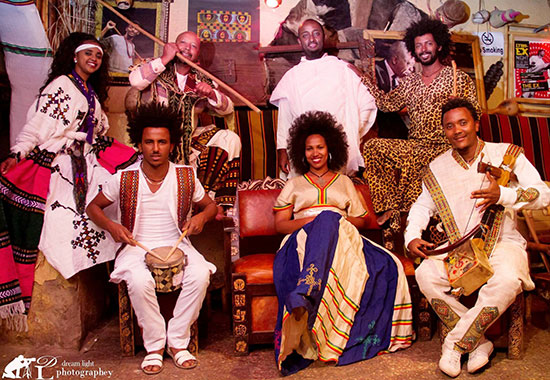 Ethiopian act Fendika is set to perform at North American world music showcase globalFEST on Sunday, January 16 at the Ballroom stage in Webster Hall, New York City. Fendika's concert begins at 19:00 (7:30 p.m.).
Cultural entrepreneur, dancer and Fendika leader Melaku Belay talks to World Music Central about the upcoming concert.
Can you tell us about the band you will be taking to globalFEST 2016?
Fendika is a traditional Ethiopian music and dance group based in Addis Ababa. Our performances draw from Ethiopia's azmari – like bardic – tradition while adding creative movements and sounds that extend these ancient musical forms. At globalFEST Fendika will feature seven performers – two dancers, two singers, and instruments including kebero drums, masenqo (a one-stringed bowed lute), and krar (a five- or six-stringed lyre). I have traveled throughout Ethiopia to learn the music and dance traditions of the country's 80 plus tribal groups.
Our performances present a cultural journey starting in the highlands of Tigray, Wollo, Gonder, and Gojam, also including dances from the Somali and Afar regions and southern Ethiopian dance forms from the Gurage, Wolaita, and Konso traditions where music is an integral part of life. I have danced with people from all these groups, and sometimes I bring them to Addis to perform with us – this is a great way for us to continue learning about the wonderful diverse cultural expressions of our country and to bring different traditions together.
My artistic vision is to present the rich musical traditions of Ethiopia to the world, while also including a natural innovation in our expressions. I believe that culture is always changing, but should also honor its roots and sustain that heritage while building cultural opportunities for the future. We are creating a new tradition!
Many influential North American arts presenters will be at globalFEST 2016. What do you expect to get out of it?
We are so excited to bring our culture to globalFEST, and hope to meet many presenters who would like to book Fendika for their shows in the future. We love to tour in America and have many supporters from our previous performances here who wish to see us again!
Can you give our readers a brief history of your band?
I am passionately committed to the preservation and development of traditional culture, from my early days as a boy fascinated by the celebrations I saw in the streets of Addis, such as Timket, our Feast of the Epiphany in mid-January. This religious festival is attended by thousands of people, we dance and play drums and express our spirituality and also our joy in gathering with others. Music and dance is a central part of that – I started dancing there and have never stopped! I participate at Timket every year with my group and family and sometimes also bring musicians from the countryside to Addis to dance with us. For me, the experience of dance is cultural expression, life, the practice of culture, it is not just a performance for an audience.
Timket at 2:00
From those beginnings, I went on to work at a club where traditional azmari musicians played every night. I danced for tips and often slept there, it was a rough beginning but I loved performing and now I manage the club, Fendika Azmari Bet in the Kazanchis neighborhood of Addis Ababa. In Ethiopian culture, an azmari bet is a traditional house of music where people come to be entertained, informed, and sometimes playfully insulted by the azmari who serve as current events commentators while they dance, play masenqo, and improvise songs.
In addition to the azmaris who perform every night at Fendika, I established two traditional performing groups – the smaller elite group Fendika and the 12-member Ethiocolor. We present our traditional repertoire of music and dance at the club, and also love to collaborate with guest artists from Ethiopia and from around the world – musicians, dancers, poets, circus performers, all genres! For us this is an opportunity to exchange cultures, to grow and learn, to provide a bridge for all artists, and to connect on a human level.
I wish to mention something that is important to me – at Fendika club, the azmaris and the musicians are paid for their work. Not every music venue does this. Also, I help the musicians as much as possible to set up accounts, attend classes, and find accommodations. It is an investment in Ethiopia's future, through culture.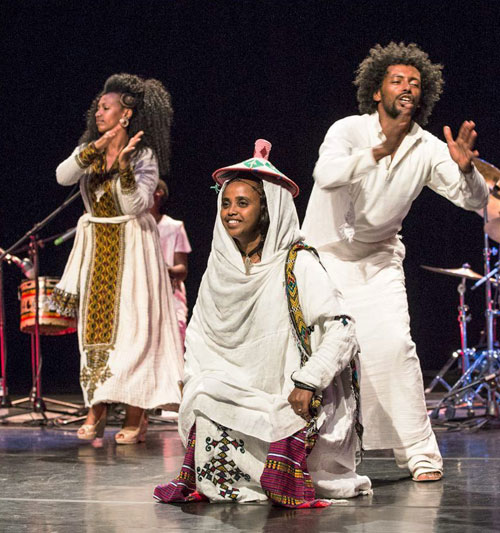 What do you consider as the essential elements of your music?
Fendika brings excitement, quality, fun, authenticity – we present what we know from our lives. We welcome everyone to join us. Yes we begin with traditions but we also create. Our style is not playing "traditional" music mixed with "modern" or western sounds. It is rather a new creation from merging old musical traditions with contemporary innovations to come up with a new set of "modern traditions" within Ethiopian music.
One example of this – I went to the Merkato, the open-air market in Addis that is a city in itself, and an ancient one. There is a place where men are recycling oil drums into new pieces of equipment using only hammers. I was inspired by the natural sounds they make in their work, and I created a dance of spontaneous movements along with them, with no words or music but in total sync with their rhythms of everyday life. You can see this here:
Dance is our language, how we communicate all emotions and how we celebrate together. I dance with Fendika and have become known for my eskista, the "shoulder dance" that tells a story of how a person can outwit a snake by moving his body in an athletic but sinuous trance-like way. Many of our dances have stories behind them, and our movements have meanings. This video explains about this: https://www.youtube.com/watch?v=-EOeYqaxosY @ 1:36
Fendika loves engagement and interaction between audience and performer. Audiences become part of the celebration! Also, we love to partner with musicians from other countries and genres of music, to collaborate and to influence each other. We have had amazing musical explorations with Ethiopian jazz bands, American free jazz genius Ken Vandermark, European punk leaders The Ex, Le Baroque Nomade, Le Tigre des Platanes, and Ethiopian legends Mahmoud Ahmed, Getachew Mekuria, and begena master Alemu Aga, among many others.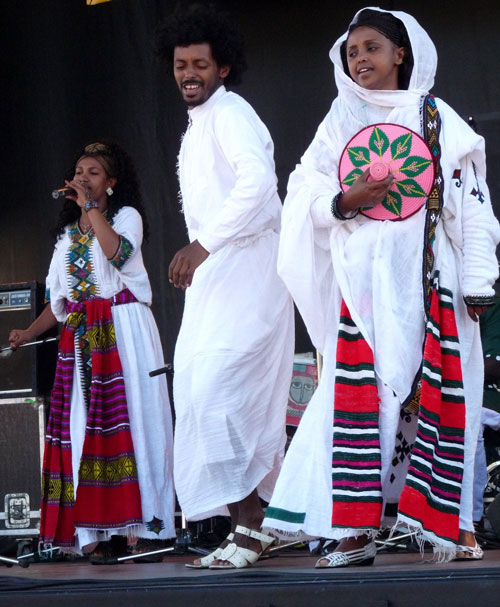 Who can you cite as your main musical influences?
Ethiopia has many legendary musicians, from regions and cultures around the country as well as the Disapora, some traditional and some from our "Golden Era" of police bands and popular singers and jazz performers. They are our base, our inspiration, even if they don't perform now. I reach out to them and bring them to Fendika to play and sing with us, they love this and feel they are not forgotten. We learn from them. For instance I found Zeritu Getahun, a beloved singer in her day, and brought her to Fendika. Also recently singer Tadele Bekele was a guest artist at Fendika, also from Zeritu's generation.
Another inspiration is Alemayehu Fanta, who has taught music for 43 years at the St. Yared School of Music in Addis – he plays many instruments including krar, masenqo, and begena. Ethiocolor includes a legendary washint (bamboo flute) player, Yohannes Afework, so we involve many generations. Alemu Aga, a begena player, is an influence on me for the essential spiritual quality of our music. And of course I love the great Mahmoud Ahmed and have danced on stage with him and also with Alemayehu Eshete, most recently in August in Stockholm. And we gain deep inspiration from the people who live in the countryside and who originated the music and dance of Ethiopia, and practice it, live it, every day. They keep our cultural wellspring alive.
What Ethiopian traditions do you represent?
Ethiopian musical beginnings go back at least to the 6th century, when St. Yared wrote music and played the begena, a 10-string lute, for spiritual ceremonies and for meditation and prayer. This was our way to connect to God, and became the foundation of our musical traditions. The azmari instruments such as the masenqo (a one-stringed bowed lute) are played in social gatherings and were also used in church ceremonies to thank God.
At Fendika Azmari Bet we begin every performance with a song played on masenqo of thanks for what God gives us. So our musical traditions are deep, and we draw from them in the form and content of our expressions and the spirituality that we feel when we perform. I believe so much in collaboration whenever possible, because working with our legends keeps them in the forefront of today's music, and encourages the young azmaris and musicians to discover the traditions and learn them and develop them.
For us, our music is more than performing – we live our art in community and spiritual gatherings throughout the year. And Fendika club is a place of exchange and constant renewal, and joy in our culture.
Yes, Ethio-jazz is a wonderful musical movement that fascinates the world. Even though it adds new instruments like saxophone, when a master like Getachew Mekuria plays he makes the sax sound like a masenqo – he has the essential traditional sound and the soul in his instrument. In some ways Fendika's music is like that – we are deeply traditional, but we add new ideas and movements, in a natural way. Improvisation is an essential part of our tradition, we don't separate the approaches, they are seamless.
Tell us about your first recordings and your musical evolution.
Our favorite way to perform, our main audiences, are live, either at Fendika Azmari Bet or on tour. But we have also made recordings to spread our music. The first is the self-produced Addis Tradition, which includes many azmari musicians and azmari songs from Fendika's musicians who play regularly at the club. The title is a play on words, as "Addis" means "new" in Amharic.
Our second CD was produced in 2014 by Selam Sounds based in Sweden; it is called Ethiocolor which is the name of our larger performance group and features many of those musicians http://selam.se/eng/news/selam-sounds-new-release-ethiocolor. Selam produced a video from the CD that is shot with a 360 degrees effect, the first time that has been done in Africa:
This year Fendika joined with the Ex to produce a 7 inch single, Lale Guma/Addis Hum, our interpretations of traditional songs and chants. Very cool.
If you could gather any musicians or musical groups to collaborate with, whom would that be?
I have been blessed to be part of many amazing music and dance collaborations. I love to work with the Ex, and Ken Vandermark – improvisation masters! We performed together in Europe this summer and many times before including in 2013 in the U.S. Fendika has experience from the folk festivals of the U.S. and in educational programs in France in participating in "World Sounds" or "World Dance" workshops on stage, featuring musicians from several cultures who demonstrate their art and then exchange and collaborate resulting in a group performance on stage. One I remember especially was with the Moroccan Gnawa musician Hassan Hakmoun at the Richmond Folk Festival – what a great way for audiences to understand different musical traditions, from the musicians themselves – how they are different, and how they can connect.
Also, I enjoy performing with groups like Addis Acoustic Project and the great young keyboard player Samuel Yirga. Musical partnerships and guest appearances happen all the time in Addis. And we mix things together – poetry with jazz and dance, theatre, acrobatics, sound – it's organic!
Collaborations I would like – with the Taarab musicians of Zanzibar. Also, I love Tibetan culture and hope to learn more about their music. Did you know that Fendika played at a concert in Germany this summer with Usher? …
I wish – I would love to have had a chance to work with Michael Jackson.
Do you have any upcoming projects to share with us?
The musicians and dancers at Fendika will soon collaborate with a young dance group that has won "Ethiopian Idol." I continue to develop my contemporary dance piece called Misunderstanding. Another project that partners with sax player Jeroen Visser and other musicians and dancers will travel to South Africa to present Fano/Be Ready – "Fano creates a dialogue between the worlds of the Music and the Dance, the Old and the New, the North and the South, the Structured and the Improvised. Having the Shellela – the ancient war chant as a returning theme, it asks for attention and preparation, the Old and the New to be mastered Now, and made our own,
https://vimeo.com/87468063."
Future Fendika tours include Portugal, Spain, and possibly Brazil, through the embassies of these countries.
One of my dreams is to organize a street festival outside the door of Fendika Azmari Bet in Kazanchis, that will bring many musicians and dancers and cultural groups together to celebrate and invest in our neighborhood, and this will happen in 2016. And I am working to create an Ethiopian Dance Association.
We are eager to meet you all at globalFEST!! You can keep up with our activities through these links:
http://www.reverbnation.com/melakubelay
http://www.melakubelay.com
https://www.facebook.com/melaku.belay
Author:
Angel Romero
Angel Romero y Ruiz has been writing about world music music for many years. He founded the websites worldmusiccentral.org and musicasdelmundo.com. Angel produced several TV specials for Metropolis (TVE) and co-produced "Musica NA", a music show for Televisión Española (TVE) in Spain that featured an eclectic mix of world music, fusion, electronica, new age and contemporary classical music. Angel also produced and remastered world music albums, compilations and boxed sets for Alula Records, Ellipsis Arts, Music of the World.