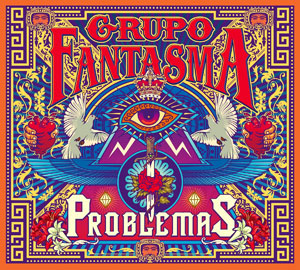 Grupo Fantasma
Problemas (Blue Corn Music, 2015)
Music fans will know Grupo Fantasma from releases like 2001 self-titled Grupo Fantasma, 2005's Movimiento Popular, 2006's Grupo Fantasma Comes Alive and the 2010 recording El Existential. Adding to their discography is their latest Problemas on the Blue Corn Music label, produced by Steve Berlin of Los Lobos and Los Super Seven fame. With enough brass to cause riots in the streets and enough razor sharpened percussion to cause a sweet little telenovela heroine to shake booty in the face of tragedy or a case of amnesia, the Austin, Texas based Grupo Fantasma's sound is thrilling and infectious. Problemas is just the wild, hair-raising ride one needs to warm up a cold winter.
Dishing up a mélange of rock, metal, funk and jazz surrounded by Tex-Mex, South American, Cuban and African influences, Problemas comes across hot off the grill and delightfully delicious. Serving up that sound is timbales player and vocalist Jose Galeano, vocalist and hand percussionist Kino Esparza, guitarist Beto Martinez, bassist Greg Gonzalez, drummer John Speice, conga player Matthew "Sweet Lou" Holmes, trumpeter Gilbert Elorreaga, trombonist Mark "Speedy" Gonzalez and baritone saxophonist Josh Levy. While overwhelmingly Latin in flavor, Grupo Fantasma cleverly tugs and pulls in other musical styles to conjure up a sound that's fresh and savagely good.
Opening with the sleek and curvy "Nada," Grupo Fantasma dazzles listeners from the get-go, before slipping into the sizzling, hip-hop tinged "Solo Un Sueno." Problemas just gets better with dreamy tracks like "Porque" or kickass numbers like "Mulato." Other goodies include "Descarga Pura Y Dura,"
"Otono," title track "Problemas" and sassy closing track "That Night."
Bright with brass, sharp guitar lines, infectious percussion and cleverly worked vocals, Problemas doesn't have any problemas – it's just a sweet convertible ride into a Latin music wonderland.
Purchase Problemas
Author:
TJ Nelson
TJ Nelson is a regular CD reviewer and editor at World Music Central. She is also a fiction writer. Check out her latest book, Chasing Athena's Shadow.
Set in Pineboro, North Carolina, Chasing Athena's Shadow follows the adventures of Grace, an adult literacy teacher, as she seeks to solve a long forgotten family mystery. Her charmingly dysfunctional family is of little help in her quest. Along with her best friends, an attractive Mexican teacher and an amiable gay chef, Grace must find the one fading memory that holds the key to why Grace's great-grandmother, Athena, shot her husband on the courthouse steps in 1931.
Traversing the line between the Old South and New South, Grace will have to dig into the past to uncover Athena's true crime.