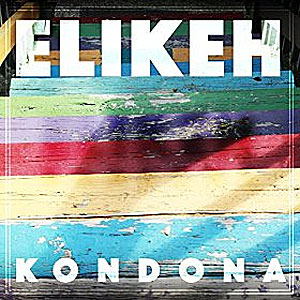 Elikeh is a band that brings true energy to the stage. Captured live their horns punch out tight harmonies alongside Massama Dogo's earnest singing. He leads them in singing and on guitar. Think of James Brown's precise horns meeting Agbadja rhythms native to Massama's Togo, West Africa, and you begin to get the sound. Agbadja is a rhythm found in Benin, Togo and Ghana, based on three different percussion instruments of different pitches. It is upbeat, driving, and very close in feel to reggae.
This is a band that dances on stage. When I heard them last year at Drom in New York, Massama coaxed the audience to dance. They make you want to move. "Kondona" is an extended play released on November 20th by Ropeadope records. It captures the power of Elikeh's live sound.
In this music, the worlds of Africa and America meet. Elikeh are neither a completely African nor an American band. Jazz, funk, pop and African traditions inspire its diverse members. They were founded in 2010 by Massama who formerly led a University big band in Togo. His prior practice and experience of leading a big band informs how he now leads this large band of nine musicians with its tight, full and pulsating sound. Its instruments are trumpet, sax, bass, two guitars, drums, keyboard, sax, and percussion.
After five years, band members were getting weary and restless about continuing to work together. Massama says that they were not able to agree about the future direction of their sound. They decided it was time to hold a meeting. During the meeting, Frank Martins, one of the two guitar players, kept playing his instrument. Other musicians joined in and participated in the making of a new song.
Conversation is the first track on "Kondona." The horn section plays the same theme several times in cycles, while a steady, bouncy Agbadja rhythm hypnotizes the listener. Conversation is upbeat and danceable. Massama says, "I understand this rhythm, I feel it, I am naturally drawn to it, maybe it is because it is from my country." A few minutes into the track, the trumpet enters and extends into improvisation, bringing increased life to the music. You hear a call and response from trumpet to sax. There is an openness in this song, the musicians are skilled at dialoguing with each other. A true conversation takes place as often happens in traditional African music where one musician initiates and then another steps in to answer what has been played.
In Adja, again you hear the steady, undercurrent of Agbadja rhythm that flows through the song. Here, Massama vocalizes about a tough man whose toughness cannot save him when he is captured by the police. Again the horns announce their presence, repeating the same theme throughout the song. The forcefulness of Massama's singing draws you in and commands your attention.
The group then covers the Ghanian musician Ebo Taylor's Heaven. Massama's field recording of voices and steady percussion at a traditional Kondona ceremony from Togo is heard in the intro. The Kondona is an initiation that moves young men into adulthood. The traditional introduction makes way for the modern. The old nourishes the new as the sax playing stands out with long notes drawn out through the song. The audio recording of voices from the ceremony join the fade out of the music, so the modern music fades back out into the old.
On this EP I sense the live electricity of this band more than any previous album they have released. When I tell Massama this, he responds, "We were almost all in the studio at the same time for this EP." "Elikeh" means rootedness. They have found new roots with Kondona.
For more information about Elikeh visit their website at elikeh.net