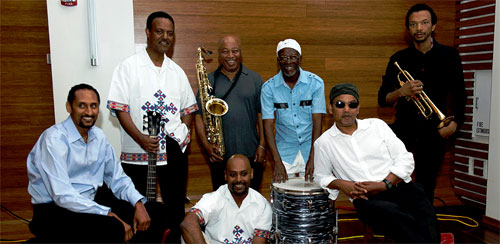 Arts Brookfield has existed as an organization for over twenty-five years. Part of its work is to bring free and open arts events in public spaces to audiences across the world. The Global Beat Festival is one such event. The festival took place this year from Thursday May 7th to Saturday May 9th and offered some of the best and most exciting acts in contemporary world music. Ranging from the powerful vocals of Emel Mathlouthi of Tunisia to Feedel band who merge jazz with traditional Ethiopian sounds and instruments. The real significance of this festival is its free accessibility to anyone with an interest in music. It gives audience members the opportunity to approach all kinds of world music on their own terms, whereas a music event that charges money may not.
On the last night of the festival, true magic happened. Here we were carried into the world of music that is Honduras, a Central American country with music ranging from reggae to Garifuna music (more about that later) with a touch of salsa to liven it up.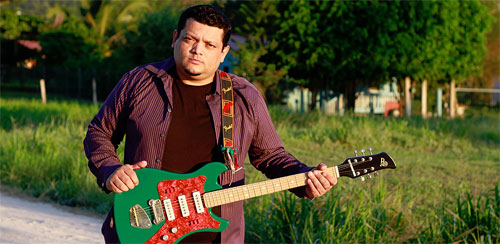 In the first set we were introduced to Guayo Cedeño and his band Coco Bar. This was Latin surf, as the guitar whirred, we felt as if we were stepping into the wickedly danceable soundtrack of a Quentin Tarantino movie. The music was light and playful: the sea side sound of the Beach Boys met Ry Cooder's electric guitar. This group's sense of fun was like coming up for air after hearing so many bands that take themselves way too seriously. The sound was simple. Just three instruments: drums, bass, and guitar grabbed our attention. Their music made us want to get up and boogie down on surf boards. The first number was uptempo, almost ska in sound. By the third number, "La Charanga," we heard the full expressiveness in Guayo Cedeño's guitar playing as he elongated the guitar notes. The musicians were enjoying themselves, bobbing up and down to the jangling sound on stage. On the fourth number, "Black and White," they moved their hips as they danced side by side to a psychedelic guitar that merged with reggae. The set built in excitement and energy, as Guayo's guitar playing became more elaborate, ecstatic even.
But Aurelio Martinez was the musician to capture our attention. He held an acoustic guitar and was dressed all in white, even wearing white shoes as he moved with elegance on stage. His Garifuna Soul Band were the second group to take to the stage that night. His band was large, encompassing two round percussive drums, a drum set, clave, maracas, electric guitar and bass. His is the music of the Garifuna people, who are indigenous to the coasts of Belize, Honduras, Guatemala and Nicaragua. They are the descendants of West African, Central African, Island Carib, and Arawak people. The pulse of West Africa is kept alive in their music — in its highly percussive sound. This music is closest to what we in America would call folk music, yet the vocals are arresting and haunting. Garifuna music was bought more to worldwide critical attention in 2007 by Andy Palacio a musician and activist who was a friend Aurelio. Andy sadly died in 2008, but Aurelio now continues the work of bringing this music to a broader audience.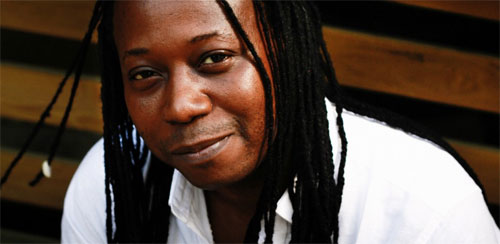 Aurelio's was a powerful voice, a voice of longing, a voice echoing the cry of the blues. His smile was beautiful as he sang, inviting us in, welcoming us to the warmth of his music. Pablo Blanco who is a cultural advocate of the Garifuna people and who lives in New York says that the voices of the Garifuna are prepared by their ancestors. And Aurelio's voice soared with an expressiveness that reached to the back of this packed audience. The plastic seats stretched way back in rows that could almost have been in a church.
The festival was held in a wide open space, the Winter Garden, in a shopping mall in downtown Manhattan — not what you might imagine as a typical venue for live music. The ceiling was curved glass opening out onto the changing night sky. Yet the space was refreshing. Here was not the smoky, cramped atmosphere of a dingy night club where people are packed to the walls. Here you could relax as the percussive drums or segunda were a steady, constant undercurrent throughout this music. They never ceased playing. Pablo Blanco says that the "Segunda drum is a spiritual drum, they are used to call down the spirits. Segunda drums are vital when we perform our spiritual ceremonies. People go into trance when they hear the thunderous sound from five Segunda drums playing in unison along with the chanting of our ancestral songs."
After a few songs, we too are lulled into a trance, swaying with the steady, hypnotic rhythm. We were held by the easy, gentle sound, almost a lullaby in feel. Aurelio caressed his acoustic guitar and rocked us with his vocals. He danced too, putting down his guitar for a moment, he jumped and twirled around with extended arms, electrifying us on "Chichanbara" as the percussion took flight under his vocals. The segunda grew more powerful as the night progressed, cascading in steady ripples. By the end, in "Yalifu," the steady undercurrent of percussion held us in its grasp. We could no longer sit still, but were moving with the power of this music.