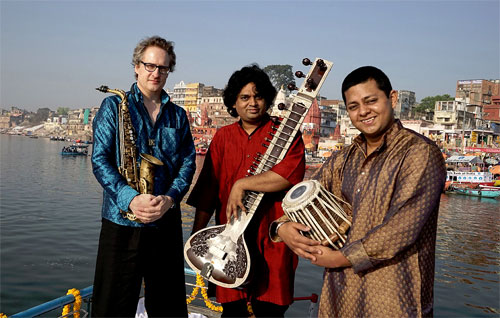 Deobrat Mishra is a seventh generation sitarist of the Benares Gharana, continuing the tradition of his father Pandit Shivanth Mishra and grandfather Pandit Mahadev Prasad Mishra. Born in 1976, Deobrat learned tabla, vocals and sitar from the age of five onwards. His mother Pramila herself is a granddaughter of tabla maestro Baiju Mishra.
Deobrat gave his first stage performance at the age of six, and his first radio performance at the age of 11 on All India Radio. Father and son have played as a sitar duo and recorded a number of albums; Deobrat has also performed along with Ustad Fazal Qureshi (brother of Ustad Zakir Hussain), Nazim Hussain (son of Bishmillah Khan) and Pandit Homnath Upadhyay (from Nepal).
Deobrat has recorded music for the Japanese film 'Deep River' and has performed overseas in the US and Europe, including teaching at the Italian Conservatory. His most recent collaborative project is The Trio Benares, along with his nephew Prashant Mishra on tabla and Austrian jazz saxophonist Roger Hanschel.
I caught the Trio's recent performance at Windmill Craftworks in Bangalore, and Deobrat joins us in this exclusive interview for World Music Central. For decades, artistes have explored the synergies between jazz and Indian classical music, as documented by musician and educator Marc Rossi; Deobrat Mishra carries on this fine tradition and covers new turf in classical, jazz, world music and fusion.
How did your band The Benares Trio get formed?
We met around two years ago, when Roger Hanschel came to India and visited me in Varanasi. He was there to learn about Indian classical music. We talked about our music tastes and sensibilities, and felt like we could compose and perform some music together.
What are the challenges you faced as a musician and composer?
I have certain boundaries of ragas and taals, and keeping them in mind and trying to blend them with other international music while keeping the pure form alive was a challenge.
Who would you say are the leading influences in your career?
My father, Pandit Shivnath Mishra, Pandit Ravi Shankar, Ustad Zakir Hussain and John Mclaughlin are my influences.
How are you able to blend Indian and jazz music so effectively, i.e. create fusion without confusion?
It's not so difficult. A lot of times, fusion does become confusion. While trying fusion, it is important that there should be a meeting of cultures in a way, that it is not just the sound of the instrument being used but the blending of the spirit of that particular style. And it is also about respecting each others' music traditions.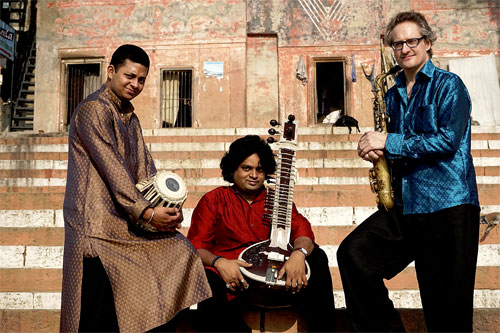 How would you describe your musical journey?
I studied music from a very young age. My family is one of the most respected musical families in North Indian classical music, the Benares Gharana. I learnt from my father, Pandit Shivnath Mishra, as well as from my mother Pramila Mishra. So music was always my path. I never looked back after giving my first performance at the age of six. I received the Surmani Award in Mumbai, a Youth Festival award, among others. My first album was a classical music album, and I recorded some classical music albums in the US and Europe as well
Now I'm working on international projects like Trio Benares with tabla and saxophone; Open Strings with harp; and India Meets Europe with drums, tabla and saxophone. So over the years, I've been working with a number of world music forms so that sitar can reach every part of the world.
What is your vision of what music can do in this age of turmoil?
Music is what can make a difference! All around the world, depression is spreading like plague. Music is about peace and tranquility; it is without border and doesn't demand anything. In present times, we need music more than ever to end war and bring happiness to the people.
What have been your previous highlights in playing across India and Europe?
We have had immense success wherever we have performed, and have received much love and affection. Sometimes I feel happy to see how people are moved to tears by my performances and I try to extract their emotions.
One time, I got down from the stage after a performance and an elderly man just came to me and touched my feet. I was very shocked and asked him to stop. But he said I touch your feet because your music is music of the gods, and feels like it's coming from the heavens.
Do you compose on the road also while traveling?
Yes, I do like to compose music while traveling because that's the time I'm mostly by myself and at peace. Also, I love traveling long distance by Indian trains as I can sit in my compartment and just focus on composition. I have composed a few songs while waiting for my flights as well.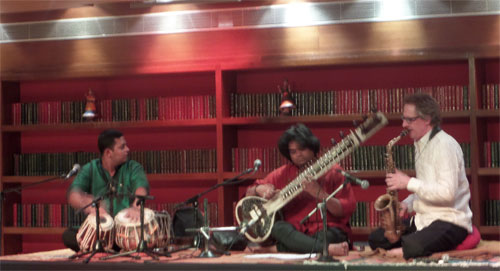 Do you also teach workshops?
While I'm not touring, most of my time is spent in teaching students from India and abroad. I am very happy that my students have a great future and they work hard. I was also a visiting professor for Vienna and Milano Conservatories.
How has the music industry changed over the years, and how has that affected your work?
You cannot avoid change. Earlier, I never used to perform fusion, but the industry demands that to reach more people you have to step outside your comfort zone and explore further avenues. The music industry is spreading beyond our imagination thanks to technology, and we have to evolve accordingly.
What can we expect to hear at your next performance?
I am always trying to find new arrangements based on Indian ragas so that they can affect people more powerfully.
What message do you convey through your music?
Music is Love.
Author:
Madanmohan Rao
Madanmohan Rao is an author and media consultant from Bangalore, and global correspondent for world music and jazz for World Music Central and Jazzuality. He has written over 15 books on media, management and culture, and is research director for YourStory Media. Madan was formerly World Music Editor at Rave magazine and RJ at WorldSpace, and can be followed on Twitter at @MadanRao.