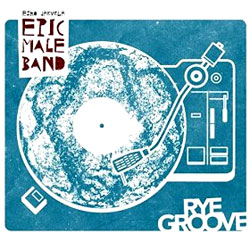 Esko Järvelä Epic Male Band
Rye Groove (Esko Järvelä Epic Male Band, 2015)
The Finnish progressive/rock/folk group Esko Järvelä Epic Male Band is back with a follow up recording to their self-titled debut 2013 recording. Fierce and recklessly ferocious Rye Groove, released on their Esko Järvelä Epic Male Band label, is so good you might just have to beat it back with a stick.
Dazzling fans with their smart, slick brand of rocking progressive folk, the Esko Järvelä Epic Male Band cuts a swath wide and deep with Rye Groove. Their sound is potently polished and their skill is shrewdly precise.
Sometimes described as a progressive thrash folk band, which really doesn't quite hit the mark given some of the band's more melodic tracks, I would describe Epic Male Band's sound something akin to squashing together rock and folk, sending it careening off on a rollercoaster before setting the whole thing alight.
Headed up by the prodigiously talented songwriter, producer and fiddler Esko Järvelä, the Epic Male Band's sound is rounded out by the equally talented Juho Kivivouri on bass, Jani Kivelä on electric guitar, Janne Mathlin on drums and Anssi Salminen on acoustic guitar. Joined by guest artists Oskari "Leka" Lehtonen, Aili Järvelä, Alina Järvelä, Raisa Päivinen and Tommi Asplund, Rye Groove reels with keen edged coolness from the fiery opening strains of aptly named opening track "Whip" to the swinging groove of "Bo Diddley" and on to the lushly folksy "Rose on the Wallpaper."
Edged with darbuka by Mr. Lehtonen, electric guitar and strings, "Kabob Ostrobothnia" deliciously kick ass. Fans get a dose of the jaunty with "Sheriff," a measure of easy folk fancy interspersed with vocals on "Five A.M." and a dash of twisty rocking folk on title track "Rye Groove." "Sweet Reel" is an addictively delicious ride to nowhere and anywhere that proves the ride is smooth, sweet and easy. Closing out Rye Groove, Epic Male Band soothes listeners with the sleekly silky "Inner Space."
Ruthlessly savvy, intensely voracious and generously masterful, Rye Groove kicks the cane out from under mild-mannered folk.
Author:
TJ Nelson
TJ Nelson is a regular CD reviewer and editor at World Music Central. She is also a fiction writer. Check out her latest book, Chasing Athena's Shadow.
Set in Pineboro, North Carolina, Chasing Athena's Shadow follows the adventures of Grace, an adult literacy teacher, as she seeks to solve a long forgotten family mystery. Her charmingly dysfunctional family is of little help in her quest. Along with her best friends, an attractive Mexican teacher and an amiable gay chef, Grace must find the one fading memory that holds the key to why Grace's great-grandmother, Athena, shot her husband on the courthouse steps in 1931.
Traversing the line between the Old South and New South, Grace will have to dig into the past to uncover Athena's true crime.