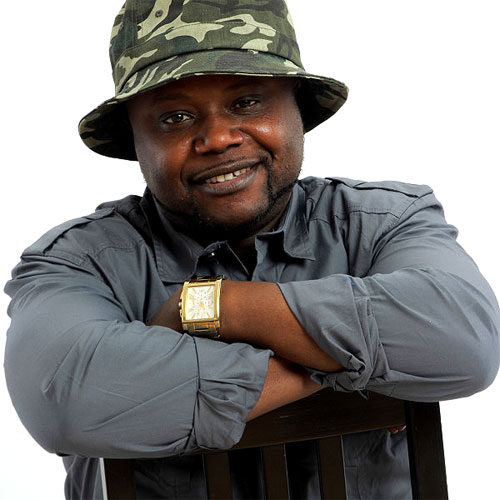 International Songwriting Competition (ISC) announced today its 2014 winners. The
First Place winner in the World Music category is the song "Mapenzi 'Love'" by drummer and songwriter Jean Pierre Nimbona (better known as Kidum Kibido), from Bujumbura, Burundi. The second prize went to "Upokohue" by Moana Maniapoto, Paddy Free, Scotty Morrison from Auckland, New Zealand. The Third Place World Music award was given to "Sambah" by João Nabuco from Rio de Janeiro, Brazil.
The desired ISC Grand Prize has been awarded to Australian singer-songwriter Vance Joy for his song "Riptide." The Grand Prize is ISC's highest honor, and prizes include $25,000 USD cash and over $35,000 USD in merchandise and services. It is the first time in ISC's 14-year history that any participant has ever received perfect scores across the board.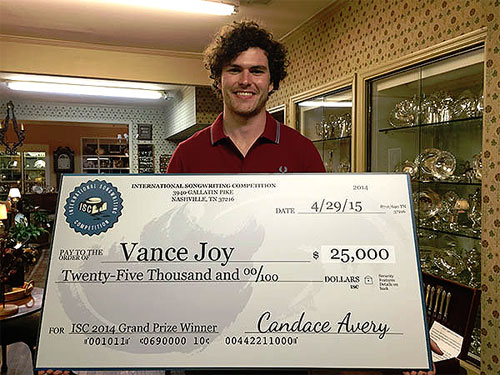 "It is such an honor to win this songwriting prize," Joy said in a statement. "Writing songs is what gives me a feeling of purpose. I'm proud to receive this award voted on by my songwriting peers."
Having already sold more than a million copies worldwide, "Riptide" was inspired by a motel that Joy visited as a child when he would go on family holidays down the coast of Australia, staying at a motel named Riptide.
ISC is sponsored by: Lowden Guitars, Hammond USA, Abelton, Gauge Microphones, Slate Digital, DiscMakers, D'Addario, Taxi, IndieProMix and FinalMix, Inc., Indie Venue Bible, George Stein, Esq., Berklee College of Music, Thayers, AirPlay Direct, Celebrity Access, SongU, The Music Business Registry, Lurssen Mastering, and Vosges Haut-Chocolat.
ISC is now accepting entries for 2015. More information can be found at: songwritingcompetition.com.
Other 2014 ISC Winners
AAA (Adult Album Alternative)
First Place
"Sheep In Wolves Clothing" – Little Hurricane (San Diego, CA, USA)
Second Place
"Daisy" – Tyler Baker, Landon Milbourn, Brandon Qualkenbush, Paul Moak (Nashville, TN, USA)
Third Place
"Night and Day" – Sam Eliot (London, England)
Adult Contemporary (AC)
First Place
"Place Where I Belong" – Corbett (Florence, KY, USA)
Second Place
"Sidecar" – Robyn Dell'Unto (Toronto, ON, Canada)
Third Place
"Sirens" – Lucy Mason (Sydney, NSW, Australia)
Americana
First Place
"Athens" – Angela Perley (Columbus, OH, USA)
Second Place
"I've Spent My Whole Life" – Casey Black (Nashville, TN, USA)
Third Place
"How'm I Gonna Get Back Home" – Rob Kolar (Los Angeles, CA, USA)
Blues
First Place
"Sin Perfume" – Casey Hurt (Los Angeles, CA, USA)
Second Place
"Greedy" – Tommy Castro (San Jose, CA, USA)
Third Place
"In and Out of Love" – Shawn Hall, Matthew Rogers (Vancouver, BC, Canada)
Children's Music
First Place
"Be My Friend" – Kyler England, Lalo Crane (Los Angeles, CA, USA)
Second Place
"Out of Tune" – The Okee Dokee Brothers (Justin Lansing, Joe Mailander) (Denver, CO, USA)
Third Place
"Silence Is All The Music I Need" – Jon Samson (Brooklyn, NY, USA)
Comedy/Novelty
First Place
"Blow Me" – Douglas Stevens (Belmont, MA, USA)
Second Place
"The OCDance" – Rachel Bloom, Jack Dolgen (Los Angeles, CA, USA)
Third Place
"Piglets" – Joel Meeks (Franklin, TN, USA)
Country
First Place
"Stuck" – Dean Dillon, Casey Beathard, Bonnie Pine (Dallas, TX, USA)
Second Place
"Little Miss Whiskey" – The Morrison Brothers Band (Washington, DC, USA)
Third Place
"Hopeful Heart" – Nikki Boon, Ryan Nelson (Grand Rapids, MI, USA)
Dance/Electronica
First Place
"The Fire" – French Horn Rebellion (Brooklyn, NY, USA)
Second Place
"State of War" – Paul McDermott, Jessica Malakouti, W. Cate (Sydney, NSW, Australia)
Third Place
"Room 1423" – 3LACKJACK (Saarlouis, Germany)
Folk/Singer-Songwriter
First Place
"Borderline" – Daniel Duke (Banbridge, Northern Ireland)
Second Place
"Broken Tooth" – Jordan Casty (Chicago, IL, USA)
Third Place
"Mercy" – Ben Kyle (Minneapolis, MN, USA)
Gospel/Christian
First Place
"God I Believe" – Cameron Paul Stymeist, Stephanie Midthun (Placerville, CA, USA)
Second Place
"Sam Or Saul" – Joseph Pfeifer (Oxnard, CA, USA)
Third Place
"Forevermore" – Jared Wood, Max Corwin (Frisco, TX, USA)
Instrumental
First Place
"Valor & Triumph" – Arshak Sirunyan (Yerevan, Armenia)
Second Place
"True Sorry" – Ibrahim Maalouf (Ivry sur Seine, France)
Third Place
"Girls" – Pascal Le Boeuf (RighteousGIRLS) (New York, NY, USA)
Jazz
First Place
"Hoodman's Blind" – Arshak Sirunyan (Yerevan, Armenia)
Second Place
"Playground" – David Friesen (Portland, OR, USA)
Third Place
"Springtime In New York" – Prasanna Ramaswamy (Chennai, India)
Latin
First Place
"Por Mas Que Yo Resista" – José Abraham, Juanma Leal (Sevilla, Spain)
Second Place
"Caen Mis Sueños" – Kevin Rooke (Bogota, Columbia)
Third Place
"Amor, Amor" – Andro Sanchez (Bogota, Colombia
Lyrics Only

First Place
"Bread And Butter" – Richard Dames (New York, NY, USA)
Second Place
"Giants" – Joe Morton (New Plymouth, New Zealand)
Third Place
"Bound In Ashes" – Mwaka Mwape (Lusaka, Zambia)
Music Video
First Place
"90s Music" – Kimbra Johnson, Matt Morris, Mark Foster, Timon Martin, Stephen McQuinn (Melbourne, VIC, Australia)
Second Place
"Exploding Heart" – Adil Omar (Islamabad, Pakistan)
Third Place
"Black Swamp Village" – Manolis Stamatiadis (Thessaloniki, Greece)
Performance

First Place
"90s Music" – Kimbra Johnson, Matt Morris, Mark Foster, Timon Martin, Stephen McQuinn (Melbourne, VIC, Australia)
Second Place
"Just Passing Through" – Jeff Breithaupt, Don Breithauupt (New York, NY, USA)
Third Place
"Your Love" – Jerry Jean (New York, NY, USA)
Pop/Top 40
First Place
"Tidal Waves And Hurricanes" – Maggie Szabo, Andrew Allen (Dundas, ON, Canada)
Second Place
"Prehistoric Love" – Tenielle Neda, Rob Agostini, Denny Thakrar (Perth, WA, Australia)
Third Place
"In Love With The Moment" – Jordan Higgins, Griffith Frank, Josephina Carr (Sacramento, CA, USA)
R&B/Hip-Hop
First Place
"The Morning After He" – Dominique Jones (Oakland, CA, USA)
Second Place
"Something I Said Ft. Thom Crawford" – Thundamentals (Sydney, NSW, Australia)
Third Place
"Someway Bi" – Kwame A Tsikata (M.anifest) (Accra, Ghana)
Rock
First Place
"Run" – San Cisco (Fremantle, WA, Australia)
Second Place
"Ohio" – Alexander Laska, Fergus Linacre, Jeremy Hunter (Melbourne, VIC, Australia)
Third Place
"Pull The Trigger" – Benjamin Dowd (Melbourne, VIC, Australia)
Teen
First Place
"Your One" – Avonlea (Santa Rosa, CA, USA)
Second Place
"Move Ben Move" – Benjamin Rogers (Brantford , ON, Canada)
Third Place
"Wasted Tears" – Victoria Celestine (Blanco, TX, USA)

Unsigned Only
First Place
"Giants" – Joe Morton (New Plymouth, New Zealand)
Second Place
"Just Be" – Lilian Caputo, Michael Martinez (Rome, Italy)
Third Place
"Stars" – Justin Snowball (Perth, WA, Australia)
People's Voice Award
"Where Have You Been?" – Astha Tamang-Maskey, Rohit Shakya (Kathmandu, Nepal)
Author:
World Music Central News Department
World music news from the editors at World Music Central