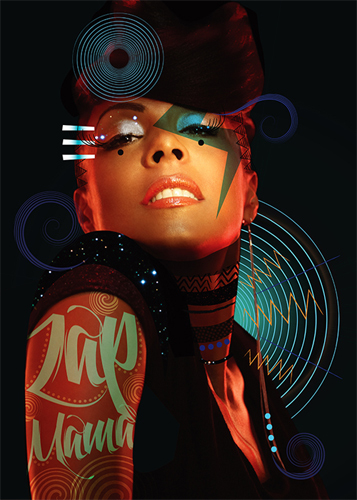 On a cold night in January, the group Zap Mama took to the stage at GlobalFEST. It is an annual event that hosts twelve international acts, often up and coming, on three different stages in New York City. Although many strong vocalists performed this year, including the great Tunisian songbird Emil Mathlouthi and the ethereal sounding Emil Zrihan, Zap Mama is spellbinding. Starting in 1989, they were among the first to introduce to the world African polyrhythmic vocals. These were singers of such strength and skill that they became instantly recognizable for their acrobatic vocal play. Think Bobby Mcferrin meets the rainforest people of Zaire and you begin to get the sound.
Marie Daulne, the group's lead singer and composer, (also known as Zap Mama), is strong and elegant, with hair wrapped tight in black curls above her head. She is a forceful presence, demanding our attention as she walks across the stage in gold stiletto heels. She could be a ninety forties actress in a thriller alongside Humphrey Bogart. She has vocal power and self-confidence that a younger musician may not have. She announces, "We bring you joy, love and happiness. I am going to zap you to another place."
All eyes are on her, three other female vocalists and two males, as she invites us to join this drama. But the other female singers in the group (Maria Fernandez, Lene Christensen and Judith Okon) are no slouches. They are not just backing singers, they have a real interplay with Daulne as the team move in synchrony across the stage. Here is a group whose emphasis is vocal, their voices are the instruments teasing the audience with a sound that is at once Hip Hop and funk. They are a group that relies only minimally on the occasional accompaniment of guitar and keyboard.
Zap Mama Music Video 'Brrrlak'
After a simple, funky opening song, it is in the second number where the groups inventiveness comes to the fore. This song includes the words "somebody text me" and seems to make fun of people's obsession with texting. At one point the vocalists mimic the sound of a message being sent with quick fire staccato notes. There is not a moment of stillness, we are kept on our toes.
The pace does become gentler though, as we move into another song and are transported to South Africa. Here we feel the inspiration of Miriam Makeba's vocal style as Daulne annunciates quick breaths over the microphone. This is a slower song that allows space for her voice that the quicker songs do not. Daulne not only has the vocal skill and technique of a seasoned performer, but hers is an expressive voice that both captivates and holds the audience in a strong embrace.
Look for upcoming collaborative tour dates from Zap Mama as they perform with the Afrobeat band Antibalas.
You can visit Zap Mama's website at: www.zapmama.com