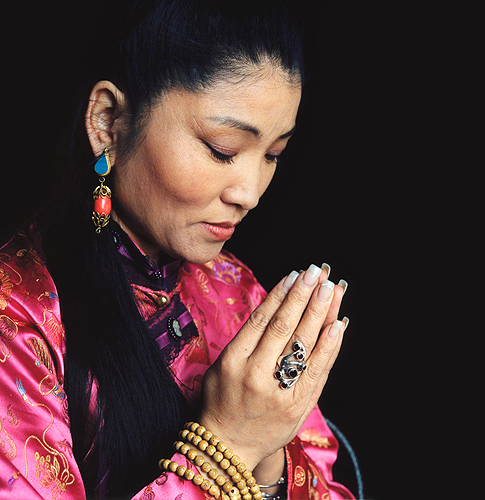 Tibetan singer Yungchen Lhamo is set to perform on Wednesday, January 28, 2015 at 19:00 (7:00 p.m.) at Thalia Theater at Symphony Space in New York City. The concert is part of the World Music Institute's Global Salon series.
Ever since she fled Tibet on foot in 1989, Yungchen Lhamo, whose name means "Goddess of Song," has become known as the world's leading Tibetan vocalist. She entrances audiences with her haunting a cappella performances and her deeply spiritual, often political songs.
In 1995 she released her breakthrough album, Tibetan Prayer, that won the ARIA Award (Australia's equivalent of the Grammy Award). Subsequently, she was signed to Peter Gabriel's renowned Real World Records label and has since released three widely acclaimed albums: Tibet, Tibet (1996), Coming Home (1998), and Ama (2006).
Through her music, which explores Buddhist topics of spiritual pilgrimage, soul searching, and a delight in the natural environment, she wishes to share Tibet's rich cultural heritage.
Lhamo has collaborated with well-known artists such as Natalie Merchant, Philip Glass, and Annie Lennox, and has performed for spiritual and political leaders across the planet, including the Dalai Lama.
Tickets: $30; WMI Friends: $25; Bring a Kid: $5
worldmusicinstitute.org/event/yungchen-lhamo
Author:
World Music Central News Department
World music news from the editors at World Music Central