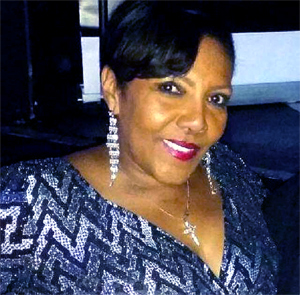 The late Rudy Regalado, timbalero of timbaleros, was a genuine and outstanding timbales maestro and Latin Orchestra Leader as well as a highly regarded sideman with Latin bands or any other bands he performed with.
The Escovedo Brothers, Pete and Thomas "Coke", were performing in northern California while Rudy Regalado was residing and playing in the Los Angeles, is southern California as well a nationwide.
It was tough for a Latin timbalero and Latin Orchestra leader in those days due to minimal exposure of the music. Tito Puente was performing in New York City and the bands in Los Angeles had way more venues and gigs than the bands in the San Francisco Bay Area that had limited places to play in. Cal Tjader opened the doors for Latin musicians with more Latin Jazz venues.
It is important for us to remember and reflect on the artists that dedicated their lives to Latin Music for many reasons. First of all their love for music; they had families to support and like any entertainer, they had to be away from home and family to perform and entertain their audiences at various locations, sometimes in other cities.
This is why I am doing this interview to expose this talented musician whom I saw in person performing at least 2 times in my life. I spoke with Norka Tibisay Regalado about her father, Rudy Regalado. She founded the Rudy Regalado Foundation. Norka is a very charming individual and let's hear what she has to say!

Where was your dad, Rudy Regalado born?
Papi was born in Venezuela, in a place called Guatire (did you ever hear the song he wrote and recorded with El Chicano 'the Latin one'?
How do you believe that he became interested in playing music and playing the timbales? Did he play any other instruments?
Papi was inspired as a child by big bands 'Machito and Tito Rodriguez' were two of his favorites. Papi's first instrument was the drums, however as soon as we arrived in Los Angeles, he knew the opportunity was greater on timbales.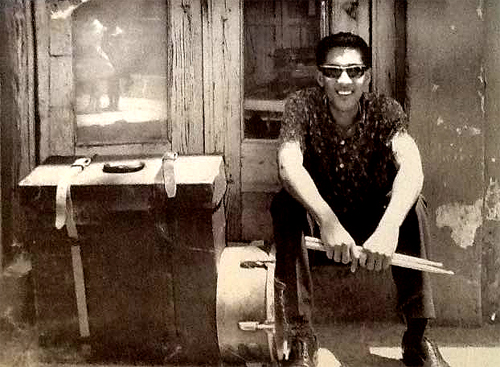 Which were some of the first bands he played with, when he was starting out as a musician?
Julio y su combo was one of the first house bands he played with in Puerto Rico's Hotel Caribe Hilton. They were the backup house band for all the famous musicians that performed in the Island in 1965.
Later, Rudy got married and had children. Tell me a little about this and the names of the children. Are any of the children musically talented?
Papi married my mother Gladys Regalado at the age of 17 in Caracas Venezuela. They had me shortly after. I have 4 kids (Barbie, Glenn, Steven and Bridgette). Both my sons love percussion. Glenn loves to DJ with vinyls (underground). Steve takes drumming lessons from Alphonse Mouzon and also had a small part in the new El Chicano CD that is about to be released. My grandkids love music and art. All attend music class. The oldest attends Ramon C. Cortines School of Visual and Performing Arts (Mia, Isaac, Isaiah, Royce and Leila). My parents divorced in 1982 but remained best of friends. Papi then married twice (Carmen and Gloria). There were 2 daughters (Yolanda and Lupe) by two different women. He was not aware of them until many years later, however we all got the opportunity to meet and develop an awesome relationship.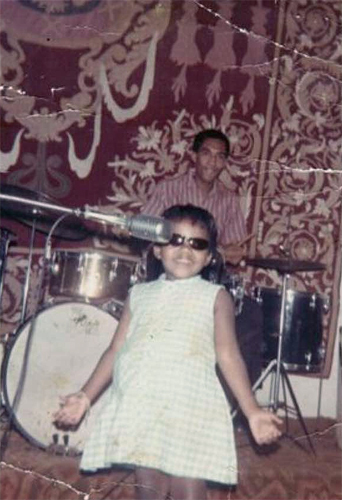 Tell me some of Rudy's musical accomplishments and who he performed with
In 1963, Rudy moved to Puerto Rico and started playing in hotels and clubs in the San Juan area, while studying harmony and percussion at Pablo Casals Conservatory of Music. He settled in Los Angeles, California in 1970, where he played with local jazz and Latin groups before joining El Chicano late in the year.
Rudy spent twelve years with El Chicano, singing and playing the timbales in five albums, which included Top 40 hits during the 1970s with the songs "Viva Tirado" and "Tell Her She's Lovely". El Chicano also created the theme song for the television series Baretta, which ran on ABC from 1975 to 1978.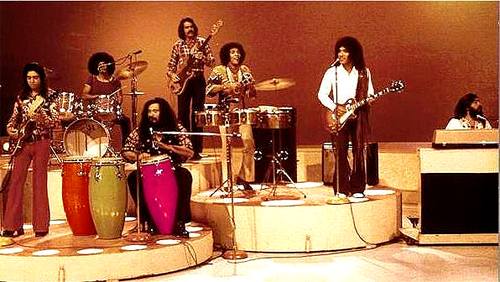 After spending 12 years with El Chicano, Rudy formed his own Latin Jazz All-Star Band in 1983, which included a select group of musicians from Los Angeles. Initially known as Todos Estrellas, the band eventually became known as Chévere and appeared at the Playboy Jazz Festival, Disneyland and Fiesta Broadway, among other engagements. The band also performed overseas in summer festivals in Canada, Hong Kong, Indonesia, Kuala Lumpur, Malaysia, Singapore, Thailand, and throughout the European continent.
As part of an El Chicano reunion in 2009, Rudy performed during the 40th anniversary of Woodstock Festival at the Golden Gate Park Music Concourse in San Francisco, where the group actually celebrated their own 40th Anniversary, and last played with them at the Greek Theatre of Los Angeles.
Rudy also toured with Aretha Franklin in charge of her percussion section, was a drummer for Los Melódicos on its 1980 tour of United States, and performed on The Tonight Show, the Nancy Wilson Show and American Bandstand.
His film credits include The Skeleton Key (2005), as well as the television series Pepe Plata (1990) and Clubhouse (2004).
There is a Foundation named after Rudy Regalado. Norka can you tell me about the Foundation?
The Rudy Regalado Foundation was created and funded by me at time of inception. The goal of the foundation is to provide inner city music programs with instruments and financial support. ' Let no child be left behind due to lack of funds' In February we donated over 2500 instruments and donated $2000.00 to help with cost for instructors. My goal is to get financial support from big companies and the community in order to reach many more music programs, I'm also working on bringing music programs inside children's hospitals to help the healing process to our mentally ill children and burned survivors. I just hosted our first annual award, concert fundraiser in October and the event was a total success.
Norka, Who is your favorite timbales player?
To me it was Tito Puente, I will never forget when Papi was elected to represent Los Angeles and Tito Puente represented New York at a Latin Salsa Jazz event in Japan… Papi loved Tito and Tito had lots of love for Papi.
Final Note: Regarding the question I asked on purpose to Norka Tibisay Regalado, about who her favorite timbales player was or is, I told her that I was amused with the answer, but it was not the answer that I wanted to hear.
I know deep down in your heart Norka Tibisay Regalado, your father Rudy Regalado was and is and always will be your favorite all time timbales player, forever! Thank you Norka for your kindness!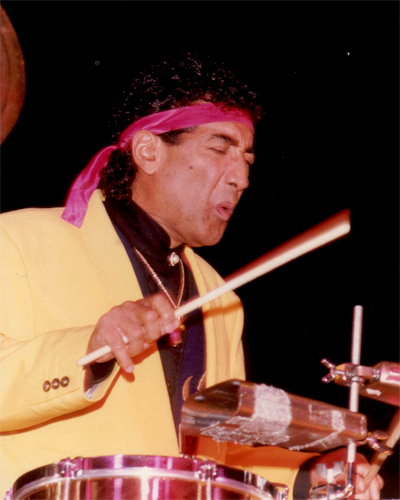 Rudy Regalado discography
1972 Celebration by El Chicano. Percussion, drums.
1973 Chicano by El Chicano. Percussion, drums.
1974 Cinco by El Chicano Percussion, drums.
1974 Yaqui by Yaqui. Drums.
1975 Pyramid of Love & Friends by El Chicano. Percussion, drums.
1976 Viva El Chicano! Their Very Best by El Chicano. Vocals, timbales, percussion.
1977 Blue Note Live at the Roxy Alphonse Mouzon (Various Artists). Timbales, percussion.
1977 Roots by Quincy Jones. Percussion.
1988 Immigrants by Joe Zawinul. Vocals, percussion.
1990 Thinking of You by Alex Acuña and the Unknowns. Percussion.
1992 Iroko by Bill Summers. Composer
1993 Moliendo Café by Rie Akagi and Rudy Regalado with Chévere. Timbales, percussion.
1994 La Gloria by Rudy Regalado y Chévere Producer, Drums, Vocals, Timbales
1996 My People by Joe Zawinul. Percussion, composer.
1998 Painting the Moment by El Chicano. Percussion, timbales.
1999 Suckers, Original Soundtrack. Percussion.
2000 Late Night Sessions by Caravana Cubana. cata, timbales.
2000 Acuarela de Tambores by Alex Acuña. Maracas, chekere.
2002 Faces & Places by Joe Zawinul. Percussion.
2002 Cinco de Mayo Celebration by Various Artists. Timbales, percussion.
2002 Del Alma by Caravana Cubana. Timbales, cata.
2004 20th Century Masters – Millennium Collection by El Chicano. Timbales, percussion.
Author:
Les Moncada
Les Moncada is a Latin Jazz orchestra leader and conguero for over 40 years. He was born in Oakland, California and currently resides in Sacramento, California.
Les Moncada is a student of conga and batá master Francisco Aguabella, a friend of the late promoter Bill Graham, vibraphonist Cal Tjader, Latin Jazz band leader Pete Escovedo, conguero Mongo Santamaria and many, many more.
He has been writing for many years for World Music Central.
Les has several Facebook sites: Timbales and Congas Bongo Bata & bells; Conguero, Professional Conguero & their Instrument; Bongocero, Professional Bongocero their Instrument; Alambres Dulces, Tres, Cuatro & Laud