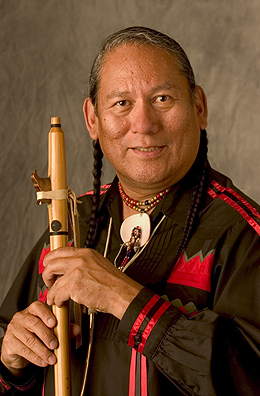 R. Carlos Nakai, the leading performer of the Native American flute, will celebrate the first Platinum Record awarded for traditional music with a Platinum Concert at the Musical Instrument Museum (MIM) Theater in Phoenix, Arizona on Friday, January 23, 2015 at 7:00 p.m.
At the January 23rd performance, Nakai will be presented with a Platinum Record for his 1989 recording Canyon Trilogy that has sold more than 1,000,000 units. Upon receipt of the award, Nakai will present the Platinum Record to the MIM for inclusion in Nakai's exhibit in the MIM's Artist Gallery.
The Platinum Record, which must be certified by the Record Industry Association of America (RIAA), is the highest achievement in the music industry.
"What makes this Platinum Record utterly unique is that it is earned by an artist performing a traditional instrument in an ethnic musical genre presented on an album released by an independent record company," explains Robert Doyle, president of Canyon Records and producer of Canyon Trilogy. "Additionally, the music is primarily one instrument performing for one hour (three tracks have an overdubbed second flute). Nakai's special artistic sense and his technical mastery of the flute creates music that immediately speaks to people. This music is used by many listeners for relaxation, meditation, and even therapy. No other artist in the industry has accomplished what Nakai did in Canyon Trilogy."
Joining Nakai at the MIM will be long time collaborators, William Eaton (harp guitar) and Will Clipman (global percussion and drums). Both Eaton and Clipman have performed and recorded with Nakai for more than 25 years.
Nakai wanted the Platinum Concert to be more than a career retrospective and invited Tony Duncan, a leading American Indian flute player and world championship hoop dancer, to share the stage. Duncan (San Carlos Apache & Mandan-Hidatsa-Arikara), who was born the year Nakai's first album Changes was released, always cites Nakai as one of his main inspirations and influences. Nakai asked Tony and guitarist Darrin Yazzie (Navajo), to be part of the Platinum Concert to emphasize Nakai's continued invitation to other artists to join him in presenting the beauties of the Native American flute to the world.
To present his long time interest in classical music, Nakai invited composer/pianist James DeMars to perform the piano version of "Lake That Speaks," the second movement of the Two Wold Concerto which was composed by DeMars. Nakai has performed this concerto more than 30 times worldwide with symphonies such as the Philadelphia Orchestra.
Nakai also invited pianist Peter Kater with whom Nakai has appeared on eight albums on the Silverwave and Mysterium labels since 1990. Their latest release, Ritual (Mysterium Records), has been nominated for Best New Age Album at this year's Grammy Awards.
Nakai, who is Navajo-Ute, began playing the traditional Native American flute in the early 1980s and released more than 50 albums in his career (with 40 on the Canyon Records label). Nakai has sold more than 4.3 million albums for Canyon Records and earned two Gold Records for Canyon Trilogy and Earth Spirit. Originally a performer of the trumpet, Nakai has explored many genres with the traditional Native American flute including world, classical, jazz and new age music. He has received eleven Grammy nominations in four different categories and earned a Governor's Arts Award.
The Musical Instrument Museum Theater is located at 4725 East Mayo Boulevard, Phoenix, Arizona. For ticket information visit www.mim.org or call 480-478-6000.
Author:
World Music Central News Department
World music news from the editors at World Music Central