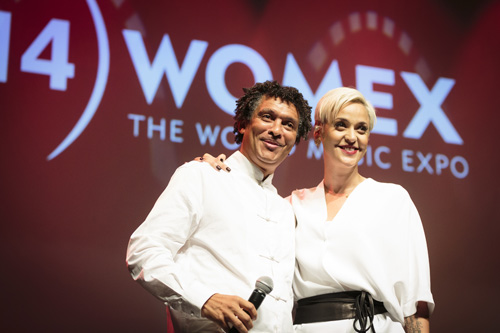 The leading international world music conference and expo, WOMEX 2014 ended with the WOMEX 2014 Awards. The Artist Award, Label Award and Professional Excellence Award were presented to the WOMEX community at Auditorio Abanca in the ancient town of Santiago de Compostela (Spain) on Sunday, October 26th in a ceremony featuring moving speeches and a performance by this year's Artist Award winner.
The Award recipients are:
WOMEX 2014 Artist Award
Celebrated fado singer Mariza (Portugal) received the WOMEX 2014 Artist Award for bringing fado to new levels of international recognition while staying true to its tradition. At the award ceremony Mariza performed at WOMEX for the second time. When receiving the Award figurine Mariza remembered the first time showcasing at WOMEX 2002 in Essen, Germany:
"Showcasing WOMEX in 2002 was a really big step for my career but also a big help to show to the world what is Portuguese culture. Therefore I would love to share this award with all the Portuguese artists who always, always try to make music possible."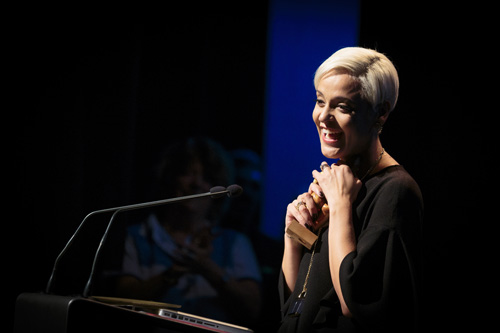 The award was presented by Lucy Duran, lecturer at SOAS University in London and radio presenter at BBC 3, who was on the WOMEX jury in 2002. Lucy Duran remembered how they selected Mariza immediately after hearing the first words of her singing on Fado Em Mim album: "That voice! Powerful, expressive, full, luxuriant, commanding, humorous. Each tone sung with perfect intonation."
As the high spot of the Awards ceremony, Mariza performed a mix of songs from her Fado repertoire plus a cover version of Elvis' "Can't help falling in love". Spontaneously Mariza asked the Professional Excellence Award winner, the minister of culture of Cape Verde and musician Mário Lúcio Sousa on stage to perform a duet of "Beijo de Saudade" with her.
WOMEX 2014 Professional Excellence Award:
Mário Lúcio Sousa (Cape Verde) received the Professional Excellence Award for his priceless contributions to the arts and culture of Cape Verde and increasing visibility of Cape Verdean music on the world stage. Mário Lúcio Sousa is now the minister of culture of Cabo Verde and looks back on an impressive career as a musician and singer.
The award was presented by Marta Dobosz of Cross Culture Festival. In his acceptance speech at the ceremony in Santiago, Mario Lúcio Sousa addressed the WOMEX audience: "I want to share this award with you. When I received awards as a musician, I felt it was mine. But this is a collective prize.No community in the world is doing, what we, you and us, professionals of art are doing in this moment in the world: Making people come together exchanging, promoting dialogue and preserving diversity. So I call all the presidents of the republics, all prime ministers, all ministers on the planet to support the job we are doing. Because we are promoting peace."
WOMEX 2014 Label Award:
The WOMEX 14 Label Award goes to Glitterbeat Records (Germany). The label has releases from Aziza Brahim, Tamikrest, Lobi Traoré, Noura Mint Seymali and Sonido Gallo Negro. The award was received by label owners Chris Eckman and Peter Weber who thanked the broadcasters and the audience:
"We receive this award in the name of our wonderful and beautiful artists. We feel extremely honored that so many people take the time to listen to our records. The WOMEX group is a fantastic incubator, it is a fantastic place for us to get our wellspring of energy every year. Now we need to get out and build more and more bridges with the wider music community."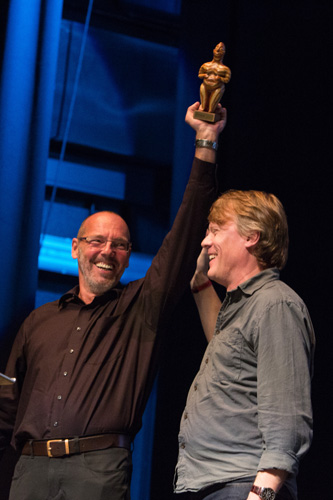 The award was presented by Johannes Theurer, radio broadcaster and coordinator of the World Music Charts Europe based on Europe wide airplay figures which are also the basis for the award winner selection. Theurer took the opportunity to remind the community of today's importance of records especially for broadcasters and for the global music community in general.
Author:
World Music Central News Department
World music news from the editors at World Music Central