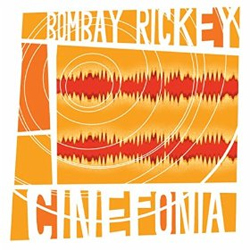 Bombay Rickey
Cinefonia (Cowboys & Indian, 2014)
Okay, take a coloratura soprano with an interest in Hindustani music who sidelines as a cartoon voice-over actress, a Texas saxophone player who has worked with jazz and avant-garde musician John Zorn and symphony and opera composer John Harbison and a guitarist who emerged from the Dallas, Texas punk scene and put them in a bag and shake vigorously.
What you end up with might be described as if spaghetti western music master Ennio Morricone composed music for a Bollywood opera about Latin American jazz musicians stranded in a 1960s beach movie. Or that's close to what you get. Fortunately, we don't have to imagine such a combo with Cowboys & Indian's September 13th release of Cinefonia by Bombay Rickey.
Fashioned out of the talents of soprano and accordionist Kamala Sankaram, guitarist and vocalist Drew Fleming and saxophonist, keyboardist and vocalist Jeff Hudgins, Bombay Rickey doesn't just break genre boundaries but jumps up and down on those boundaries and dances with wild abandon on the remains. Joined by contrabassist Gil Smuskowitz, percussionists Timothy Quigley and Brian (Shankar) Adler and drummer Sam Merrick, Bombay Rickey is deliciously quirky and powerfully entertaining.
Ms. Sankaram explains, "As a performer, I always like singing different styles of music, and had the ability to do them justice. I can also make weird noises. Earlier in my career, when I was doing more new music, I had a straight tone, clean and precise, no vibrato. I was never hired for pop or opera. Then I got known for opera and wasn't hired for other things. I needed something where I can use everything."
And, use everything is the key to Cinefonia. Opening with sassy "Taki Rari," listeners get a blast of the power and depth of Ms. Sankaram's vocals against a sultry sax and flirty percussive backdrop, before moving into the subterranean cool jazziness of "Bombay 5-0," written by Ms. Sankaram, with its raga-esque vocals and accordion.
Cinefonia moves into guitar lushness with the Southwest feel of "Promontory Summit," written by Mr. Fleming. "Rum Maro Dum" is a blast of hipness that's part Bollywood and part surf movie soundtrack.
Other goodies include the surf/Southwest guitar goodness of "Pondicherry Surf Goddess," written by Mr. Hudgins, the exotic cumbia infused "El Final Del Pachanga," also written by Mr. Hudgins and the acoustic "Coyote in the Land of the Dead" that comes across as a throwback to a late '60s folk song with Mr. Hudgins and Mr. Fleming taking the lead vocals with Ms. Sankaram providing the backing vocalizations.
Perhaps the standout track of Cinefonia is the lushly worked instrumental track entitled "Pilgrim," written by Ms. Sankaram. Allowing for almost visual sax and accordion lines intertwined with twangy guitar, "Pilgrim" is part Southwest openness, part Brian Eno complexity and part jazzy experimental. The effect is stunning and showcases the musical prowess of Bombay Rickey.
Brazen, cheeky and just downright spunky Cinefonia is clever and shrewdly innovative.
Tuco's Last Stand from Kamala Sankaram on Vimeo.
Author:
TJ Nelson
TJ Nelson is a regular CD reviewer and editor at World Music Central. She is also a fiction writer. Check out her latest book, Chasing Athena's Shadow.
Set in Pineboro, North Carolina, Chasing Athena's Shadow follows the adventures of Grace, an adult literacy teacher, as she seeks to solve a long forgotten family mystery. Her charmingly dysfunctional family is of little help in her quest. Along with her best friends, an attractive Mexican teacher and an amiable gay chef, Grace must find the one fading memory that holds the key to why Grace's great-grandmother, Athena, shot her husband on the courthouse steps in 1931.
Traversing the line between the Old South and New South, Grace will have to dig into the past to uncover Athena's true crime.