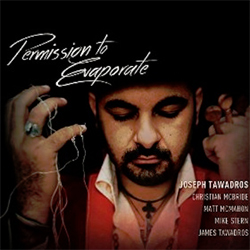 Joseph Tawadros has managed to raise the bar yet again, as if the latter wasn't already elevated enough. Permission To Evaporate completes a trilogy of superlative albums cut by the young Egyptian-Australian oud maestro, composer and arranger and his percussionist whiz of a kid brother, James, in a New York studio with 'A list' American jazzmen.
A quick revision is in order. First came 2010's The Hour of Separation, featuring legendary guests John Abercrombie, John Patitucci and Jack DeJohnette. Last year's Chameleons Of The White Shadow saw the Sydney high-flyer dexterously duelling with fellow visionary and banjo genius Béla Fleck, with contributions from the venerated veterans Joey DeFrancesco, Roy Ayers and Howard Johnson.
Like Fleck, Joe Tawadros's virtuosity, versatility and vision has enabled him to charter fresh territory for his chosen instrument. The latest episode in this tireless quest for exploration has the dual winner of ARIA gongs — the Aussie equivalent of Grammy Awards — engaging in a musical dialogue of the highest calibre with Christian McBride, US jazz's highest-rated double bass player of the past 20 years, and Mike Stern, one of that country's most esteemed jazz-rock guitarists.
Tawadros's rapport with the bassman is tangible in a dazzlingly executed duet, 'Kindred Spirits', that constitutes one of the album's many highlights. 'Shared Memories' is an equally aptly titled and exciting encounter, in which the leader's lute and Stern, with his distinctive electric guitar setting, share rhythm and lead. 'Space In Time' finishes with thrilling, frenzied exchanges between the pair.
The set opens boldly with the fast and furious 'Bluegrass Nikriz', a well-named ensemble piece that genuflects to Bela Fleck. The title track and 'Last Candle' tips a fedora to the Latin world, with subtle Cuban flavouring. The moving but ultimately uplifting 'Peace For My Father' honours the Tawadros patriarch, who passed away last year, only a year after the boys' mother. The leader's oud playing can be heard in all its pristine glory in the short, stripped-back companion pieces 'Nomad's Fear' and 'Wanderer', which exhibit Indian and Middle Eastern modalities.
Tawadros's regular piano man, and fellow Sydneysider, Matt McMahon, like James Tawadros on percussion, makes his presence felt throughout the set, via some sizzling jazz breaks or in more ambient passages that are suggestive of Erik Satie or Keith Jarrett.
Joseph Tawadros provides personal insights to his modus operandi, specifically in relation to Permission To Evaporate:-
"I'm extremely happy with the new album. It was a big challenge for me to find a new concept and sound … it's definitely in a different direction, telling a different story with a new energy. I'm very passionate about the oud and music and I'm happy with the way things have been moving. As long as I can maintain passion and love for what I do and continually am restless in my pursuit, I think the best is yet to come. I want to play oud in different contexts because I believe that it can contribute to a specific style, genre or player, but my compositional style is always based on melody first like the Arabic music tradition.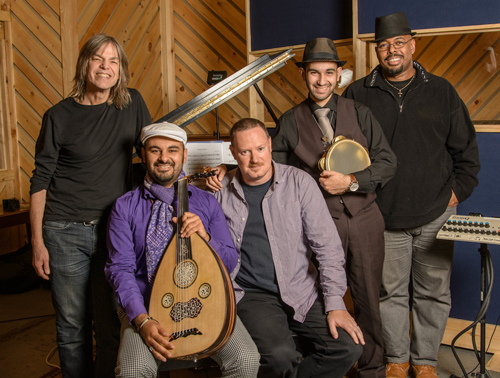 "I feel each album is a diary of who I am and shows a growth not only musically but personally. It's about taking what I've learnt from each recording experience and growing from that in the next one. You can hear that I must have soaked up some Béla Fleck and Richard Bona in some of the tracks, but that came by chance. The opening line in 'Bluegrass Nikriz' also came by chance, while I was trying something chordally on my oud. I was very excited when I first composed it and the tune seemed to grow from there. I then transposed some passages in the Arabic scale 'Nikriz', hence the title. I find that that scale works well with the blues scale.
"A couple of the tracks I had in mind for the great Cuban trumpeter Arturo Sandoval. He unfortunately couldn't make it in the end, but I could definitely hear them on these tracks. I must've been thinking of him when I composed them and hence why that 'Cuban-ness' may have come to mind. Mike Stern was not going to be on 'Last Candle' originally but after Arturo couldn't make it, he slotted in perfectly. The scales used on 'Nomad's Fear' and 'Wanderer' are shared in both Middle Eastern and Indian music, so that's where a similarity can be heard. You're right, however, that I did use some Indian ornaments in 'Nomad's Fear'. I found it quite interesting to have a wide glissando, with the piano an instrument whose notes are fixed without vibrato or slides. Performing in Rajasthan in the last three years must've had an influence on me.
"'Peace For My Father' was really about capturing my father. I composed this piece a day after his passing and I see him in it every time I play/hear it. The middle section in the piece, where the oud plays a solo with the piano simmering underneath then gradually gains pace, is one of my favourite moments on the album. It arrests my heart, before the bass comes in very strong and percussion join before the energetic piano solo. There are a lot of emotions in the piece … love, melancholy, sadness, joy and confusion and a farewell to a great man who is missed very much.
"The opening of 'Sleight Of Hand' was actually composed only a week before the recording, as I was having trouble coming up with how to start it. The scale of the piece is from an orthodox oud key centre Bb minor (Nahawand), so I started messing around with some accidentals and was so happy with the line when I first came up with it. I could instantly hear Christian McBride with a walking bass line and when we first tried it, I was so excited. McBride was originally scheduled for last year's Chameleons album, but his grandfather passed away the week of the recording. We had been in contact since the Hour of Separation album and finally the timing was right. I believe he outdoes himself. In terms of expectation, I go in with a lot. We only have two days to record and I have a vision of what I want.
"With such projects one has to be clear, have a rough idea of what is to be achieved and also allow for magic and sparks to happen when great musicians like this get together. 'Kindred Spirits' was especially composed with McBride in mind and I knew the fast section would challenge us both. I focused on the similar tunings of the bass and oud and the use of our open strings. This was also the last track of the session, which we finished at 3am on February 17 after eight hours of recording prior, so we were pretty dead. But we seemed to really feed off each other when we were recording. I love McBride on this track and the interplay between oud and bass.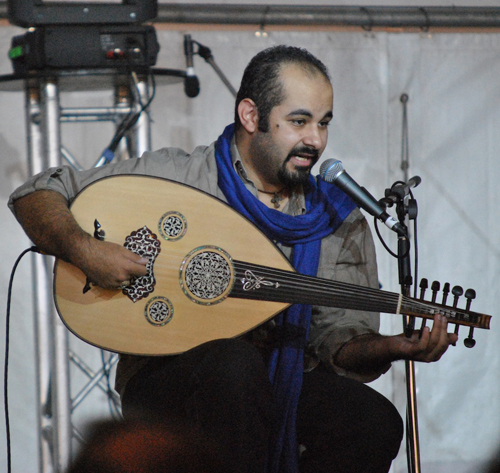 "I think Mike Stern's electric guitar settings and his playing are relatively subdued on the set, compared to his own albums, because of the unorthodox line-up. He usually works with electric bass and drum kit and is a real rocker … there's also a different repertoire, structure and sound here and I think what he did in the end was amazing. I think he works perfectly in this ensemble and his choices are tasty. Of course, I gave him some frameworks and suggestions of Arabic modes, which he loved and got creative with. He's a truly great guitarist. I met Stern at the Sarajevo Jazz Festival in 2011, where we both performed. After seeing his concert I always wanted to record with him, but never found the appropriate time or concept until this one. He has a beautiful sound and I knew it would be such an interesting one to couple with the oud. I'm very happy with the results.
"I think anyone that has heard or knows Matt McMahon will not be surprised by his contributions. He is and always has been one of those great musicians of high quality. He's sensitive to what I do and I knew he'd be perfect for this project. We (brother James and I) have performed with Matt in my trio for a while prior to this recording and he also features on my albums Angel and Concerto of the Greater Sea. James and I understand each other musically very well and Matt is the same. We seem to be on the same page and have the same vision and that's why I decided to fly him with us from Australia to be apart of this album. James is a rhythmic genius and gets total freedom on the album. We'll discuss things and see what sounds better or is appropriate to the piece. Bendir is usually for slower pieces but on 'Dreaming Hermit', he decided to use bendir and it sounded beautiful. It's great to have a musician that is so solid every time.
"I've always said that if you want a strong collaboration then you must compose to the musicians' strengths as well as challenging them. It's about challenging them through what they already know and allowing them to grow and try things within that framework. I just draw a map, and a destination; each player helps to get not only me there but all of us. My music is inclusive, it's not dominated by oud, but everybody has an equal role and responsibility into acquiring our vision."
• The above interview/review first appeared in Rhythms, Australia's only dedicated roots music magazine, for which the author is World/Folk correspondent.
Author:
Tony Hillier
Tony Hillier is an Australia-based freelance music writer, broadcaster, musician, MC and band leader. He writes album and concert reviews and feature articles for The Australian (the country's only bona fide national newspaper) and Rhythms (Australia's only dedicated national roots music magazine) and prepares/presents weekly programs for the national broadcaster (ABC) and community radio. He is also a member of the Transglobal World Music Chart (TWMC) panel.