Two of the British Isles' most renowned folk duos, joined by holy matrimony and the spirit of musical adventure, are an exemplar of stringed instrument eclecticism.
The members of The Heartstring Quartet have performed in America, Australia and Europe in various guises and combinations over the past 25 years, including as a 4-piece, back in the mid "noughties". That was before sisters Máire Ní Chathasaigh and Nollaig Casey, who are in the top tier of Ireland's harp and fiddle ranks, and their respective partners in life and music — Chris Newman, one of England's finest flatpicking guitarists, and his Northern Ireland counterpart Arty McGlynn — adopted and adapted a collective name from the title of their 2008 debut album, Heartstring Sessions.
Máire Ní Chathasaigh (pronounced Moira Nee Ha-ha-sig) admits that the group presents some "logistic difficulties", given the "huge range" they encompass and that one half lives in in the UK, and the other in Ireland. As she expands, the Quartet's repertoire covers a gamut of styles — from meditative airs to powerhouse traditional Irish dance-music, from bluegrass and ragtime to rockabilly, from old songs to those with a contemporary twist and striking new compositions.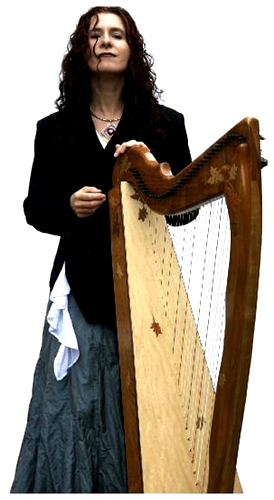 According to the loquacious spokesperson, the Heartstrings take a democratic approach to selecting repertoire. "We all compose and the quartet plays pieces written by each of us … it's a case of whatever anyone fancies really. We're not like a conventional band. There's no front or backline. We're all equal and fortunately we all have similar taste, although we cover a huge range. The core is Irish traditional, but all of us like to play different things and it's great to be able to do that. Chris and Arty have a wide hinterland of music. You don't often get two guitarists of their calibre in the same band. They do a duet in the set, as do Nollaig and I. The boys are great improvisers, and so is Nollaig. We all like to stretch ourselves."
While the guitarists' grounding in jazz might not directly manifest itself in the Heartstrings' sound, Máire observes that both men tend to think off the top of their heads. "It's never the same from one night to the next," she says with a laugh. "Arty comes up with amazing cross rhythms, whereas Chris does a lot of melodic improvisation on guitar and mandolin. Chris has a background in manouche. He played with Diz Disley for ten years and was in a band with the legendary swing violinist Stéphane Grappelli. These days, traditional Irish music is his first love and jazz second. It's the same with Arty."
The men boast truly impressive CVs. Newman's resume also reveals a spell with the legendary Scottish band Boys Of The Lough. McGlynn, whose early playing was influenced by jazz greats Wes Montgomery and Thelonius Monk, has been a member of Planxty, Patrick Street, 4 Men And A Dog and De Danann and was for a number of years lead guitarist with the Van Morrison Band. Máire proudly points out that Nollaig has also played with some of Ireland's most influential bands, including Planxty and Coolfin, and that she was a member of the esteemed RTÉ Symphony Orchestra and toured the world as featured fiddle player with the hit show Riverdance.
Both of the County Cork born-and-bred sisters have evolved their own unique style. Back in the 70s, as a teenage harpist wanting to perform traditional Irish dance music, Ní Chathasaigh had few references in the field of her chosen instrument. "There's an enormous repertoire of Irish harp music going back to O'Carolan in the 17th century, but it's mostly low tempo stuff," observes this trailblazer, who in 1985 recorded the very first harp album to concentrate on traditional Irish dance music. "Nollaig also developed her own utterly distinctive and inimitable sound and style as a fiddle player," she says, although adding that her sibling's singing is very much in the Cork style.
With their different backgrounds and instruments, the four Heartstrings inevitably have individual influences. Máire Ní Chathasaigh cites the legendary piper Séamus Ennis among her heroes, while she singles out the renowned Donegal fiddler Tommy Peoples as a "champion of modern Irish traditional music". The harpist takes collective inspiration from listening to archive recordings of Irish musicians from the 1920s and 30s. As she expands: "Those recordings were made before the era of editing and what you hear is a complete performance. They had incredible energy and improvised within the tradition." The same might well be said of The Heartstring Quartet!
• The above interview/review first appeared in Rhythms, Australia's only dedicated roots music magazine, for which the author is World/Folk correspondent.
Author:
Tony Hillier
Tony Hillier is an Australia-based freelance music writer, broadcaster, musician, MC and band leader. He writes album and concert reviews and feature articles for The Australian (the country's only bona fide national newspaper) and Rhythms (Australia's only dedicated national roots music magazine) and prepares/presents weekly programs for the national broadcaster (ABC) and community radio. He is also a member of the Transglobal World Music Chart (TWMC) panel.