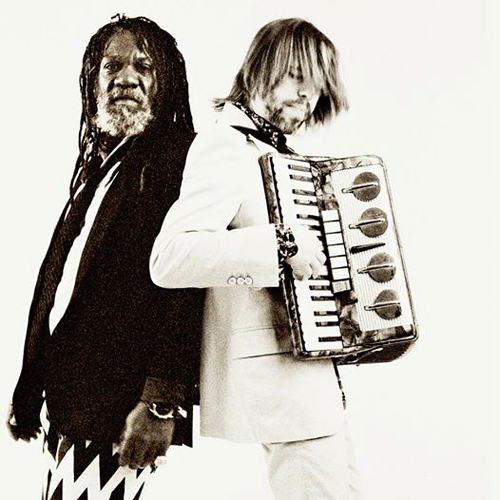 Winston Mcanuff & Fixi are set to perform on August 30, 2014 at MIMO Festival 2014 in Ouro Preto at at Praça Tiradentes at 22:00 (10:00 pm). He will later perform on September 5 at MIMO Olinda at Praça Do Carmo at 22:00 (10:00 pm).
Jamaican reggae singer and songwriter Winston McAnuff, also known as "Electric Dread", got worldwide recognition after his album was released in Europe. He was a member of the legendary band Inner Circle and rap and rock group Java, with whom he recorded the album Paris Rockin which stormed Europe in 2006.
Winston McAnuff's partnership with the French producer and accordionist Fixi paved the way for a new style in which sounds and rhythms blend differently. Lively and tailored to the dance floor, tracks include an eclectic musical mixture: reggae and rock-musette are the main styles and also blues, soul, Afrobeat, the maloya from the Reunion Islands and Latin music. The duo, that has been thrilling audiences around the world, was internationally acclaimed with the recent release of the album A New Day that will be presented in Brazil at MIMO Festival.
MIMO Festival 2014 presents some of the finest acts in jazz, world music and classical. It takes place August 29-31 in Ouro Preto (Minas Gerais); September 4-7 at Olinda (Pernambuco); October 10-12 at Paraty (Rio De Janeiro State); and October 17-19 at Tiradentes (Minas Gerais).
More at www.mimo.art.br
Author:
World Music Central News Department
World music news from the editors at World Music Central