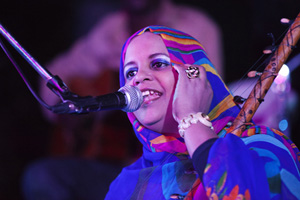 Noura Mint Seymali (Mauritania) is set to perform on Saturday, September 27, 2014 at Barbican in London. Noura has developed an exciting fusion of "traditional and modern" that promises to change the musical landscape of the country. This young Mauritanian singer was born into a family of Iggawin (the Mauritanian equivalent of griots) and is the step-daughter of Dimi Mint Abba, the "Diva of the Desert".
Firmly rooted in Moorish tradition, Noura is not afraid to embrace modernity. Playing the ardin (a bow harp instrument only played by Mauritanian women) she is accompanied by a traditional ensemble of tidnit (a lute played only by Mauritanian men).
In recent years the electric guitar has replaced the traditional lute and Noura's husband, guitarist Jeiche Ould Chighaly, heroically renders the lute's complex rhythms on the guitar with a gripping, transportive sound. With traditional instrumental textures and song motifs, phased psychedelic guitars, transcendental grooves and commanding, impassioned vocals, this is music that has not been widely heard before.
Her international debut album 'Tzenni' has just been released on Glitterbeat Records.
Watch the 'Tzenni' album teaser video:
Barbican Hall, Barbican, Silk Street, London EC2Y 8DS
Tickets: £15 – 25 (plus booking fee)
For more info & tickets: www.barbican.org.uk
Author:
World Music Central News Department
World music news from the editors at World Music Central