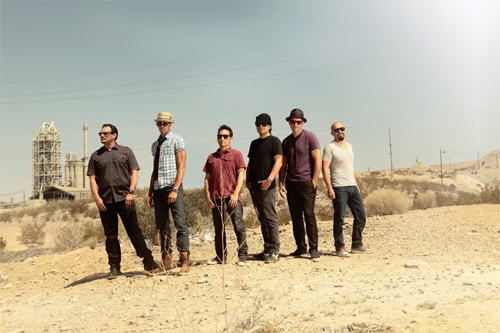 Ozomatli are guaranteed to be the life and soul of any festival, a band that's truly earned its place in the sun. It's no revelation, then, to report that upbeat messages and feel-good pan-Latin vibes pour out of their seventh studio album like lava from an erupting volcano.
Place In The Sun comes as close as is physically possible to capturing the extraordinary energy and spirit of their stage shows without actually being a live album. Rhythm rules in Ozoland. Melody lines tend not to meander, nor lyrics linger. It's Latino street-party music pumped out with snappy mantras and conga line-inducing purpose. Not that Ozomatli's arrangements lack depth.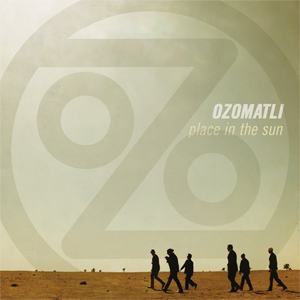 Driving rock, irresistible funk and rapid-fire raps dribbling with Latin spice might be the primary mix, but with rhythmic and stylistic sub-texts and a balance of electronica and organic elements. For example, the dancing soukous-accented keyboard figures in the incandescent opening title track. Or the joyful Mexican banda feel of 'Paleta' and the gyrating Colombian cumbia dance grooves generated in 'Prendida' and 'Tus Ojos' and the hip-hop meets mambo mayhem of 'Échale Grito'. Jamaican raga propels the uplifting 'Brighter' and its infectious, sing-a-long chorus "The weight's gonna get much lighter/ The world's gonna look much brighter". Synthesised strings and soulful horns offset the grungy guitar and hard rock of 'Burn It Down'. Acoustic and tremolo-heavy electric guitar and mariachi trumpet flavour a touching ballad, 'Only Love'.
Ozomatli's guitarist, Raúl Pacheco, provides an insider's view of this dynamic band's new album:
"As the songs took shape, we realised we wanted an upbeat record. We're just not a downer band; it's not our natural state. We like to connect with people through our joyfulness. The songs that made us feel that the most are the ones we developed to completion.
"Place In The Sun is a mix of modern electronic production styles mixed with live instruments. It's an extension of our original style, which contained sampled loops and live playing on top. The title track developed from a chorus idea that we were asked to write for the California Tourism Board. They went with something else, but the chorus stuck in our head. We decided to make it a real song and it took a 60s' garage vibe.
"'Brighter' was co-written by Dave Stewart of Eurythmics' fame and Asdru (Ozomatli's lead vocalist/trumpeter Asdrubal Sierra). Dave is a huge reggae fan. He has a place in Jamaica and loves the music. He also brings his pop sensibility and good song writing to the track — we brought our style. 'Burn It Down' was inspired by Bombino, a North African Tuareg guitarist that we like a lot. We made our own powerful rocked-out version. 'Ready To Go' is a straight club style dance tune with a fun edge.
"'Paleta' is what we call an electro-banda tune. Banda is a Mexican style of music that developed from the heavy German presence in Mexico in the early 20th century. It's derived from a combination of German marching band and waltz music. We made an electronic base that features a popular group named Voces del Rancho. I like 'Paleta' for its uniqueness and the fact that people love it live, 'Time to Go' for the Herb Alpert bridge and 'Échale Grito' for its mambo horns.
"'Prendida' is effectively an electronic cumbia base with live playing on top. I like the sound of this track a lot. 'Tus Ojos' is another cumbia with an electronic base and us live on top and I also like the sonic quality of this mix. Our saxophonist Uli Bella's grandmother inspired the song. She was an incredible spirit who had native heritage from a tribe in Mexico called Otomi. The title means 'Your Eyes'; Uli was fascinated by her sense of cosmic timelessness.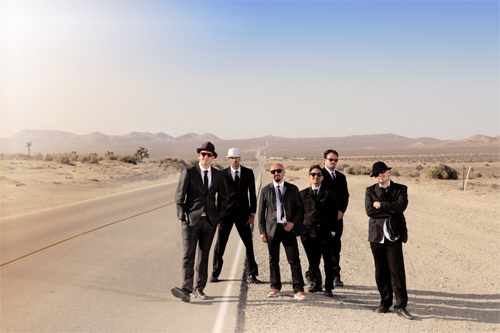 "Despite the differences in styles, we hold ourselves to a standard of naturalness. If it doesn't feel good, we don't play it. If we play something that's new, we do it until it feels right. We only play songs that we feel work live. The new ones will go through their phase of live presentation. We work on them, see what needs tweaking for the live crowd. The ones that seem like a struggle stay out and the ones that rock, stay in. But they all get their day in court!"
• The above interview/review first appeared in Rhythms, Australia's only dedicated roots music magazine, for which the author is World/Folk correspondent.
Author:
Tony Hillier
Tony Hillier is an Australia-based freelance music writer, broadcaster, musician, MC and band leader. He writes album and concert reviews and feature articles for The Australian (the country's only bona fide national newspaper) and Rhythms (Australia's only dedicated national roots music magazine) and prepares/presents weekly programs for the national broadcaster (ABC) and community radio. He is also a member of the Transglobal World Music Chart (TWMC) panel.