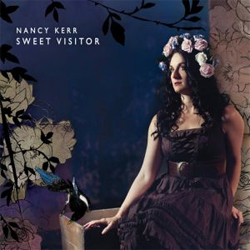 Influential English singer and violinist Nancy Kerr launches her debut solo album Sweet Visitor today on Little Dish Records. All songs are written by Nancy Kerr. The album is produced by Andy Bell (Bellowhead, The Full English) featuring Martin Simpson, Emily Smith, Tim van Eyken, James Fagan, Tom Wright, Tim Yates, Rob Harbron, and Jess Arrowsmith.
Nancy is a 5 times Radio 2 Folk Award Winner: Horizon Award 2000; Best Duo 2003/2011 with James Fagan; Best Group and Best Album 2014 with The Full English. Winner Best Album (Spiral earth 2011) for Twice Reflected Sun (Navigator041).
By now a respected performer of traditional material, Nancy's emergence as a writer of rare style has drawn comparisons to William Blake in her revitalization of a radical folk tradition as a backdrop for contemporary narratives about love and conflict, motherhood, migration, hardship and jubilation, and the tensions between rural and urban life.
"Nancy Kerr's songs are unusual, intriguing," says Peggy Seeger. "Steeped in folksong, she nonetheless breaks out of the mold, coming sideways to her subject, embroidering it with detail and surprises until the focus of the song comes clear. She is such a good singer that sometimes you really have to concentrate to get the message – but it's worth it when you get it."
Buy Sweet Visitor in North America
Buy Sweet Visitor in Europe
Author:
World Music Central News Department
World music news from the editors at World Music Central