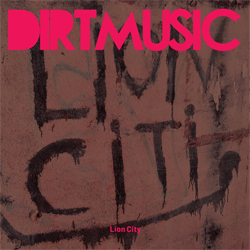 Dirtmusic
Lion City (Glitterbeat Records, 2014)
Making the most out of 2012 Bamako, Mali recordings that resulted in the 2013 Troubles release, Dirtmusic is back with Lion City, out now on the Glitterbeat Records label. The groups two other recordings Dirtmusic and BKO were also part of their 2013 releases.
Headed up by vocalist and guitarist Hugo Race of Fatalists and Bad Seeds fame, vocalist and song writer Chris Eckman of The Walkabouts fame and the Malian Afrobeat musician Ben Zabo along with his balafon rich band, Dirtmusic's Lion City rattles the cages of African inspired world music with an expansive other space feel that still manages to expose its earthly roots. And, the effect is electrifying.
Dipping fingers into rock, Malian musical traditions, ambient and alternative, Lion City pulls together a sound where edgy electronica, guitars and kick ass beats dominate, as in opening track "Stars of Gao" with guest artist Super 11, but that expansive otherworldly space takes a bit of grounding by guest artist Aminata Wassidje Traore and her vocals on the earthy, percussively rich "Narha."
Lion City delves into the dark and deep with "Movin' Careful" before giving way to the easy balafon riches of "Justice." "Ballade de Ben Zabo" overflows with what can only be described as Malian alternative with Ben Zabo and his band, while vocalist and guest artist Samba Toure leads the way on the electronically hip "Red Dust" in a musical reflection of the troubled political straits Mali and Malians have faced in recent years.
"Clouds Are Cover" wallows in a subterranean lushness punctuated by yummy percussion and darkly sultry vocals. The balafon dominated "Starlight Club" brims with sheer coolness against the razor sharp "Blind City" with its muscly rock guitar, vocals and drums. Finally, floating on a swirling sea of ambient electronica and a lazy pace, "September 12" earns its riches through the treated vocals of Senegalese singer and guest artist Ibrahima Douf in a sweet ode to his grandmother.
Deliciously moody and potently reflective, Lion City is captivating and razor sharp.
Buy Lion City
Author:
TJ Nelson
TJ Nelson is a regular CD reviewer and editor at World Music Central. She is also a fiction writer. Check out her latest book, Chasing Athena's Shadow.
Set in Pineboro, North Carolina, Chasing Athena's Shadow follows the adventures of Grace, an adult literacy teacher, as she seeks to solve a long forgotten family mystery. Her charmingly dysfunctional family is of little help in her quest. Along with her best friends, an attractive Mexican teacher and an amiable gay chef, Grace must find the one fading memory that holds the key to why Grace's great-grandmother, Athena, shot her husband on the courthouse steps in 1931.
Traversing the line between the Old South and New South, Grace will have to dig into the past to uncover Athena's true crime.