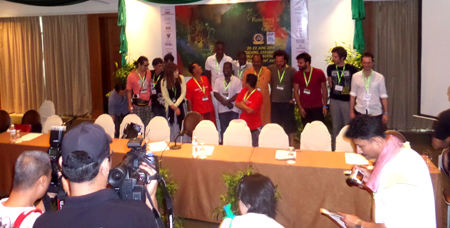 The annual Rainforest World Music Festival in Kuching, Sarawak (Malaysia), regarded as one of the Top 25 world music festivals on the planet, is not just a terrific three-day celebration of night-time performances and afternoon workshops, but interactive morning media meets as well with the performing artistes.
The musicians from 27 bands fielded a range of questions from the media, about fusion music, tour preparations, preservation of heritage, composition processes, representation of women in music, and the importance of having a message. (See my earlier article from last year: World music bands address their role in social change, cultural preservation and creativity).
Fusion or Confusion?
I asked the musicians if they saw fusion between genres as a gateway to new influences – or as confusion. Members of the group Debademba, consisting of West Africans living in Paris, said fusion is a part of growth, a reflection of colonial heritage, and a result of the immigration experience. It is also a by-product of globalisation thanks to global media and the Internet.
"Do not betray the meaning of the instruments and the roots of the culture," cautioned Mauro Durante of Italian group Canzoniere Grecanico Salentino. "The best fusion music does not sound like fusion", he added.
World Music and Festivals
Though some artistes felt the term 'world music' is confusing and inappropriate, others felt it gave local folk and ethnic music more global appeal and rebranding. World music festivals themselves are about more than the instruments. "World music festivals are not just about loving music but loving each other," said Mohd. Kamrubahri of GengWak Long, Malaysia.
"World music festivals are essential, many audiences have never heard the kinds of music played at festivals," said bluegrass ace Gordie Mackeeman from Canada. "Some of the best compliments I receive are from someone who says, 'I don't usually listen to this kind of music but I like it,'" he added.
Members of Debademba said music festivals are also about growing the family of music and culture. "If you have the World Cup watched by fans all over the world, why can't you have world music listened to by everybody," said Mohd. Kamrubahri in jest.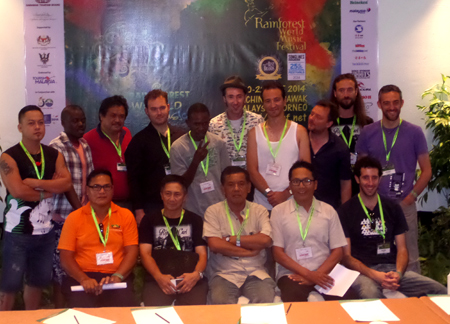 A Sense of Humour
A sense of humour definitely helps musicians, though the bands did not say it in as many words at the media meets. "How do you describe your band to someone who has never heard of you before?" someone asked. "A must see act!" said Celtic musician Jamie Smith of Wales. "How did you condition yourself before this Malaysia festival?" someone else asked. "We spent time in saunas," said Jamie Smith again.
Asked where his band was from, Gordie MacKeeman replied: "We are from Canada's smallest province, Prince Edwards Island – even Canadians don't know where it is!"
Persecution and Preservation
As always, the world music bands had a lot to say about the importance of preserving heritage for posterity, even in the face of repression. Members of Lo Còr de la Plana, based in the 'La Plaine' area of Marseilles, condemned the persecution their communities had gone through by French governments. "Our Occitane language has been repressed for over six centuries, but is still alive," they said.
"Spain tried to kill us also. Spain had 40 years of fascism, speaking Basque was forbidden, giving Basque names to newborns was banned. It was violent. You can go to jail today also for being too Basque. The people should decide what their culture is, not government," said members of Basque group Kalakan. There is a world beyond Paris and Madrid, they agreed with the musicians from France.
"We need people to valorise traditional music and identity. But don't be afraid of pop music at the same time. We spent a year with Madonna and still play our music," joked Jamixel of Kalakan.
Members of groups in Malaysia also said certain practices like having female performers were under pressure from religious groups. Journalists also raised the question of low representation of women among music performers, including world music. "There needs to be a good balance of men and women in music. In some of our dances, the women can be scarier, prettier or better performers than men," said Maori composer and dancer Horomona Horo.
Creativity and Composition
I asked how the bands created their music – based on tradition, by a composer, or via emergence from a jam session. The members of Karinthalakootam said it was important to preserve the folk traditions of Kerala in South India, which they did by talking to the grandmothers and grandfathers in the villages.
The tunes of the Bisayah Gong Orchestra come from their spiritual traditions and ancestors, as is the case with Basque group Kalakan. Folk songs are sometimes arranged in different ways, but without departing too much from tradition. This can be a tough process while the band is still defining its personality and brand, and takes time to mature.
The Indonesian band Talago Buni has main composers who also get inputs from musicians, and sometimes change the piece based on audience feedback and suggestions. Le Cor de Plana has lead composers who hand over certain sections like percussion to their band members. Gordie Mackeeman from Canada said their composers let the musicians take the piece in different directions, which sometimes goes in unexpected ways.
Jagwa Music from Dar es Salaam in Tanzania said they compose their songs based on the urban environment, eg. political scandals reported in the news, or love in different seasons and festivals. The Malaysian group Gema Seribu said their songs reflect the sounds of the rural environment – jungle sounds, heavy winds, the swishing of flying foxes.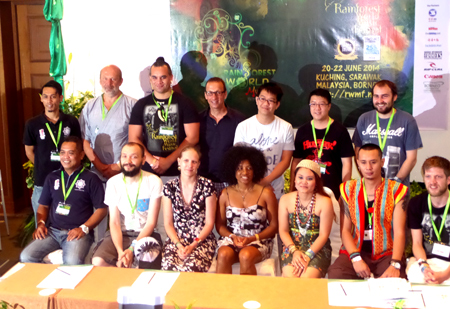 Do bands have to have a message?
On the last day, I asked the bands what their messages were, and if it was important to have a message or just leave it to the audience to decide. "It is extremely important for world music bands to have a message," said lead singer Opa of Sarawak avante garde folk group Nading Rhapsody. "We are blessed that we have the knowledge of our leaders, and we need keep it alive," she urged.
The band also tries to find a global connect to its messages. "We grew up with TV and the Internet. Our focus is towards the whole world. There is tension and discrimination all over the world. Our song Umbas means enough," Opa added.
"Yes, a message is important, we want to show that Ukraine is a peaceful and friendly nation," added members of the Ukrainian band Dakha Brakha (in their performance they introduced themselves as "From Free Ukraine!")
"We would like our audience, especially youth, to say this music is fun, and it is ours. This music is for me. It is not to be seen as old people's music only! Let the young discover what is theirs," said members of UK folk rockers Blackbeard's Tea Party.
"For decades our music was ignored and unknown, we are trying to revive the gong tradition," explained members of the Bisayah Gong Orchestra from Sarawak.
While world music bands play an important role in cultural preservation, it should be remembered that traditional music is not just for 'old' people, said members of the Basque group Kalakan. Youth around the world should explore their roots and not just look at American music, they advised. The Gema Seribu (Thousand Echoes) ensemble from Sarawak agreed, and said they preserve their traditions by also involving youth as interns and apprentices.
"This Festival also has a message to protect and promote traditional music," reminded members of Yayasan Warisan Johore from south Malaysia.
German multi-instrumentalist Stephan Micus offered a different view: "The beauty of music is that it goes beyond messages and words and intellectual ideas. It reaches a place in us deeper than concepts. So don't worry too much about having a message."
"Music is the message; it says something in different languages. Music fills every one of the emotive cells in the human body, and has effects we will always continue to discover," added Horomona Horo of New Zealand. Every part of music carries a message.
"Cubans face a lot of challenges. Cubans live in the moment, and it is reflected in the music," added members of the Cuban band Son Yambu. "We give you the sugar, you do whatever you want with it – flan or ice cream!" quipped the band's singer Yuri.
Challenges ahead
Most bands said international travel (costs, visas, luggage, and weather changes!) was a challenge, as well as local support and acceptance in some cases. Some of the bands from Malaysia said a challenge they faced was making the local traditional music relevant to Malaysian youth. Some challenges are also external – such as the US blockade of Cuba, said the band Son Yambu.
Members of the UK band Blackbeard's Tea Party cautioned that certain kinds of dance forms are dying, especially the very energetic ones since elders cannot carry on performing them. "It is also important to show that folk music is not right wing or extreme nationalism and is not about fascism," they warned.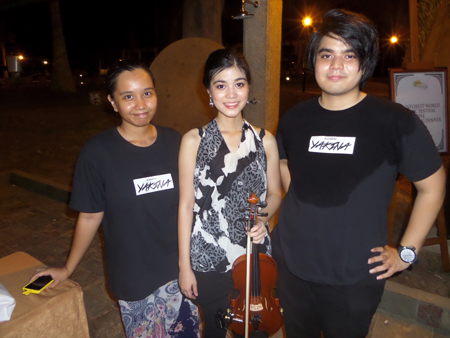 MH 370
The shadow hanging over the Festival was the sad fate of the missing Malaysian Airlines Flight MH 370. This was addressed by the talented teenage violinist Yakina from Sarawak. She was at another media meet held on the last day of the Festival at the venue, and the launch of her debut album Nisa Addina featured in the formal kickoff before the Festival. The haunting track Pray for Me was played live at the launch function, and dedicated to the victims of the missing airliner and their families. The performance and backdrop of videos of the families brought tears to the eyes of the audience.
But there are some wounds that even the best of music cannot heal.
Author:
Madanmohan Rao
Madanmohan Rao is an author and media consultant from Bangalore, and global correspondent for world music and jazz for World Music Central and Jazzuality. He has written over 15 books on media, management and culture, and is research director for YourStory Media. Madan was formerly World Music Editor at Rave magazine and RJ at WorldSpace, and can be followed on Twitter at @MadanRao.