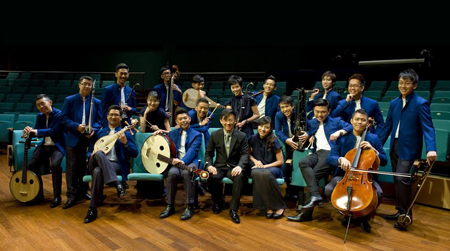 Ding Yi Music Company (previously known as Arts Sphere Chamber Ensemble) was formed in 2007 and has been recognized as one of Singapore's most extraordinary Chinese chamber music ensembles. Its extensive repertoire ranges from traditional Chinese music to contemporary avant-garde interpretations and cross-genre works.
The ensemble has also premiered many compositions by award-winning composers such as Eric James Watson (UK), Cao Wen Gong (China), Wang Jian Min (China), Jean Y.Foo (Singapore-born Chinese-American), as well as local composers such as Emily Koh and Wang Chen Wei. Additionally, Ding Yi Music Company has collaborated with prominent musicians such as Min Huifen and Lu Chun Ning in many well-received concerts and received accolades from critics and audiences alike.
Under the direction of the Music Director Dr. Tay Teow Kiat, and the conductor Mr. Quek Ling Kiong, Ding Yi Music Company has earned distinctions and prizes both locally and abroad. The chamber ensemble features 20 of Singapore's most dynamic, talented and multiple award-winning musicians, most of whom went through professional training at the Nanyang Academy of Fine Arts. It first drew national attention in 2008 by winning the First Prize in the Singapore National Arts Council Chinese Music Competition. In the subsequent year, Ding Yi Music Company emerged Champion in the prestigious Llangollen International Musical Eisteddfod held in Wales, United Kingdom; and more recently it received the Silver Award in the 28th Shanghai Spring International Music Festival.
DingYi Music Company also places great emphasis on promoting new compositions for the Chinese chamber ensemble and it has established the Composium, a triennial composition festival which includes composition competition, symposiums and performances that encourages new compositions from local and international composers. The ensemble receives the support of the National Arts Council, private patrons, companies and luminaries from the regional Chinese orchestra music scene.
The ensemble is scheduled to showcase at Borneo World Music Expo and will later perform at the Rainforest World Music Festival on Saturday, June 21st 2014 at the Theatre Stage Sarawak Cultural Village Auditorium at 2.15 – 3.00 pm.
Dedric Wong, the ensemble's General Manager discusses the ensemble's background with World Music Central.
Can you give our readers a brief history on how the band was formed?
The Ensemble was first established as the Arts Sphere chamber ensemble in 2007. We were all graduates of the Nanyang Academy of Fine Arts at that time. Later in 2011, it was incorporated into a professional company and renamed Ding Yi Music Company. We are also one of the few professional Chinese chamber ensemble in the world.
We first drew attention in 2008 when we clinched the First Prize in the Singapore National Arts Council's National Chinese Music Competition. In the subsequent year, We emerged Champion at the prestigious Llangollen International Musical Eisteddfod held in Wales, United Kingdom, and clinched the Silver Award at the 28th Shanghai Spring International Music Festival.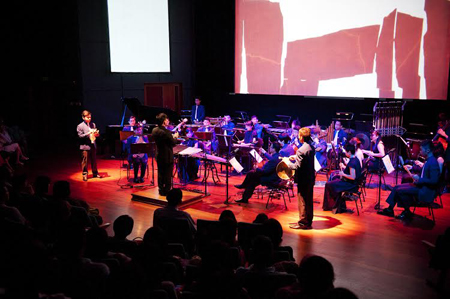 What do you consider as the essential elements of your music?
Chinese music is very different from the Western Music. Chinese music is more programmatic and mostly depicts a scenery, situation, etc. Chinese music refers to the music of the Chinese as well as other ethnic minorities within mainland China. Therefore, our music repertoire usually includes that music produced by people of Chinese origin outside of mainland China using traditional Chinese instruments or in the Chinese language. Not only that, our repertoire also range from traditional Chinese music to contemporary avant-garde interpretations and cross-genre works.
Tell us about your first recordings and your musical evolution.
Our first studio album, "Fire Pheonix" is a compilation of outstanding Chinese chamber music works. Farewell at Yangguan in particular (an ancient Gu-qin (Zither) piece from the Tang Dynasty) was re-adapted into a contemporary Chinese chamber ensemble setting.
For the production of the CD, we have specially commissioned, renowned British composer Eric James Watson as our composer. The western influence made the Chinese instrumental pieces very unique as a result. We also have another commissioned piece Confluence by a Singaporean young composer, Wang Chen Wei. The song is written with the idea of representing the harmony of Singapore's multiracial society and Indian and Malay-Indonesian musical styles are fused with Western composition techniques of counterpoint and fugue.
Can you share some information about the program you'll present at the Rainforest World Music Festival?
We will be performing first at the Borneo World Music Expo, and later on 21st June 2:15 pm at the Central Stage.
In this Rainforest World Music Festival, we will be presenting the different faces and styles of Chinese Music, ranging from ancient to folk and to modern pieces.
Specifically, we will be presenting classical Chinese pieces like the Erhu solo (Mongolian tune) '赛马' (Horse Racing), Southern Silk and Bamboo Music 行街 (Walking on the street) and Peking Opera 打虎上山 (Taking the Tiger Mountain). We will also be performing 敦煌(Dun Huang), which is a piece known for its technical expertise.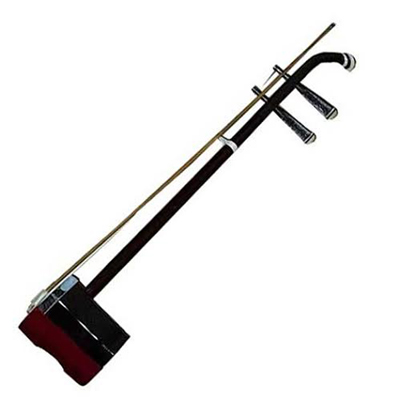 How's the current Chinese traditional and chamber music scene?
In the context of Chinese Chamber ensembles:
For China, there are currently very little professional chamber ensembles. However Chinese Chamber music is now being incorporated into the curriculums of various musical conservatories. As a whole, it is still able to garner support and is popular.
For Singapore, there is growing attention for Chinese chamber ensembles and music.
What musical instruments do you use?
Chinese chamber ensembles are basically a scaled down version of Chinese orchestras. Therefore, the music instruments we use are basically Chinese instruments used in Chinese orchestras.
The ensemble is divided into several sections, Bowed Strings, Pluck Strings, Woodwind and Percussions. There are also solo instruments such as the 二胡 (erhu), 笛子(dizi), 唢呐(suona) and 琵琶(pipa).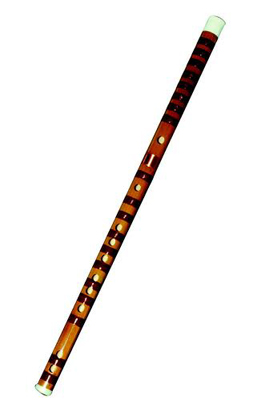 If you could gather any musicians or musical groups to collaborate with, whom would that be?
We have had past experiences collaborating with numerous cross disciplinary groups as well as music of other genres (e.g. Indian/Malay/Western Instruments). Thus, we are definitely open and looking forward to collaboration with musicians and musical groups of all types of music. There aren't really any specific musicians or musical groups right now therefore we really hope that we can meet musicians who share the same interests through the festival and create opportunities for future collaborations.
Do you have any upcoming projects to share with us?
We are currently in the midst of organizing the Singapore International Competition for Chinese Chamber Music Composition 2015, which is also known as Composium.
Composium 2015 is actually the second time we are hosting this event, the first being Composium 2012.
In Composium 2012, fifty new compositions were received from composers of different nationalities. Of which, six winners were selected, and the two First prize awardees from each category are given an opportunity to sign a 3 year composer-in-residence contract with Ding Yi Music Company (DYMC).
In Composium 2015, up to 6 finalists will be selected during the preliminary round and be invited to Singapore in August 2015 to interact with musicians and adjudicators in an open rehearsal. This will culminate in a prize presentation concert, in which works of these finalists will be performed by the DYMC musicians.
Furthermore, in conjunction with SG50, a nationwide effort to celebrate Singapore's 50th birthday in 2015, a new category has been included for the competition. 5 sets of photos representing 5 aspects of Singapore will be selected, and participants are required to base their composition on one of these sets of photos. The pictures will be published on DYMC's website and Facebook webpage by 1 July 2014.
For more information, visit
Facebook: facebook.com/dingyimusic
YouTube: youtube.com/dingyimusic
Website: www.dingyimusic.com
Author:
Angel Romero
Angel Romero y Ruiz has been writing about world music music for many years. He founded the websites worldmusiccentral.org and musicasdelmundo.com. Angel produced several TV specials for Metropolis (TVE) and co-produced "Musica NA", a music show for Televisión Española (TVE) in Spain that featured an eclectic mix of world music, fusion, electronica, new age and contemporary classical music. Angel also produced and remastered world music albums, compilations and boxed sets for Alula Records, Ellipsis Arts, Music of the World.