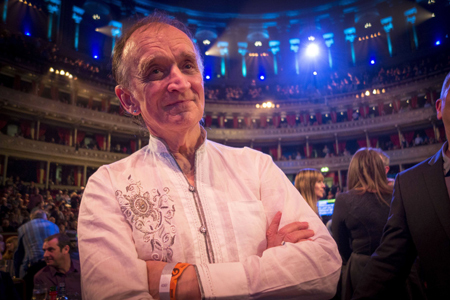 Martin Carthy's certainly not known as the guv'nor of British folk for nowt, as a richly deserved Lifetime Achievement Award at the annual BBC Folk Awards earlier this year underlines.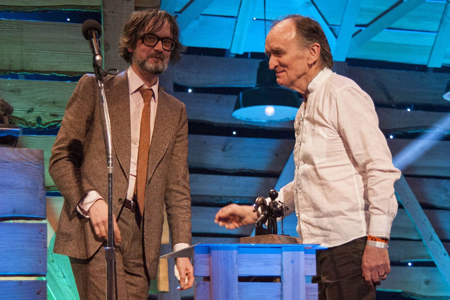 So, what did that award mean to this humble man and how does it compare with the prestigious MBE (Order of the British Empire) title he received in 1998 for his services to English folk music?
"I'm very happy indeed to have it as long as it doesn't mean that people think I've finished and that my bookings grind to a halt! And it was especially good to have it handed to me by Jarvis Cocker, who is a remarkable singer and human being as well as a lovely man. I was very happy to have the MBE and I took it on behalf of a genuinely underground music movement to which I am eternally grateful. I'm also aware that many people reject the idea of that particular award and I felt then, and feel now, that a change of name for that award is long overdue. Legion of Honour perhaps?
Carthy was able to celebrate the receipt of his gong with a rare duet performance with his daughter, Eliza, at the awards ceremony, held at London's Royal Albert Hall in late-February. Was that the icing on the cake?
"Yes. We do the occasional gig together, which is very exciting personally. It was lovely to do that particular song with Eliza and to use the moment to pay tribute to her uncle/my brother-in-law Mike Waterson. We had just completed our first CD as a duo and were able to sing a song from it! The whole evening was hugely enjoyable and not just for that reason. Some great music was given its due. There are some very fine performers coming through all the time. The standard is very high indeed."
Eliza Carthy is following in her father's footsteps as a mover and shaker on the English folk scene. How satisfying is that for her Dad?
"Eliza continues to take the bull by the horns, musically speaking and likewise to take the most extraordinary risks. I'm filled with admiration at what she can do and the choices that she makes. She's very much like her Mum [Norma Waterson] in that she's not daunted by anything and will give it a shot. Playing and singing with her is a 24-carat blast."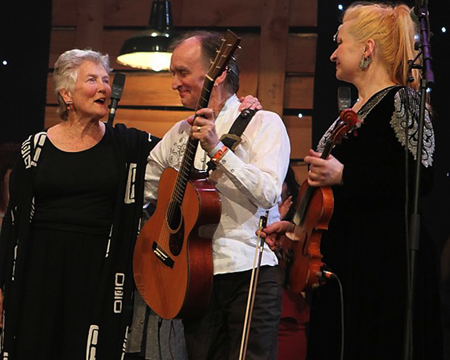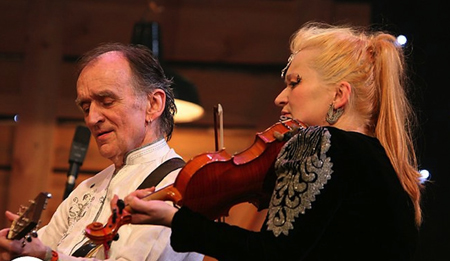 Martin Carthy has had many trailblazing musical partnerships over the years. Which have meant the most to him and why?
"I honestly can say that I try not to put them in any kind of order except to say that the Watersons are bound to stand out because it's family — and a totally remarkable family at that — and it led to Waterson:Carthy, which existed side by side. Work with Steeleye Span produced the album Please To See The King, which contained moments of pure magic. The Albion Country Band was a fabulous band that collapsed because of a mixture of rotten luck and well meaning but idiotic management but which produced the very fine Battle Of The Field. To play with the people in the Imagined Village is something I will treasure because of how much I learned and continue to learn. To put all of those — plus collaborations like Band of Hope — into some sort of order of preference would be nonsensical I think."
So, what does he consider to have been his most significant career achievements and milestones, and for what reasons?
"I've never considered what I do as a career. I think of it as a wonderful accident of history which gave me the opportunity to find out about a music which had intrigued me because of the implications of skiffle and then totally enthralled me when I actually heard it coming out of the mouths of people like Seamus Ennis, Jeannie Robertson and, especially, Sam Larner.
"It was hearing Sam Larner that made me understand that the fact I am English doesn't mean that I'm going to have an immediate and deep understanding of English music. What I realised was that what Sam sang was as exotic and as much of a mystery to me as the Indian music I had heard when a while earlier I had been at Ravi Shankar's first appearance at London's Royal Festival Hall. That's the sort of thing that brings you up short — makes you at least reconsider.
"I think that a whole bunch of us have taken the guitar into unfamiliar areas and that we have between us found ways of accompanying very old songs with some success. I continue to think that putting the guitar into these oddball tunings is the way to do it, but these days there is a bit of a reaction and people are sometimes rejecting such notions.
"If I had to choose one genuine achievement it would be the collaboration with so many different musicians of which I am hugely proud and which produced the wonderful album of songs by Mike and Lal Waterson called Bright Phoebus. Mike and Lal were fabulous songwriters and as different from each other as you might imagine. Sadly the album is unavailable now."
Martin Carthy has influenced a great many musicians during a long and fruitful career, including Bob Dylan and Paul Simon (during their sojourns in London in the early '60s). How does that rate in his long list of achievements?
"It's not so much a case of 'what goes around comes around' but the opposite: that is, that what comes around goes around! I have learned a phenomenal amount from other musicians. I always cite Davey Graham as a major source of inspiration. Also Big Bill Broonzy and Elizabeth Cotten.
"When Bob Dylan was in London at the end of 1962, it was clear that he was an ordinary bloke with an extraordinary talent. When he came to a gig he would sit quietly and concentrate very hard on what was going on, absorbing everything and the end result was I think those melodies which carried songs like 'Chimes of Freedom', 'With God On Our Side' and many others. Any achievement rested on his shoulders. He was a very, very fine performer indeed.
"Paul Simon's approach was as different as it could be. He had written to a club organiser called Dave something in Brentwood [in east London], asking if he would be prepared to take him on as a resident singer for £5 a week. This sent Dave himself going round clubs asking whether anyone had heard of this man and was he any good. The general feeling was that he was unknown, but that the Americans who came over tended to be good performers so he was worth a shot, and that if he was no good he could sack him! He was a long way from no good as it turned out, and Paul was in the country for a couple of years on the road round the folk clubs building a very good reputation. What he wanted was to find a way of honing his songwriting and his performing and that's exactly what he did. He was one of us. The achievement was his."
Carthy's been lauded as a master singer of traditional folk ballads, a groundbreaking guitarist and an authoritative interpreter of contemporary material. Which of those epithets mean the most to him?
"I don't really know how to answer that except to say that it was and continues to be trial and error. The great thing about this job is that there aren't any rules, so it's up to you to make 'em up. The great advantage is that periodically you can change the rules as you choose. It always comes down to what works. What gets any story you are telling rise up and sing itself, and that is something you can only discover while doing it. As far as guitar is concerned, I am an acoustic player who has learned a couple of very important lessons from playing electric — the first of which was economy: that less is more."
Of all the many fine songs that Martin Carthy's arranged and recorded over the years — on more than 40 albums — which have given him enduring satisfaction?
"The aforementioned 'Bright Phoebus'. But I would also point to 'Famous Flower of Serving Men', 'Lochmaben Harper', 'Bill Norrie' and 'Prince Heathen'. And I still like 'Peggy and the Soldier'.
• The above interview first appeared in Rhythms, Australia's only dedicated roots music magazine, for which the author is World/Folk correspondent.
Author:
Tony Hillier
Tony Hillier is an Australia-based freelance music writer, broadcaster, musician, MC and band leader. He writes album and concert reviews and feature articles for The Australian (the country's only bona fide national newspaper) and Rhythms (Australia's only dedicated national roots music magazine) and prepares/presents weekly programs for the national broadcaster (ABC) and community radio. He is also a member of the Transglobal World Music Chart (TWMC) panel.