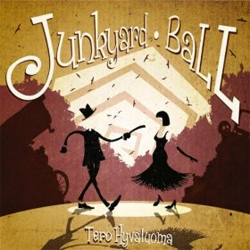 Tero Hyvaluoma
Junkyard Ball (Lusti Music/Sibelius Akatemia, 2013)
Finnish fiddler Tero Hyvalouma has got regular gigs with his bands Frigg, Snekka, Haaga Folk Machine and Swing42, as well as collaborated with Ismo Alanko, Korpikaani and Stringpuree Band, but has expanded his reach with a new group called Frost V and has put out his first solo album Junkyard Ball, out now on the Sibelius Akatemia label. Junkyard Ball's sound is gigantic, daring and downright striking in both vision and execution. That sound is incandescent and voracious, able to gobble up and enfold the energy of folk, the smooth innovation of jazz and capture and light up a progressive music to conjure up new thread of Nordic music.
Joined by accordionist Harri Kuusikarvi, pianist and keyboardist Matias Tyni, double bassist Vesa Ojaniemi and drummer and percussionist Niko Votkin, Mr. Hyvaluoma takes the listener on a wild romp filled with bright and energetic folk, sweet soaked atmospheric pieces and tracks layered with sleek jazz and clever improvisation.
Mr. Hyvaluoma has stacked his sound with guest artists: violinists Tommi Asplund and Alina Jarvela, violist Elina Heikkinen, cellist Vesa Norilo, claviola player Johanna Juhola, fiddler Esko Jarvela and vocalists Alil Jarvela, Maija Kauhanen and Tero Pajunen, listeners are treated to this highly potent mix punctuated by stellar musicianship.
One can't help but grab onto the furniture for the wild ride that is Junkyard Ball's opening track "Punaturkki Breakdown," but tracks like the savvy, jazzy "Highway to Iced Land" and the extravagantly worked "Reel Psilocybe &Juottomarssi" with its sweep of strings and kick ass accordion work are just as thrilling.
Listeners are afforded breaks to breathe with quiet folk tracks like "Laksin Mina Keysayona" that set up a trio of vocals against a backdrop of piano and strings that sound like falling rain and classically bent "Italahti."
The jazz infused "Puutarhaunelmia" is a standout track with its easy nature, but with title track "Junkyard Ball," the gloves have come off with this jazzy, saucily grooved number that's comes with some killer fiddle lines, a drum solo and sassy piano work.
Closing track "Deep Fried Travel" whisks the listener away on threads of piano and strings before turning edgier with some freely worked percussion, layered strings and accordion.
Junkyard Ball is fresh, dynamic and innovative, but not so much as to scare off the straights in the crowd. Sleekly folksy and compellingly jazzy, Junkyard Ball is a commanding addition to the new wave of Nordic folk.
Buy Junkyard Ball digital download
Buy CD from http://www.cdbaby.com/cd/terohyvaluoma
Author:
TJ Nelson
TJ Nelson is a regular CD reviewer and editor at World Music Central. She is also a fiction writer. Check out her latest book, Chasing Athena's Shadow.
Set in Pineboro, North Carolina, Chasing Athena's Shadow follows the adventures of Grace, an adult literacy teacher, as she seeks to solve a long forgotten family mystery. Her charmingly dysfunctional family is of little help in her quest. Along with her best friends, an attractive Mexican teacher and an amiable gay chef, Grace must find the one fading memory that holds the key to why Grace's great-grandmother, Athena, shot her husband on the courthouse steps in 1931.
Traversing the line between the Old South and New South, Grace will have to dig into the past to uncover Athena's true crime.