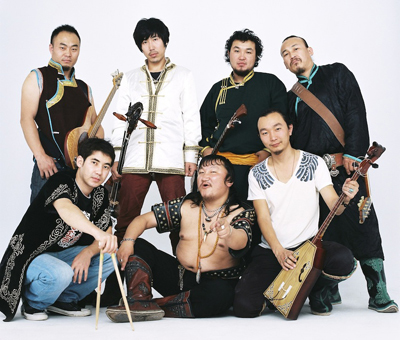 They might not be the Central Politburo's pin-up boys, but a brace of charismatic Beijing-based bands from far-flung regions of China that blend contrasting ethnic minority heritage with a disparate range of English and American rock influences are beginning to gain significant traction in the People's Republic and in the West.
Hanggai, who are heavily informed by their roots in Inner Mongolia, the autonomous region that spreads across China's far north edging Russia, have already made a significant mark on the world at large. Their protégés Shanren, representing the culture of the mountainous province of Yunnan in the far southwest of China bordering Tibet, Burma, Laos and Vietnam, are also beginning to make their presence felt far and wide.
Neither band exactly conforms to the central government's preferred exemplar of sanitised folkloric song and dance troupes, let alone international musical ambassadors for China, where officials have attempted to keep a tight rein on the activities of ethnic minority groups. Both encountered early battles for survival.
The emergence of a growing number of alternative performance venues and festivals, allied to a variety of changed socio-political and economic forces, has in the past few years afforded alternative indie acts such as Hanggai and Shanren opportunities hitherto strictly limited to Han Chinese and pop musicians.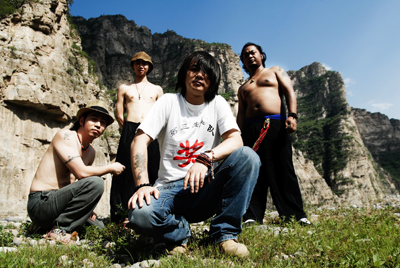 Both bands hold direct links to their respective cultures and utilise traditional techniques and instrumentation innovatively in conjunction with standard Western rock configuration of electric guitar, bass and drums. Their eclectic folk-rock is starting to have real resonance with young audiences in Beijing, the provincial capitals and at festivals overseas. As Shanren's leader, Qu Zihan, conveys via an interpreter: "Since 2010 we've played in Spain, France, Slovenia, Korea, Japan, Indonesia, the UK, the USA, Canada and Australia." He says they have always been well received. "We didn't really expect that, even though our music is relatively accessible to non-Chinese listeners, and it gives us a lot of confidence."
Hanggai's leader Yilichi or "Ilchi" concurs, pointing out that his band have also had a positive reaction from audiences in most of the 60-odd overseas countries in which they claim to have performed.
As authorities have steadily loosened their grip, the bands have enjoyed expanded opportunities in China. Hanggai's following in Beijing has really burgeoned in the past few years, with more gigs becoming available and, with them, increased media coverage. "We did our concerts in small bars at the beginning, but now we perform in bigger places, such as theatres," Ilchi reports. Hanggai have also been able to string together national tours. Indeed, they were preparing to embark for concerts in Zhejiang and Fujian at the time of this interview.
Hanngai has also been invited to perform at music festivals and events hosted by the Chinese government in Inner Mongolia. "We have a following among young Mongolians because we sing the traditional songs in our own way," says Ilchi proudly. There's also been a significant increase in Hanggai's international following since the release of their critically acclaimed 2011 album He Who Travels Far.
While Shanren's performances in China have hitherto been largely confined to festivals, they're starting to pick up theatre concerts as their popularity spreads. Naturally, they enjoy strong support in Yunnan province. As Qu Zihan muses: "I think people back home take some pride when we get invited to a big show overseas. We've influenced quite a lot of musicians and some younger bands are now starting to incorporate tribal influences into their music. We've also inspired some young people to study their own traditional music. While I only know of a few examples of this, I consider it a true sign of success and I hope it can happen more."
Qu Zihan readily concedes that Hanggai have inspired Shanren. "They fuse different styles, the modern and the tradition, in a very special way and that has influenced us and others who are trying to find their roots. Most importantly, they show people that it can be done and that it can be appreciated, especially overseas. They're really the first Chinese band to tour overseas in their own right, to create their own market. They have helped forge a path for bands like ourselves to follow."
Shanren's frontman/lead singer indicates that although the bands are often grouped together because they both play a mixture of traditional and modern styles, there are clear distinctions between them. "The processes involved in the making of the music is quite different and the traditional roots are also very different," he stresses, simplifying the delineation as the difference between the north and south of China. "Another important difference is that Shanren's music represents a geographical area rather than a single ethnic culture like Hanggai. Our aim is to create a style that fits in a lot of different things."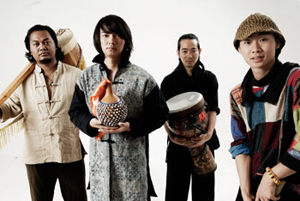 The four musicians in Shanren represent three different ethnic groups in the Yunnan and Guizhou provinces, an area believed to have inspired the Shangri-La of James Hilton's classic novel, Lost Horizon: "Each member brings different influences to the music, which helps us hold together a wider Yunnan identity," says Qu Zihan.
Admirably eccentric and eclectic, Shanren modernise the indigenous folk of their homeland with elements of rock and pop, reggae, metal, electronica and even Afro and Caribbean sounds. "Rock music and its power and attitude stood out to us when we started the band," explains Qu Zihan, who cites the Beatles, Metallica, Pink Floyd, Led Zeppelin and the Red Hot Chili Peppers among early influences. "In the 1990s you could get hold of destroyed, illegally imported Western music on 'da kou' cassettes. We got everything in one dose, so there was no chronology. We couldn't really work out what had come from what, so we just mixed it all up." Bob Dylan, Manu Chao and Bob Marley, he says, were later band influences. Shanren's multi-instrumentalist, Xiao Budian, has described the power of first hearing Dylan sing 'Blowin' in the Wind' akin to an atom bomb.
Hanggai, formed by Ilchi in 2004 after stints in Sex Pistols and Nirvana-inspired punk/grunge bands, also include Pink Floyd among their rock influences, along with Radiohead and Rage Against The Machine. But the leader emphasises that his band has an inimitable style, as those who have heard them will attest.
The unique Inner Mongolian folk music styles that form the basis of Hanggai's sound — in conjunction with Western rock, pop, country and bluegrass — reflect Shamanic rituals, nomadic lifestyles and a love of horses, and include the extraordinary vocal technique known locally as xoomii or hoomei. The otherworldly overtone throat-singing style allows a performer to sing simultaneously two notes, an octave apart. "The hardest thing is learning to control your muscles so that you control the melody," says Ilchi, who has been employing the technique for a decade and says that he's still learning. The septet's songs, he indicates, are "all about stories, legends, history and life of the grassland we call home". Ilchi and his five Mongolian bandmates — the other two members are Han Chinese — return to their home region as often as they can: "To learn more from the traditional life there and add those feelings into our music".
Ilchi plays a two-stringed Mongolian lute (tobshuur) and banjo — like many banjo players he's an avid Bela Fleck fan — but it's the two-string Mongolian fiddle known as a morin khuur that defines Hanggai's sound. As he declares: "We're a rock 'n' roll chariot driven by the horse-head fiddle!" The band features a truly imposing lead singer, Hurizha, who looks like a sumo wrestler jammed into traditional Mongolian garb. Hanggai's name derives from an old Mongolian word denoting an idealised landscape of mountains, rivers and trees.
Shanren translates as 'mountain men'. "There's certainly a lot of Yunnan mountain attitude in our music," admits Qu Zihan, while quickly adding, "but city life is also a very important influence — it's the conjunction of two worlds that causes the chemical reaction." Some of Shanren's songs, he reveals, are direct re-workings of folk traditions and some are original songs that don't sound much like traditional Yunnan music. "Our overall sound is inspired by the sounds we grew up listening to and that comes out in compositions."
While Qu Zihan says it's difficult to generalise about Yunnan music — "we're about twenty-six tribes with different languages and different instruments" — he points out that all forms of traditional music share a link with something ancient, an old way of living and a passing on of that way and its history and stories. "It's a purity of spirit and an attitude of defiance against the pressures of change. I play people traditional Lisu singing and they're sure it must be African. Dabiya [a Nu stringed instrument] sounds like a sitar. Wa Elephant foot drumming sounds Indonesian and Yi left foot dances sound like twisted Celtic line dancing."
Some of the traditional music, Qu Zihan concedes, can be quite inaccessible to unaccustomed ears, despite its richness and diversity. "Some Yunnan music is quite organic and primitive; the melodies are simple and can sound discordant to outsiders. Bu then you come across music, like that of the Yi or the Dai, which is in some ways highly sophisticated. The Han Chinese music in Yunnan is very different from other parts of China. I suppose there are some melodic principles that reoccur throughout the tribes, maybe something that might sound Tibetan to people that aren't familiar with the area but mixed with a very rhythmic attitude. Yunnan music is usually combined with drinking or dancing, preferably both."
Shanren play xianzi and qinquin (four and three-stringed lutes), dabiya and xiangu (a traditional drum), guitar and bass. Incorporating ethnic instrumentation into the sound can be a tricky process, Qu Zihan suggests. "It almost always involves some work on the instruments themselves to keep them in tune and to amplify them. Fitting them into the sound either happens very naturally or we base a certain song around that instrument and see where it takes the rest of us. You can divide the instruments we try to incorporate into three categories — percussive, melodic and atmospheric. The above applies to melodic instruments, which are the greatest challenge. We try to experiment as much as possible and see what works."
Unlike Hanggai, Shanren regard themselves as ambassadors for their country's ethnic diversity, even within China itself. "There's sometimes an attitude that these tribes live in China but they are not Chinese. They aren't majority Han Chinese, of course, but Chinese non-Han tribes have been playing a part in the nation's history for thousands of years."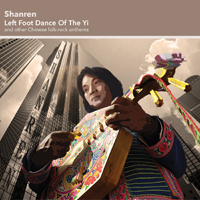 Shanren's new album, Left Foot Dance Of The Yi, could be seen as an attempt to join old and new China. Many of the tracks mash together field recordings from Yunnan most effectively with street sounds recorded in Beijing in a melange of high-register vocals, quirky string textures and driving rhythm. "The band's identity is really based on this juxtaposition," states Qu Zihan. "We're trying to find a place for our culture in the modern world, which is the only way for it to survive. Rhythmically and emotionally, rock music fits with the music we're combining it with. Our goal is to create modern folk songs, not just to rework traditional stuff. Rock music is one of our musical roots; we don't really think of it as a Western and Chinese thing, it's just us. We started out as a rock trio, but gradually we found that there was room for more sounds and then we dove into the traditional music."
Explaining why rock musicians are treated with caution by authorities in his homeland, he opines: "Rock music in China is about individual expression, while the mainstream culture is about collective mentality. It's inevitable that there will be some suspicion. In the mid-nineties, no mainstream media would play rock music. It was forced underground. People played it to rebel, got piercings, tattoos and crazy hair. Nobody made any money and people without money are outcasts, especially when they look like that. But there was always something cool about rockers … a mystery that attracted people."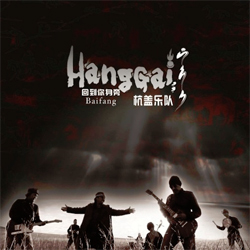 Hanggai, who have been described as the Chinese counterpart of the Pogues, are also currently brandishing a new album (also a new drummer). Baifang, which translates to 'Back To You', will be available internationally before being launched in China. "It's different from the last one; we've added new elements," says Ilchi. "We even invited a female Mongolian singer from Qinghai, the first time we have recorded with a female artist." American musician Ken Stringfellow, who has worked with the likes of R.E.M and Neil Young, produced Hanggai's previous album, He Who Travels Far, while Dutchman JB Meijers, who worked with the late soul legend Solomon Burke, oversaw Baifang.
• The above interview first appeared in Rhythms, Australia's only dedicated roots music magazine, for which the author is World/Folk correspondent.
Author:
Tony Hillier
Tony Hillier is an Australia-based freelance music writer, broadcaster, musician, MC and band leader. He writes album and concert reviews and feature articles for The Australian (the country's only bona fide national newspaper) and Rhythms (Australia's only dedicated national roots music magazine) and prepares/presents weekly programs for the national broadcaster (ABC) and community radio. He is also a member of the Transglobal World Music Chart (TWMC) panel.