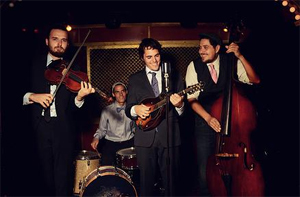 Roots band The Boston Boys was formed in Boston in 2012. They now live in Brooklyn and play all around the world. In only two years, they've performed in over a dozen countries throughout Europe, North Africa, and the Middle East.
Mandolinist, guitarist, and lead singer, Eric Robertson, initiated the project as a student at Berklee College of Music. He, along with multi-instrumentalist Duncan Wickel, bassist Josh Hari, and drummer Nicholas Falk deliver a new fusion of American roots music inspired by bedrock artists like Paul Simon, Ray Charles and The Band. They recorded their upcoming EP, studied entrepreneurship with California College of the Arts Design MBA faculty, and cut a deal with Musikara, an innovative platform for collaborating, sharing, and rearranging music while they were residents at Zoo Labs in Oakland, CA in October 2013.
The Boston Boys harness American grooves and redesign them for a radical future of global collaboration. There are two EPs out ("What You Say?!? and "Keep You Satisfied") and a third going public in May 2014.
Their recent three week tour in Morocco, in partnership with the U.S. State Department, is part of a culture exchange whose alumni include Duke Ellington and Louis Armstrong. These influences can be found on their new video for the single "What You Say!?!" The boys shot the video on location throughout Morocco with Moroccan musicians Bouhssine Foulane and Abdellah El-Miry.
Upcoming Tour Dates:
04/11 – Denver, CO – The Ogden
04/12 – Denver, CO – The Ogden
04/13 – Salt Lake City, UT – The State Room
04/15 – Bozeman, MT – Emerson Center
04/16 – Missoula, MT – Top Hat Lounge
04/17 – Seattle, WA – Neptune Theatre
04/18 – Portland, OR – Wonder Ballroom
04/19 – San Francisco, CA – The Independent
04/22 – Solana Beach, CA – Belly Up Tavern
04/23 – Flagstaff, AZ – Orpheum Theatre
04/25 – Los Angeles, CA – Room 5 Lounge
04/26 – Los Angeles, CA – The Moskowitz Gallery
Author:
World Music Central News Department
World music news from the editors at World Music Central