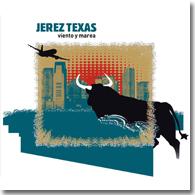 Jerez Texas
Viento y Marea (2014)
Savvy, sophisticated and brutally cool, Jerez Texas's latest offering Viento y Marea scorches the flamenco jazz label with an open easiness that defies the standard descriptive characterizations. Fashioned out of flamenco guitarist Ricardo Esteve, cellist Matthieu Saglio and drummer and flamenco cajon player Jesus Gimeno, Jerez Texas forges its sound from a carefully crafted intermingling of flamenco, classical and jazz.
Honing their prodigious skills on such recordings as 'Sun,' 'Patchwork,' 'Live au Satellit Café,' 'Sao' and 'Live a San Javier,' Jerez Texas comes across as keenly refreshing and a powerful draw as the trio has performed concerts around the world at venues in Spain, France, Hong Kong, Mexico, Honduras, Kuwait, Panama, Nicaragua and the US, among others.
Viento y Marea opens with the bright and breezy "Vapores del Sudan," and listeners immediately are transported onto an opulently worked musicscape that comes across as an easy dip into Mediterranean laced jazz. Rounding out Jerez Texas's sound are guest musicians bass clarinetist Denis Colin, vocalist Fernando "Burguitos" Burgos, vocalist Violeta Valenzuela, percussionist David Gadea and lute player Eduard Navarro.
Exuding pure coolness, Jerez Texas propels the listener through stunning tracks as the sweetly smooth "Buenos Propositos," the deliciously breezy "El Chiringuito" and the lush "Junto Nada Mas." Viento y Marea picks up the pace with "Golondrina Herida" before giving way to the atmospheric "En Attendant L'Hiver." Other goodies include the sleek, jazzy "Balada del Dia Perfecto" and the warm bright work of "Cuchillos y Bayonetas."
Viento y Marea enchants, tempts, cajoles and beguiles with the intricate interplay between flamenco and jazz against the overtones of classical music. Masterfully precise musicianship and flamenco passion prove Viento y Marea out as a gratify addition to Jerez Texas's sound.
Buy Viento y Marea directly from the band
Author:
TJ Nelson
TJ Nelson is a regular CD reviewer and editor at World Music Central. She is also a fiction writer. Check out her latest book, Chasing Athena's Shadow.
Set in Pineboro, North Carolina, Chasing Athena's Shadow follows the adventures of Grace, an adult literacy teacher, as she seeks to solve a long forgotten family mystery. Her charmingly dysfunctional family is of little help in her quest. Along with her best friends, an attractive Mexican teacher and an amiable gay chef, Grace must find the one fading memory that holds the key to why Grace's great-grandmother, Athena, shot her husband on the courthouse steps in 1931.
Traversing the line between the Old South and New South, Grace will have to dig into the past to uncover Athena's true crime.