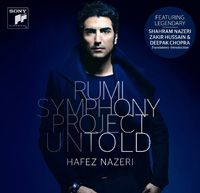 Hafez Nazeri
Rumi Symphony Project Cycle 1 Untold (Sony Classical, 2014)
There are music critics out there that sit back stone faced like some disinterested Roman emperors willing to offer a tepid thumb up or down. I am not one of those critics. No, I want to be dazzled, overwhelmed, awed and surprised. I want to grab the arm of the person next to me and shake him. As I had no person next to me as I listened to Hafez Nazeri's Rumi Symphony Project Cycle 1 Untold, out on the Sony Classical label, I can report that the cat left supremely annoyed. Words like masterful or brilliant are pale expressions to describe Iranian composer, vocalist, musician and instrument inventor Hafez Nazeri's Untold, an ongoing project that seeks to musically draw a map of our world and humanity though the poetry and philosophy of the 13th century Persian poet Rumi.
Mr. Nazeri notes, "This album has been an extremely challenging project and has created quite the learning curve for all involved to say the least. I wanted to forge a unique and enduring new direction in music that will bridge all of our world divisions and unify us under a new and universal type of music. A lofty goal, I know, but one that's driven me to leave my beloved home country and reinvent myself and my work over the past decade."
Mr. Nazeri doesn't placate the listener, choosing instead to unapologetically hurl the listener headlong into a musical space that straddles the strictures of classical and modern and the traditions of East and West, entwining the elements to construct a sound that captures the beginning of time in the cosmos, the emergence of earth, the rise of life and the path to spirituality and enlightenment.
Casting a wide web, Mr. Nazeri packs the soundscape of Unfold with the Rumi Symphony Orchestra and guest artists viola player Paul Newbauer, cellists Matt Haimovitz and Johannes Moser, tabla and udu drummer Zakir Hussain, frame drummer Glen Velez and special guest Iran's Nightingale and Mr. Nazeri's father, composer and vocalist Shahram Nazeri. Mr. Hafez Nazeri adds his own vocals, percussion and his version of the setar the hafez to his deliciously rich compositions.
Supporter, transcriber of the Rumi poetry in the liner notes and well-known author Deepak Chopra adds his impression of Mr. Nazeri's music this way, "I think this music has the capacity to totally transform our consciousness, literally cause a mutation in our consciousness and as that shifts everything shifts: the way we think, the way we behave, the way we speak to each other and the way we interact with the world."
Divided into chapters "Creation," "Existence," "Untold" and "Eternal Return," Untold takes the listener on a spectacular journey that unfolds with spare string lines on "Atomic Peace" before giving way the mystery of "Dark Matter" that is punctuated by the spectacular vocals by Mr. Nazeri.
The spare sweetness of the opening of "Life" transforms as the elder Mr. Nazeri takes over the vocals and the track turns plaintively languid. Unfold just gets better and better with additions of choral group and orchestra on such tracks as "The Quest." Tabla work by Mr. Hussain against setar on "Love" shouldn't be missed. "Unity" is richly worked and the vocals prove to be breathtaking. "Dance of the Galaxies," "Freedom" and the elegant "Eternity" are just as astonishing.
Untold is by turns boldly brazen, finely intimate and wrenchingly visceral in its tightrope walk between East and West. It is savagely superb and masterful.
Buy Rumi Symphony Project Cycle 1 Untold in North America
Buy Rumi Symphony Project Cycle 1 Untold in Europe
Buy Rumi Symphony Project Cycle 1 Untold
Author:
TJ Nelson
TJ Nelson is a regular CD reviewer and editor at World Music Central. She is also a fiction writer. Check out her latest book, Chasing Athena's Shadow.
Set in Pineboro, North Carolina, Chasing Athena's Shadow follows the adventures of Grace, an adult literacy teacher, as she seeks to solve a long forgotten family mystery. Her charmingly dysfunctional family is of little help in her quest. Along with her best friends, an attractive Mexican teacher and an amiable gay chef, Grace must find the one fading memory that holds the key to why Grace's great-grandmother, Athena, shot her husband on the courthouse steps in 1931.
Traversing the line between the Old South and New South, Grace will have to dig into the past to uncover Athena's true crime.