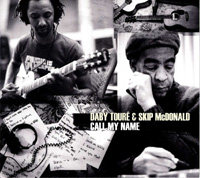 Daby Toure and Skip McDonald
Call My Name (Real World Records, 2009/U.S. release 2014)
Music fans looking for a little sunny bounce might want to check out the duo of West African born and now Paris resident Daby Toure and London-based, American bluesman Skip McDonald's Call My Name, out now on the Real World Records label. Mr. Toure has racked up recordings like 2007's Stereo Spirit, 2012's Lang Age and 2004's Diam, as well as appeared on the compilation World Is Africa with the likes of Amadou & Mariam, Bokoor Band and Salif Keita and Bowers & Wilkins With Real World Records with Afro Celt Sound System, Blind Boys of Alabama, Little Axe and Charlie Musselwhite.
Guitarist and frontman for the group Little Axe, Mr. McDonald has got recordings like Hard Axe to Grind (2002), Champagne & Grits (2008), Return (2013) under his belt, as well as 1990's Survive with White Boy Worry and 1991's Got to Move: Part 2 with Bim Sherman, Doug Wimbish, Keith LeBlanc and L. Vincent.
This abbreviated, 6-track recording dwells neither in the land of Africa nor the blues, but finds a delicious meld that comes across as wholly fresh and creatively contemporary. The pair trade vocals, with Mr. Toure often improvising a mix of English, Wolof, Pulaar and Hassaniya, as well as mesh guitar and bass lines with drummer Keith LeBlanc backing up this dynamic pairing.
Mr. McDonald explains his collaboration with Mr. Toure, "We just had this immediate musical connection in the way our instruments and voices combined, in the things we sing about and the emotions we put into our songs. To meet a brother like this…it's a rare, rare thing."
Delving into a kind of singer/songwriter, road trip feel Call My Name brims over with gleaming easiness that certainly speaks to the duo's musical meeting of the minds. Opening with "Past Time," Mr. Toure and Mr. McDonald make their way through bright grooves and African tinged tracks. Feel good tracks like "Lost Voices" and "Ridden" shimmer against warm tracks like "Will You Call My Name?" and the percussively rich "Sinners" or the easy blues feel of "Time Has Come." Mr. McDonald leads listener by the ear with his sharply worked guitar licks and we are all the better for it.
Dipping into a wealth of West African musical traditions, Mr. Toure certainly sets down his mark on Call My Name with his guitar work but it's his rich vocals that sometimes seem to shimmer in the air. He notes, "All the music I picked up when I was young is still in me, and that doesn't change. But in my music I am still searching, and mixing, and trying new things. I am African but I am also European."
We can only hope that Call My Name is just the beginning for this brilliant duo.
Buy Call My Name in North America
Buy Call My Name in Europe
Author:
TJ Nelson
TJ Nelson is a regular CD reviewer and editor at World Music Central. She is also a fiction writer. Check out her latest book, Chasing Athena's Shadow.
Set in Pineboro, North Carolina, Chasing Athena's Shadow follows the adventures of Grace, an adult literacy teacher, as she seeks to solve a long forgotten family mystery. Her charmingly dysfunctional family is of little help in her quest. Along with her best friends, an attractive Mexican teacher and an amiable gay chef, Grace must find the one fading memory that holds the key to why Grace's great-grandmother, Athena, shot her husband on the courthouse steps in 1931.
Traversing the line between the Old South and New South, Grace will have to dig into the past to uncover Athena's true crime.