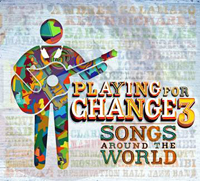 The album Playing For Change 3 "Songs Around The World" will be released June 17th, 2014. The CD/DVD set includes performances from Keith Richards, Sara Bareilles, Andres Calamaro, Toots Hibbert from Toots & The Maytals, Los Lobos, Preservation Hall Jazz Band, Keb Mo, and Taj Mahal in addition to a song produced by Jackson Browne. "Playing For Change, That's the way music was meant to be," says Keith Richards (Rolling Stones).
Playing For Change was created to inspire, connect and bring peace to the world through music. In 2005, co-founders Mark Johnson and Whitney Kroenke created the concept of the Songs Around The World by uniting together musicians from many different countries and cultures to perform on the same track. Mark and a small crew traveled across 5 continents with a mobile recording studio and cameras with the vision of building a global family through the power of music. The first song released was a version of "Stand By Me", featuring over 35 musicians from 10 countries who had never met in person. Since then, this international version of "Stand By Me" has been viewed over 100 million times online. The first two volumes of Playing For Change include Songs Around The World and PFC 2: Songs Around The World.
"Traveling with Playing For Change across Cuba was one of the most rewarding and inspiring musical experiences of my life," says Jackson Browne.
Since the release of the first video, Playing For Change has sold over 550,000 units worldwide, topped the World Music Charts, and has had over 200 million online video views. The video for Maroon 5's "Daylight" topped the VH1 and MTV top video countdowns, and the Peace Through Music feature film was a runner up for the People's Choice award at the 2008 Tribeca Film Festival.
In 2012, Playing For Change was awarded the coveted "Tribeca Disruptive Innovation" award, which celebrates those whose ideas have broken the mold to create significant impact. "Playing For Change, man all my life I've been putting out love, but not like that," says Grandpa Elliott.
Playing For Change 3 "Songs Around The World" Track listing
1. La Bamba (featuring Los Lobos and Andres Calamaro)
2. Words Of Wonder (featuring Keith Richards, Titi Tsira (PFC Band), Roberto Luti (PFC Band), and Aztec Indians)
3. Get Up Stand Up (featuring Keith Richards, Keb' Mo', Mermans Mosengo (PFC Band), Sherieta Lewis from Kingston, Jamaica and Natalie of Blue King Brown (Australia))
4. Reggae Got Soul: (featuring Toots Hibbert (Toots and the Maytals), Taj Mahal and Ernest Ranglin)
5. Down By The Riverside: (featuring New Orleans street performing Legend Grandpa Elliott (PFC Band / Stand By Me Video), Keb' Mo', and the Preservation Hall Jazz Band)
6. A Better Place – (featuring the PFC Band and Glen David Andrews)
7. What's Going On – (featuring Sara Bareilles, Clarence Bekker (PFC Band) and Titi Tsira (PFC Band))
8. Guantanamera – (featuring Carlos Varela and Manuel Galban)
Author:
World Music Central News Department
World music news from the editors at World Music Central