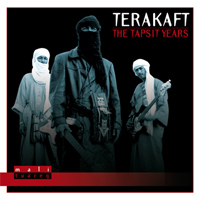 Tuareg desert blues group Terakaft is releasing an album of highlights titled Terakaft The Tapsit Years. Between 2007 and 2011, the band recorded three studio albums and a mini live album for the French label Tapsit. Terakaft The Tapsit Years features the best cuts from the first five years of the group's existence.
Terakaft (meaning "caravan" in Tamasheq) was formed in 2001 by Sanou Ag Ahmed, in Kidal (Mali) with Kedou Ag Ossad. Kedou was a member of the original line-up of Tinariwen (four of Kedou's compositions are included on their first international release 'The Radio Tisdas Sessions').
Liya Ag Ablil (aka Diara), Sanou's uncle, joined Terakaft in 2006. Diara was also an original member of Tinariwen and was known for his fierce and passionate style of rock and roll guitar playing. He played with Tinariwen for almost 20 years, but stepped back just before Tinariwen started touring internationally.
Buy the digital download version: Terakaft The Tapsit Years
Author:
World Music Central News Department
World music news from the editors at World Music Central