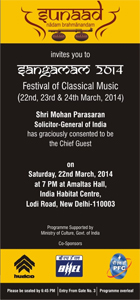 All are welcome to the grand spring time Indian classical Music festival being organized by Sunaad for their 2014 Sangamam. The concerts will take place at India Habitat Centre March 22-24, 2014.
Performances include Jugalbandi – Carnatic-Hindustani Vocal duet Dr. Sriram Parasuram and Vidhushi Anooradha Sriram & Party on Saturday, 22 March 2014; Carnatic Vocal by K Venkateshwaran & Party and Carnatic Veena Solo by Vidhushi Saraswati Rajagopalan & Party on Sunday, 23 March 2014; and Carnatic Violin Solo with Vidhushi A. Kanyakumari & Party.
Jugalbandi – Carnatic/Hindustani Vocal duet Dr. Sriram Parasuram
Dr. Sriram Parasuram, one of India's leading musicians today, hails from a family steeped in musical tradition. He started learning the violin at the age of 4 and as a child prodigy he gave his first public performance at the age of 8. Since then he has given well over 2500 violin solo concerts all over the world. He is also one of India's topmost accompanists having accompanied all leading vocalists of the current as well as the previous generation. His mother Smt. Parvathy Parasuram is his primary Guru. For Hindustani music he is one of the primary sisya (student) of the doyen Padmabhushan Pandit C.R.Vyas and is now undergoing advanced guidance from Padmabhushan Pandit Rajan Misra.
Sriram is also a noted musicologist and has published papers in many reputed music journals and publications. His lectures and lecture demonstrations in many music forums, conferences, sabhas and universities all over the world have been greatly appreciated. He has been awarded The Best Paper presentation/Lecture Demonstration Prize at the prestigious Madras Music Academy's Annual Conference a record breaking 5 times.
In recent years, along with his wife Anooradha Sriram, he has evolved a most unique and thrilling concert format of the Carnatic–Hindustani Jugalbandhi. Their ongoing weekly music programme on National TV (Doordarshan)-"Ellaame Sangeetham Thaan" (Everything is Music)-has also been an exceptional hit having completed more than 120 successful episodes.
Jugalbandi – Carnatic/Hindustani Vocal duet Vidhushi Anooradha Sriram
Vidhushi Anooradha Sriram, one of India's leading playback singers, started her music training at the tender age of Six. Well versed in both Carnatic and Hindustani classical music, she is a double gold medal winner at both the B.A. and M.A. levels from Madras University. Anooradha is a student of musical luminaries such as Sri Tanjavur S. Kalyanaraman, Sangeetha Kalanidhi Smt. T.Brinda and Sangeetha Kalanidhi Sri T.Viswanathan. She has also trained extensively in Hindustani music under the veteran Pandit Manikbua Thakurdas. She is also an accomplished Western Classical opera singer, having undergone intensive training from Prof. Shirley Meier in New York, U.S.A. She also has a Master of Arts degree in Ethnomusicology from Wesleyan University, U.S.A.
She also collaborates with her husband Sriram Parasuram on their very successful Classical Music Jugalbandhi concerts and their Hit TV programme "Elaame Sangeetham Thaan". She has also anchored many hit music programmes on TV and continues to be a much sought after celebrity judge in Tamil, Malayalam, Kannada and Telugu TV music reality shows.

Carnatic Vocal: K Venkateshwaran
K Venkateshwaran (also known as Satish) is a highly talented and upcoming Carnatic vocalist from Delhi. He has given multiple solo as well as dance accompaniment performances. He has continued to enthral audiences in India and abroad for over 10 years and is one of the most promising professional vocalists as well dance music composer for Bharathnatyam and Kuchipudi.
Venkateshwaran began learning music at the age of eleven years under the guidance of his mother Geeta Swamy. His prodigious talent was soon noticed by his mother who took him to various other gurus.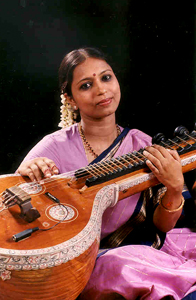 Venkateshwaran has sung for most of the top dancers of contemporary times such as Padmashri Jayarama Rao and Vanashri Rao, Padmashri Geeta Chandran, Padmabhushan Swapna Sundari, Padmabhushan Raja Radha Reddy, Padmashri Padmabhushan Dr. Saroja Vaidhyanathan, Smt. Rama Vaidhyanathan and several others
As the main vocal accompanist to several dance troupes, he has travelled to China, Japan, Malaysia, Thailand, Brazil, Canada, London and Sri Lanka.
Carnatic Veena Solo: Vidhushi Saraswati Rajagopalan
On Veena, Vidhushi Saraswati Rajagopalan has been acclaimed as one of the leading Veena artists of Carnatic music today. Hailing from a music loving family, she started rendering solo performances from the age of 12. Initial training was from Smt. Radhamani Sharma of Karaikudi Sambasiva Iyer School and was later trained by Sangeeta Kalanidhi Shri. KS Narayanaswami and Shri TS Raghavani. She is a senior graded artist from the All India Radio, and also in the panel of the Indian Council for Cultural Relations. She has been a cultural ambassador of India by virtue of effectively performing in many places across the world. Her versatility is seen in her acumen to perform in various formats like – a veena Solo, a Jugalbandi, Fusion Music, Orchestra etc wherein she has shown her ease and marvel at each genre. She has been featuring in all the events of Sunaad over the years.
Carnatic Violin Solo: Vidhushi A. Kanyakumari
Vidhushi. A. Kanyakumari is a top rank Carnatic violinist who is popular not only as a soloist and as an accompanist but also as innovator and organizer of Carnatic instrumental ensembles. She is creative yet classical and has extended the limits of Carnatic music through various innovative experiments, retaining its core values. She is a great teacher who is friendly and caring guide to her large number of students many of them are now prominent artists. It is rare to find a female violinist with so many roles and achievements.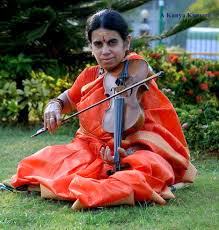 Groomed by her Gurus Sri. Ivaturi Vijayaeswara Rao of Dwaram school, Sri. M. Chandrasekaran and Dr. M.L. Vasanthakumari, her vidwat (erudition) is such that even in her earlier days of music life, the great music critic Sri. Subbudu mentioned that her music glittered like the nose ring of Goddess Kanyakumari.
Some of her notable international performances have been at the prestigious Kennedy centre, Washington DC, USA, at Albert hall London, at the famous Jazz festival in Germany along with Sri. Kadri Gopalnath and other Jazz artists and many more.
Details:
Venue: India Habitat Centre
Saturday, 22 March 2014 – 7 PM
Jugalbandi – Carnatic-Hindustani Vocal duet Dr. Sriram Parasuram and Vidhushi Anooradha Sriram & Party
Sunday, 23 March 2014 –
7 PM Carnatic Vocal: K Venkateshwaran & Party
7.45 PM Carnatic Veena Solo: Vidhushi Saraswati Rajagopalan & Party
Monday, 24 March 2014 – 7 PM
Carnatic Violin Solo: Vidhushi A. Kanyakumari & Party