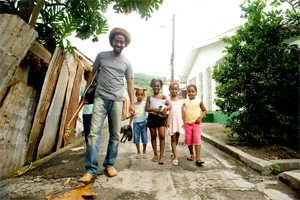 Rising reggae artist Taj Weekes will be performing at South by Southwest (SXSW) on Saturday, 03/15 at Russian House, 307 E. 5th Street, Austin (Texas) at 9:00 pm.
This week's concert will feature music from Taj Weekes' last four albums, but it's much more than music that he will bring to Austin in March. "At SXSW two years ago a journalist refused to interview me because she said I was 'a homophobic rasta,'" recalls Taj Weekes, a musician from St. Lucia in the Caribbean. "She made an assumption and I realized other people make that assumption about all reggae musicians. She did not find out that I do not care who people sleep with. She did not find out that I would rather see two men loving each other than a man beating a woman. That is what One Love means to me. You cannot define love so easily for other people."
Weekes also challenges popular perceptions about Herb. "Herb means everything healthy," says Weekes. "Herb is tea and sage and parsley. Hemp is an herb with no THC. Herb is sustainability and vitality. Herb is not about GMOs or dropping out on drugs. It's engaging in a healthy life and it tasting good."
Taj Weekes' band members come from all over the Caribbean, from Jamaica to Dominica and Barbados to St. Lucia. It's a pan-Caribbean sound, all of them growing up listening to different native music and bringing their experience to the mix.
His discography includes Hope & Doubt (AlphaPocket Records/Jatta Records, 2005), Deidem (Jatta Records, 2008),A Waterlogged Soul Kitchen (Jatta Records, 2010), and Pariah In Transit, live (Jatta Records, 2013)
Author:
World Music Central News Department
World music news from the editors at World Music Central