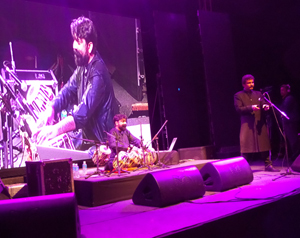 Electronica and percussion bands closed the recent Bangalore Music Week festivities, whose highlights included Thaalavattam, Aditya Bhasin, Kutle Khan and Talvin Singh.
Thaalavattam, a unique combination of environmental project and music collective, performed in The Humming Tree to a standing room-only crowd. They blend electronica and reused components to deliver messages of environmental consciousness via 'reuse, reduce and reclaim.'
Every Thaalavattam experience is different from the other because of its mixed-media nature; the shows can be customized to the venue. The founder Montry Manuel was originally the drummer for Bangalore-based folk-fusion band Swarathma, who have also toured internationally and lent their support to social causes such as environmental preservation through reduced use of plastic.
Montry even designs furniture and instruments for his home from old tires, bottles, cans, drums, and bicycle parts. His search for unique sound has led him to look beyond professional quality drums to sounding boards (literally) all around him – he uses discarded parts for rattles and PVC pipes for didjeridoo-like musical instruments. See here for a sample video of how they are made:
The performances of Thaalavattam include Montry on percussion along with a DJ and a range of instrumentalists. The artists for the Bangalore set included Edison Lazar on electronics, Sridhar Chakravarthy on trumpet, Simon Lamouret on sax, Bee Vee Anand on projection mapping, and Boby Kurian on light poi. The appropriately named tracks Accidental, Junk Theory and Illegal Dij kept the audience enthralled during the two-hour show.
The last day of the music festival featured another heady mix of Indian percussion and electronica. Kutle Khan and Aditya Bhasin (of the contemporary folk band Rajasthan Root began with a spectacular folktronic set. Kutle Khan is a vocalist and multi-instrumentalist whose compositions blend Sufi music and the traditional folk music of Rajasthan.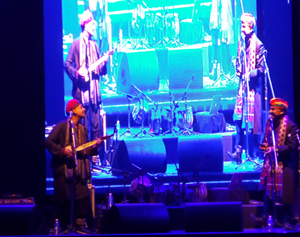 Kutle Khan delivered terrific solos on khurtal (castanets), morchang (Jewish harp) and bapang (stringed drum) – despite having injured his arm in a recent motorcycle accident. Folk and funk and Sufi music seamlessly blended together as Khan and Aditya Bhasin had the audience on their feet with their rousing renditions of "Dum-a-Dum Mast Kalandar" and "Allah Hu."
This was the perfect opening for Talvin Singh, London-born pioneer of 'tablatronica.' Talvin has also promoted the electronica sub- genre called Asian Underground at his club, Anokha. He wowed the Bangalore crowd with a set of hypnotic tabla solos blended with electronica overlays including drum & bass, soaring flute, and female vocals.
He played on a set of four tablas – the usual daya (right) and baya (left) along with two extra higher-tuned dayas. He would occasionally lift the baya and roll it around in front of the mike for extra effect.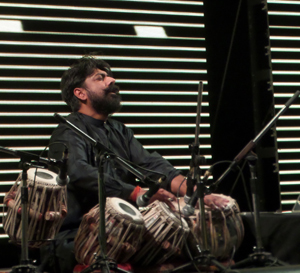 The backdrop imagery was spectacular and featured digital optical illusions, desertscapes, rock formations, a rotating darbar and The Milky Way. Talvin played excerpts from his Anokha recordings, and had a terrific jugalbandi with Kutle Khan on castanets before closing with a new interpretation of his classic track Butterfly.
Bangalore is increasingly cementing its place in India as the place to be for creativity in startups as well as music. The venue Royal Orchid was also the venue for an annual India mobile startup showcase, and Kutle Khan himself played in the closing ceremony for the Techsparks startup showcase.
The final performances were on a perfect cool December night in Bangalore, under a near-full moon. The show was only slightly marred by the ill-placed smoke machine which seemed to gas the fans in the front row, and the usual group of some male Indian drunken fans who could not handle their alcohol.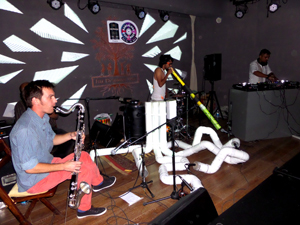 The event series was held in venues across Bangalore and was sponsored by Seagrams 100 Piper. Other bands playing as part of the music series in Bangalore were Bandish Project, and the Bombay leg of the festival featured the True School of Music, Jaga Jazzist, The Supersonics, and Blackstratblues.
Author:
Madanmohan Rao
Madanmohan Rao is an author and media consultant from Bangalore, and global correspondent for world music and jazz for World Music Central and Jazzuality. He has written over 15 books on media, management and culture, and is research director for YourStory Media. Madan was formerly World Music Editor at Rave magazine and RJ at WorldSpace, and can be followed on Twitter at @MadanRao.