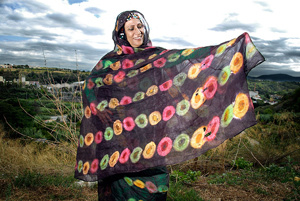 On Sunday March 9, at 12 noon, Saharawi singer Mariem Hassan will be honored by the Sabadell city Council at Dr. Robert Plaza. Sabadell is the city in which Mariem has resided with her family for a decade.
The event is one of the highlights of the commemoration of March 8th, International Women's Day. For an hour, Mariem's songs will be combined with readings, manifestos and speeches about women.
Mariem will share the stage with her faithful companion Vadiya mint el Hanevi and Portuguese artists Sebastiâo Antunes (vocalist) and Luis Peixoto (multi-instrumentalist), both of whom will expressly travel from Lisbon to celebrate Mariem's music.
The Minister of Culture of the SADR , Khadija Hamdi will be a guest of honor at the event.
In 1989, Sabadell became the sister city of the daira of Argub, one of the Saharawi refugee camp in Tinduf.
In case of rain the event will move to the nearby Casal Pere Quart, in the Rambla.
Mariem in Lisbon with Sebastiâo, Peixoto and Vadiya:
Author:
World Music Central News Department
World music news from the editors at World Music Central