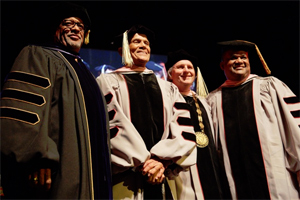 Harry Belafonte, celebrated musician, songwriter, and activist, was presented with a Berklee honorary doctor of music degree by the college's president Roger H. Brown last night at a concert in his honor at Boston's Berklee Performance Center. The degree was awarded in recognition of Belafonte's inspiring musical and humanitarian achievements, exposing America to world music and challenging and overturning racial barriers across the globe.
The tribute concert celebrated Mr. Belafonte's life and music with performances of songs associated with his career by more than 50 Berklee students and faculty directed by professor Larry Watson. High spots included an audience sing-along of "Banana Boat Song (Day-O)," and stimulating performances of "Lift Every Voice," "Matilda," and "Didn't It Rain" that brought the house down.
After accepting the honorary doctorate, Belafonte joined students on stage for the second to last song of the night, "We Are The World" by USA for Africa – a project that he was instrumental in organizing.
In accepting the award, Belafonte quoted the great singer Paul Robeson, who told him early in his career, "'It's a wonderful path to be in the arts, because artists are the gatekeepers of truth. Art is the radical voice of civilization.' From that time until now, I always knew that I would have a life in the arts. My pursuit was to do what Robeson said, take advantage of this gift of art and to develop myself, and to apply it the way other people needed to be inspired."
"Many of the musicians I have had the privilege to play with over 60 years quit. They told me they were coming to Berklee. So I've come to visit the place where so many remarkable musicians came to enhance their knowledge," Belafonte added. "Some came back and played with me again, much improved, and some came to play with me straight from Berklee. So Berklee has been in my life for a good portion of it, and to be standing here now in the midst of all of this, is a thrill, which I would be here all night trying to describe."
"Harry has touched so many lives with his music, humanitarian work and personal example," said Berklee President Brown. "Belafonte literally means, a beautiful fountain. A fountain of truth, magnificent music, of courage, of tenacity, of cheerful optimism in the face of horrendous circumstances, a man who literally has helped change the world. Tonight, maybe we can imagine a beautiful fountain of change and improvement in the world that is worthy of these magnificent, beautiful young students on this stage."
Belafonte joins the ranks of such esteemed Berklee honorary doctorate recipients as Duke Ellington (the first, in 1971), Aretha Franklin, Dizzy Gillespie, Quincy Jones, Smokey Robinson, David Bowie, Bonnie Raitt, Count Basie, Sting, Loretta Lynn, B.B. King, Billy Joel, Chaka Khan, Steven Tyler, George Clinton, Carole King, and Patti LaBelle.
Author:
World Music Central News Department
World music news from the editors at World Music Central