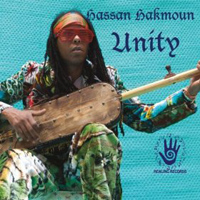 Hassan Hakmoun
Unity (Healing Records, 2014)
Hassan Hakmoun says of his latest recording, "Music is universal. It's the way people can relate to each other – that's why I called it Unity. We come into this world with nothing and we leave with nothing. We need to come together, to let all the anger and killing of humanity go."
Set for release on April 12th on the Healing Records label, Unity is power packed with Mr. Hakmoun's musical expertise on the sentir, the three-stringed, Moroccan lute, and vocals, along with fellow musicians Harvey Wirht on drums, Shaun Kelly on percussion, John Lee on guitar, Sylvain Lerox on fula flute and Shamshied Sharifi on keyboards, as well as Chikako Iwahori on vocals, Said Damir on karkabas and vocals, Ahmed Ait Lafquih on vocals, Shelly Thomas on vocals, Yossi Fine on guitar and bass, John Alevizakis on oud, Jon Paris on harmonica, Konate Primus on sabar drum and Najja Codrington on sabar drum. Fantastically rich, Unity grounds out some spectacularly cool Gnawan grooves.
Mr. Hakmoun, with bassist Yossi Fine and Unity's co-producer and mixer, set out to create the compelling sound for Unity, as Mr. Hakmoun explains, "Yossi wanted it to sound like it was recorded in Africa. "Very old-style and loud. When we first met we worked on a Bob Marley song in Arabic together. I liked it, told him my vision for a new record and we began work. We amplified the sintir and put it right at the front. It's like a rock record in its feel. I knew some of the players I wanted, and Yossi suggested others."
With previous recordings that include Life Around the World, The fire Within: Gnawa Music of Morocco, Gift, Trance and Spirit, Mr. Hakmoun continues to dazzle listeners on Unity with a sound that pays homage to the Gnawan traditions but still manages to step out on limb to take chances to find enticing, electrifying paths and combinations through retakes and collaborations.
Mr. Hakmoun explains, "I had some friends from Morocco who are used to playing with me. The first day we finished five tracks. Live is always best. Ideas come and you can follow them. Every time I play a song it's a little different."
He adds, "My music is strongly related to West Africa. I was there two years ago. They were so interested in what I was doing in my music, and theirs fit so well with mine. So what I'm doing is putting family back together again here. And it's something new, too; the rhythm on that track is one never used before in Gnawa music."
One listen is all it takes to fall victim to the edgy grooves conjured up by Mr. Hakmoun and company from the sizzling opening "Zidokan" with its razor sharp rhythms and smoking sinter and harmonica lines through to the fiery "Hamadiyi" to the kickass percussion on "Amarmoussaoi" and closing Yossi Fine remix of "Ohio." Other goodies include the guitar edged "Baniyi," "Ohio," the call and response groove "Boudarbalayi" and the hip "Moulay Ahmed."
Possessed by electrifying energy, Unity immerses the listener into the hypnotic trance of today's Gnawan music and all that's required is to not struggle but surrender to the sheer goodness.
Buy the digital download version of Unity
Buy the Unity CD.
Author:
TJ Nelson
TJ Nelson is a regular CD reviewer and editor at World Music Central. She is also a fiction writer. Check out her latest book, Chasing Athena's Shadow.
Set in Pineboro, North Carolina, Chasing Athena's Shadow follows the adventures of Grace, an adult literacy teacher, as she seeks to solve a long forgotten family mystery. Her charmingly dysfunctional family is of little help in her quest. Along with her best friends, an attractive Mexican teacher and an amiable gay chef, Grace must find the one fading memory that holds the key to why Grace's great-grandmother, Athena, shot her husband on the courthouse steps in 1931.
Traversing the line between the Old South and New South, Grace will have to dig into the past to uncover Athena's true crime.