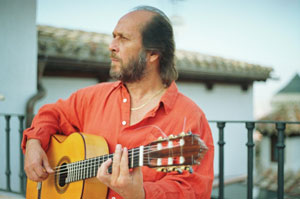 The public wake for the great guitarist Paco de Lucía will be take place from 13:30 (1:30 pm) to 17:45 (5:45 pm) am tomorrow, February 28, at the Symphony Hall of the Auditorio Nacional de Música in Madrid after his mortal remains were repatriated to Spain. The flamenco guitar maestro and innovator passed away on February 26 in Mexico. He was 66 years old.
The National Music Auditorium in Madrid is located at the Plaza Brothers Rodolfo and Ernesto Halffter (Metro stations Cruz del Rayo-L9 and Prosperidad-L4).
Jesús López, Chairman of Universal Music Latin America/Iberian Peninsula, the label that released Paco de Lucía's recordings, said today: "The untimely passing of El Maestro, as those of us who were lucky enough to work with Paco called him, has come as a huge shock. We are devastated by this sudden loss. His cultural heritage will live on, fueling future generations that will have the pleasure of enjoying the stunning body of work of this guitar virtuoso and kind man. Today, Paco de Lucía becomes immortal. Let us celebrate his life respectfully and joyfully".
Paco de Lucía leaves behind a considerable musical legacy, featuring 30 original albums as a solo guitarist, in addition to multiple collaborations with international artists. De Lucía's awards and recognitions include the 2004 Prince of Asturias Award for the Arts, the most prestigious acknowledgement given to Flamenco art and, more specifically, to one of its leading exponents.
The guitarist also won a Latin Grammy for "Best Flamenco Album" with his album "Cositas Buenas," the National Flamenco Guitar Award and the Gold Medal of Merit in the Fine Arts, among others.
Paco de Lucía recently completed the recording of Canción Española, a tribute to Spanish song. The album is scheduled for release in April in Spain and other territories.
Author:
World Music Central News Department
World music news from the editors at World Music Central