The first time I heard Catherine Russell sing was when her 2010 Jazz Village CD, Inside This Heart of Mine arrived at my mailbox. The songs, all thoughtfully chosen blues and jazz classics, delighted me and had my feet tapping while I reviewed the recording. November hit the spot with its warm acoustic guitar, accordion, violin, and Russell's soulful alto vocals wrapping around each word, like a winter scarf around a neck. The send-ups 'All Cats Join In,' 'We The People' and 'Just Because You Can' also had staying power.
On the follow-up album, Strictly Romancin', again Russell treated her happy listeners to toe-tapping classics 'Wake Up' and Live' and 'Satchel Mouth Baby' as well as, bluesy ballads 'Under the Spell of the Blues' and 'Don't Leave Me.' She sang romantic ballads too such as 'I'm in the Mood for Love.'
Bring it Back, Russell's latest recording, features a bigger sound with horn arrangements, piano, bass, drums and a Hammond B-3 organ with more blues-jazz ballads, swinging numbers (Ida Cox' 'You Got to Swing and Sway') and a delightful surprise, 'Lucille,' penned by Luis Russell (Catherine's father) for Louis Armstrong, but never recorded until now. She also delivers powerful vocals on songs by Duke Ellington, Fats Waller, Ted Koehler/Harold Arlen and others.
The daughter of two jazz legends (Luis Russell and Carline Ray), Russell keeps her parents' legacy alive and kicking. It was my pleasure to interview Catherine by e-mail.
Whole Music Exp: What was it like growing up in a household with parents esteemed in the jazz world? Did you think or know at an early age that you would pursue a career as a vocalist?
Catherine Russell: Ha ha! That's actually two questions! Growing up with musical parents was great because there was music in the household all the time. My Dad used to sit at the piano and practice classical music. There were many instruments in the house including a grand piano, Hammond organ, my mother's electric bass and guitars, and my grandpa's violin and mandolin. My mother was either going to rhythm & blues recording sessions (which she took me to sometimes), or going to classical choral rehearsals which I also got to attend. They were both into all kinds of music so that's probably where I get my varied musical taste from.
I had no idea that I would end up being a professional vocalist. I was too shy to want to be the center of attention, but I always had a good ear for music. Actually, I was a professional dancer as a child before I started studying music.
WME: You started out singing backup for pop singer Cyndi Lauper, rock singers David Bowie and Jackson Browne and country singer Rosanne Cash to name a few artists. Were you also performing jazz or blues before venturing into a solo jazz vocalist career? How did you finally take the leap to recording the five albums on Jazz Village/Harmonia Mundi?
CR: I love back-up singing and still do. I grew to want a career in music when I discovered it was the only thing I thought I might be good at, and I started singing with different bands in the clubs in New York City. This eventually led to back-up singing on tours and recordings. It's fun to sing with all these great artists! I was encouraged to make my first album when I returned home from David Bowie's tour in 2004. I wouldn't have pursued a solo career, but everything fell into place and I got the support from my manager and Harmonia Mundi to continue making albums.

WME: Your style marries speakeasy jazz to swing, blues and New Orleans jazz. I'm sure there's more going on that my ears haven't detected so how would you describe your repertoire? And which style do you find the most pleasurable to explore vocally?
CR: I think you summed it up well. All these styles flow together, so I love them all and I can't say that I favor one over the other. I just like good songs and music that I feel sounds good. So that, I believe, is the thread.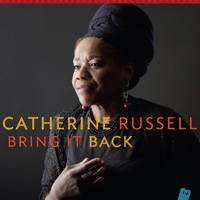 WME: Bring it Back has a "big" sound with the horn arrangements the piano, bass, drums, and features mostly upbeat numbers. But then you slow it down on songs such as I Cover The Waterfront. Which songs are more challenging to sing, the slow ones oozing emotions or the ones that swing or the blues which you belt out?
CR: I choose songs that challenge me generally, so they all bring different things out of me. They make me use my voice to express whatever the story of the song is. So if it's slow and romantic, that's how I feel when I sing it. If it's up tempo and I feel like dancing, that's how I express it.
WME: I have noticed with the three albums I've heard of yours that you put a lot of thought and exploration into each album's tracks and on Bring it Back, intriguing stories accompany some of the song choices such as the discovery of your father's song, "Lucille" which he composed for Louis Armstrong, but was never recorded until now. Do you feel by performing this song that you carry on a legacy?
CR: Definitely! I feel like I went into the "Family Business" so to speak. I'm happy about that because I continue to get to know my parents. The discovery and recording of "Lucille" is just what my Dad would have wanted, because he was a songwriter working on getting his songs heard. And what a great song!
Author:
PatriciaHerlevi
Patricia Herlevi is a former music journalist turned music researcher. She is especially interested in raising music consciousness. She is looking for an agent and publisher for her book Whole Music (Soul Food for the Mind Body Spirit). She founded and hosts the blog
The Whole Music Experience and has contributed to World Music Central since 2003.