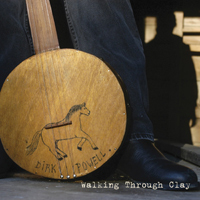 Dirk Powell
Walking Through Clay (Sugar Hill Records, 2014)
If you crossed a kick ass honky-tonk with a backwoods bayou bar, a country church and a wood paneled Irish bar, you'd come close to describing Dirk Powell's latest offering Walking Through Clay, out on the Sugar Hill Records label, and yet you'd still fall flat. Plying the listener with the best of Americana, Mr. Powell effortlessly breezes his way Walking Through Clay, conjuring up a kaleidoscope of colors that's potently evocative and seems to bubble up from the very earth.
With a career that includes the recordings Time Again, If I Go Ten Thousand Miles and Hand Me Down, as well as heading up Joan Baez's touring band for the last five years, Mr. Powell has earned a reputation that has prompted singer, songwriter and writer Steve Earle to proclaim him "the greatest old-time banjo player alive." In addition, Mr. Powell has collaborated with Raconteurs and Loretta Lynn on her Van Lear Rose recording. In his spare time he's also appeared on the soundtracks of Ang Lee's Ride With the Devil and Spike Lee's Bamboozled. He also collaborated with singer, songwriter and musician Tim O'Brien and producer T. Bone Burnett for the soundtrack of Cold Mountain. He recently played along the likes of Joan Baez, Elvis Costello, Patti Smith and Gillian Welch at a benefit for National Recording Preservation Foundation in a celebration for the 60s era folk music movement as depicted in the movie Inside Llewyn Davis by the Coen Brothers with music producer T. Bone Burnett.
Writing most of the songs for Walking Through Clay but for a handful of tracks, Mr. Powell evokes the best of Americana with his daring visions of songs like the New Orleans procession brass saturated gospel version of "Abide With Me" with drummer Levon Helm and his daughter Amy Helm on vocals.
Mr. Powell notes, "It was really special to work on that as Levon was passing away, sharing that with Amy. It felt like that was a healing thing in the process of losing him."
Other treats include Walking Through Clay's opening "Rollin' Round This Town" with its slick opening guitar licks and razor sharp sound, the accordion/fiddle combo of "Some Sweet Day" and Celtic laced rework of the traditional tune "Goodbye Girls."
Mr. Powell explains, "Some of those old songs, they leave so much space for you to fill in the experience. I love that about traditional verses in old-time music. You have to complete it with your own story."
Goodies just keep coming with the sedately sweet "Break the Chains, the addictively catchy "That Ain't Right" and the Appalachian grace found on "Golden Chain."
Mr. Powell explains his approach this way, "I have a relationship to music that is about finding the underlying unity in sounds, not separating them, and it was time for me to express that. I wanted to make sure it didn't sound like fusion or a concept, like I'm mixing this with that. I wanted it to feel like it's my world and my brain and my heart and the actual musical world that I live in, where things are not really separate. It always sounds real."
I guess that you sum up Dirk Powell by co-opting Steve Earle's words from the back of the liner notes, "Dirk Powell is a badass. To the bone." Indeed, Mr. Powell is a badass and he's called to the four corners of American folk music traditions and been heard. Lucky for us, he's willing to share.
Author:
TJ Nelson
TJ Nelson is a regular CD reviewer and editor at World Music Central. She is also a fiction writer. Check out her latest book, Chasing Athena's Shadow.
Set in Pineboro, North Carolina, Chasing Athena's Shadow follows the adventures of Grace, an adult literacy teacher, as she seeks to solve a long forgotten family mystery. Her charmingly dysfunctional family is of little help in her quest. Along with her best friends, an attractive Mexican teacher and an amiable gay chef, Grace must find the one fading memory that holds the key to why Grace's great-grandmother, Athena, shot her husband on the courthouse steps in 1931.
Traversing the line between the Old South and New South, Grace will have to dig into the past to uncover Athena's true crime.